It feels nice when you stumble on something totally crazy and pretty unique, but to top it off the artist is UK/Euro based! after seeing Zombieking's Instagram feed I checked out his shop and surprised at his work sells for a reasonable price too. Zombieking  based in Liverpool UK has a series of creepy but cool works in the form of test tubes!
TEST-TUBE BABY UNICORN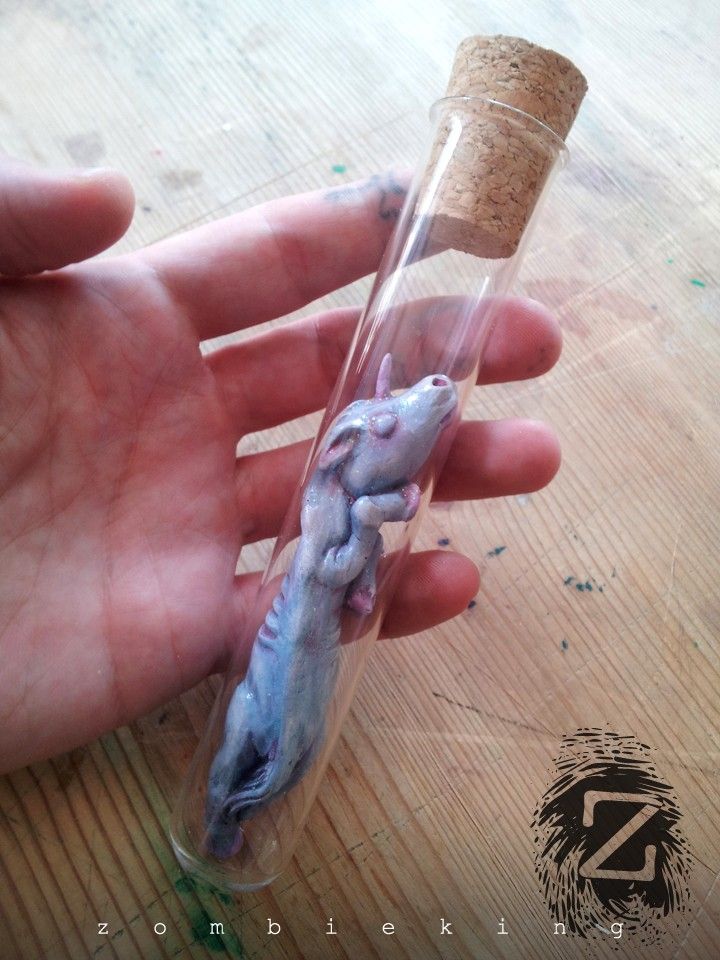 [slider source="media: 19578,19576,19577,19579″ limit="100″ width="1200″ height="900″ title="no" speed="800″]
As you can see from the photos, most of our unicorn specimens have a pale grey skin, but their horns & hooves can be a variety of colours. occasionally unicorn specimens have more unusual skin colours (such as the midnight black) – if you would like one of these get in touch with your preference and we'll endeavour to hook you up!
if you order a test-tube baby unicorn,  this is what you'll receive:
1 x hand-prepared unicorn foetus specimen
lab specimen report  adoption certificate
150mm long glass test tube, with cork bung
packing crate
He prepares all specimens personally, with much love.
He will try and ensure your unicorn looks like the one pictured, it is inevitable variations will occur in colour. that said, because everything is hand-prepared, it also makes it possible to personalise your order somewhat.  for instance…
the adoption certificates are hand-written when the order is received, so you can choose the name of your neverborn baby. (if this isn't specified, then i'll pick a name for the critter before sending it to you.)
or if you wish the adoption paperwork to match a specific date (such as a birthday) then we can arrange that too.
also, if you would like a unicorn with specific colour horn & hooves then let us know that too. we will check through our freezers of dead babies that are waiting to be processed and endeavour to find one that matches. however, this may require a new specimen to be prepped from scratch – which will add to the delivery time.
TEST-TUBE BABY DEVILGOAT
Named so, due to its devil-like red/black skin and fur colouration.. its goat horns, and its cloven hooves. AND of course, the occult symbol emblazoned on it's forehead. bit of a lazy nickname if you ask him!
however, the source of these strange little beasts could actually indicate that they may trace their lineage to Hell. but, i'm not about to claim these as religious relics – i'll simply include the anecdotal information in the specimen report and you can decide for yourself.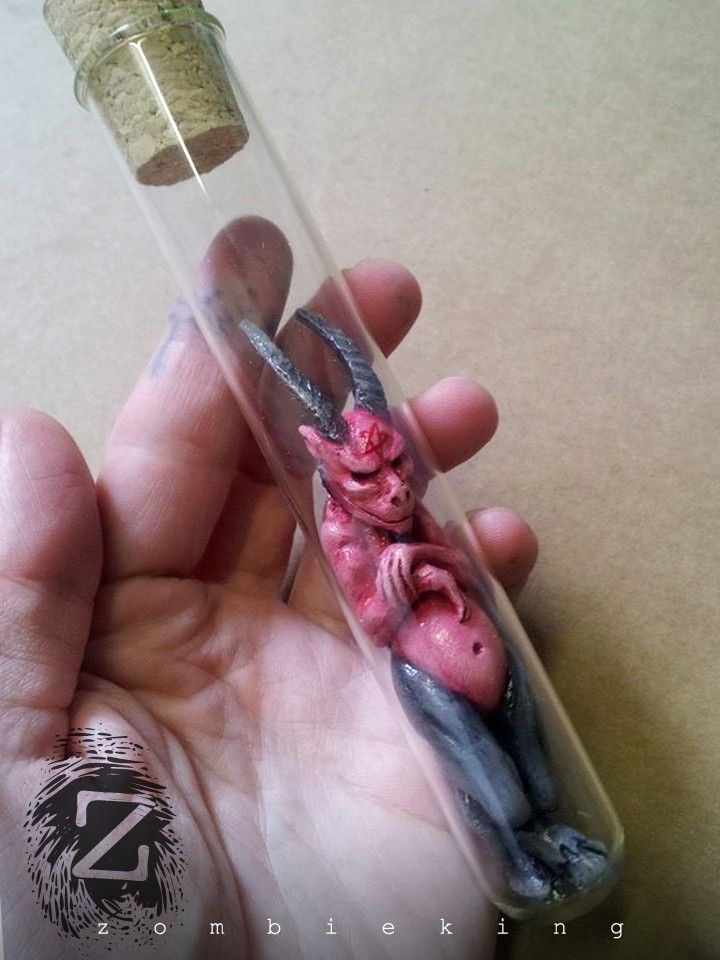 [slider source="media: 19583,19582″ limit="100″ width="1200″ height="900″ title="no" speed="800″]
£22.50
TEST-TUBE BABY T-REX
Just because dinosaurs went extinct 67 million years ago does not mean that you can't own your own baby t-rex!
[slider source="media: 19586,19585″ limit="100″ width="1200″ height="900″ title="no" speed="800″]
Priced at £22.50 Cleary this brute was gonna grow up to be one bad motherfucker. but sadly, it never managed to hatch from it's egg to make its own way in the world…  this is where you come in!  can you offer this mean ol'  cutie a home?
Plenty of other tube designs but we will let you venture to his online shop http://zombieking.co.uk/shop/ and explore his crazy world.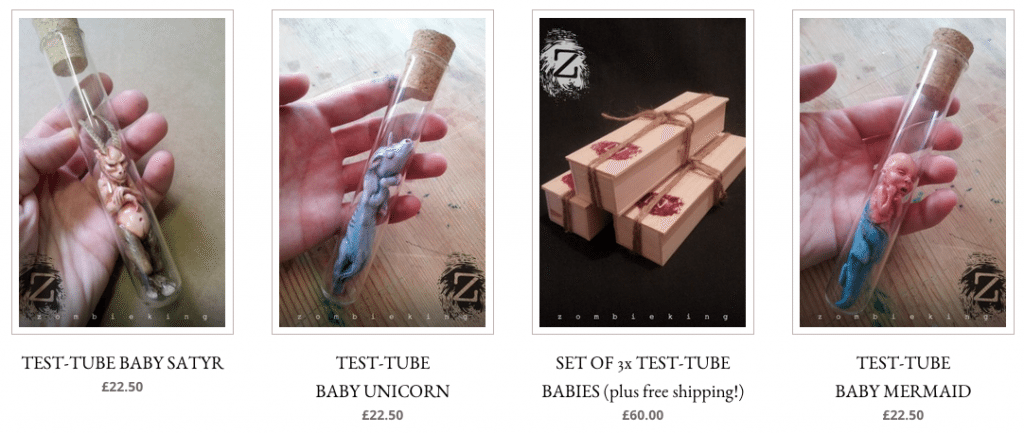 About Zombieking
"I delight in painting DEATH, and endeavour to show how vibrant, and full of life and purpose it can be. less often i paint LIFE, wherein i attempt to show how bleak and meaningless it inherently is. inevitably the themes of rebirth and the cyclic nature of Nature rear their beautiful curves.
on reflection, these words make my artwork sound grand, important, and oh-so-serious. but it really is not. nor, i suspect, will viewers see these ideas present in my paintings. but they are there at some level, and my words matter not because at the end of the day i am simply pushing paint around on a canvas in a way that pleases me.
as well as the painting, I do illustration work and design t-shirts, and each year i make several hundred zombies. FUN ZOMBIEKING FACTIOD: i have a repetitive strain injury caused by throwing blood at people!"
http://zombieking.co.uk/ Instagram and Facebook if you want to get in touch with him.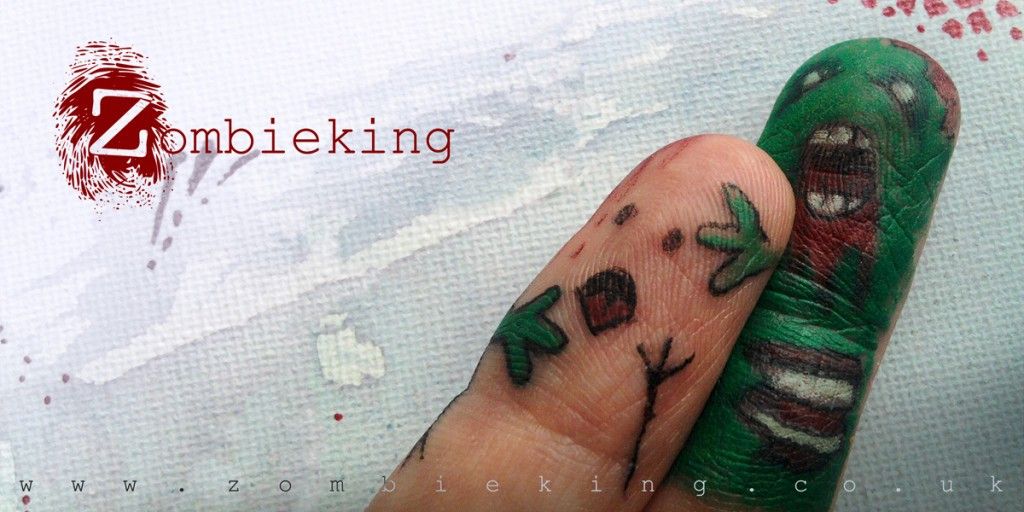 "FUN FACTOID would be that 'my fingers are the most famous part of my body'! as, a couple of years ago i got a little tattoo and it kinda did the rounds on the interweb [link]. you may recognise it? or not? doesn't matter really…"