Bargains GALORE! Can only mean one thing, our sponsors and buddies at Tenacious Toys opens Massive Cyber Monday Sale with 30% Off Over 200 items. You'll find everything you need, maybe apart from the kitchen sink… Saying that maybe Benny has one for sale with 30% OFF if you ask nicely, anyway here you go. Over 100 different qualifying items from Funko, Kidrobot, 3A, ThreeZero, Artoyz, MightyJaxx, tokidoki, Touma, Suckadelic, Sketchbot, The Loyal Subjects, Jon-Paul Kaiser, Michael Lau, Martin Hsu, Creo Design, Joe Ledbetter, Jermaine Rogers, Jason Freeny and many more!
The Tenacious Toys Cyber Monday sale is ON! Get 30% off of over 200 different art toys and collectibles. Tenacious Toys tells us that this is their most extensive discount offer ever. If you missed their Black Friday promotion, this is your last chance! Many items sold out on Friday, so don't sleep.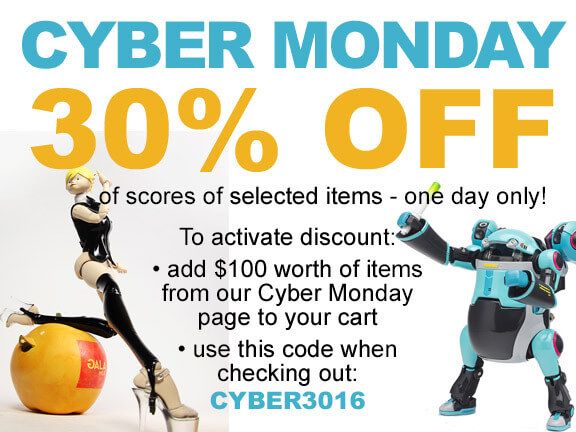 Use code CYBER3016 to get 30% off anything you see on their Cyber Monday page. Sale includes new items, old items, customs and production toys. The code has a few rules:
• Code will get you a 30% discount on the items listed in the collection.
• Code will ONLY work for one day (Cyber Monday).
• Code only kicks in once cart subtotal is $100 or more.
• Code will only work for the first 100 customers.
• You can add non-qualifying items to your order if you wish, but code will not discount those items, working only for the items in this collection.
Here is the link:
http://www.tenacioustoys.com/collections/black-friday-cyber-monday-page