The second wave is REAL, They are back and infection is real! MORE SUSHI has been be resurrected and ALIVE! MORE textures, more spoilt flavours, more grains, more ZOMBIE's. Last year saw the rise of the dead! not really, HA only Su屍 Sushi Zombie series by LUYAO 路遙圓創! The wasabi was so strong it brought sushi back from the dead, HA. Fast forward to the present day, the folks at Luyao Design prepare the ultimate Omakase! WARNING taste buds BEWARE, not even salmonella can kill this invasion! Tawain based LUYAO 路遙圓創 presents Su屍 Sushi Zombie series 2. Sushi fans look away as these bloodthirsty could ruin your next trip to the sushi bar, HA. Possibly the only sushi that bites back!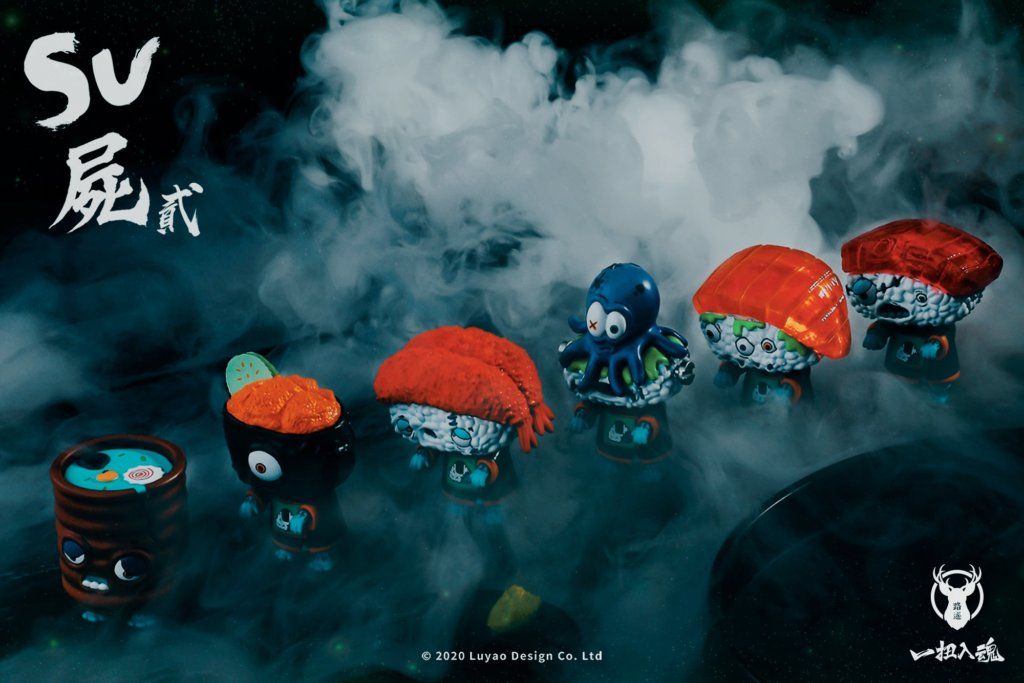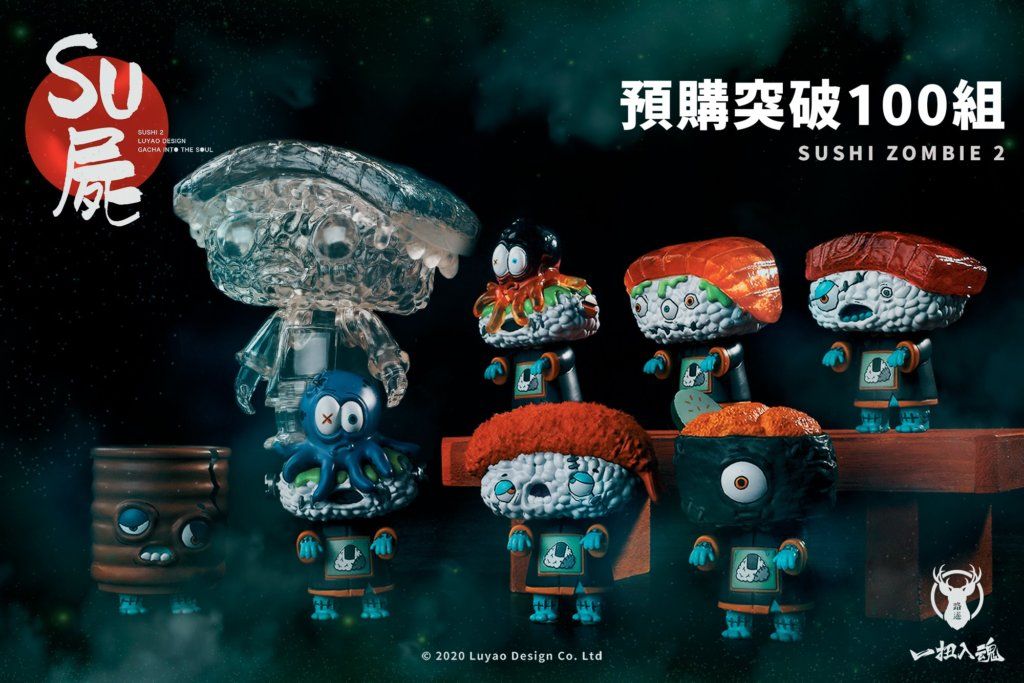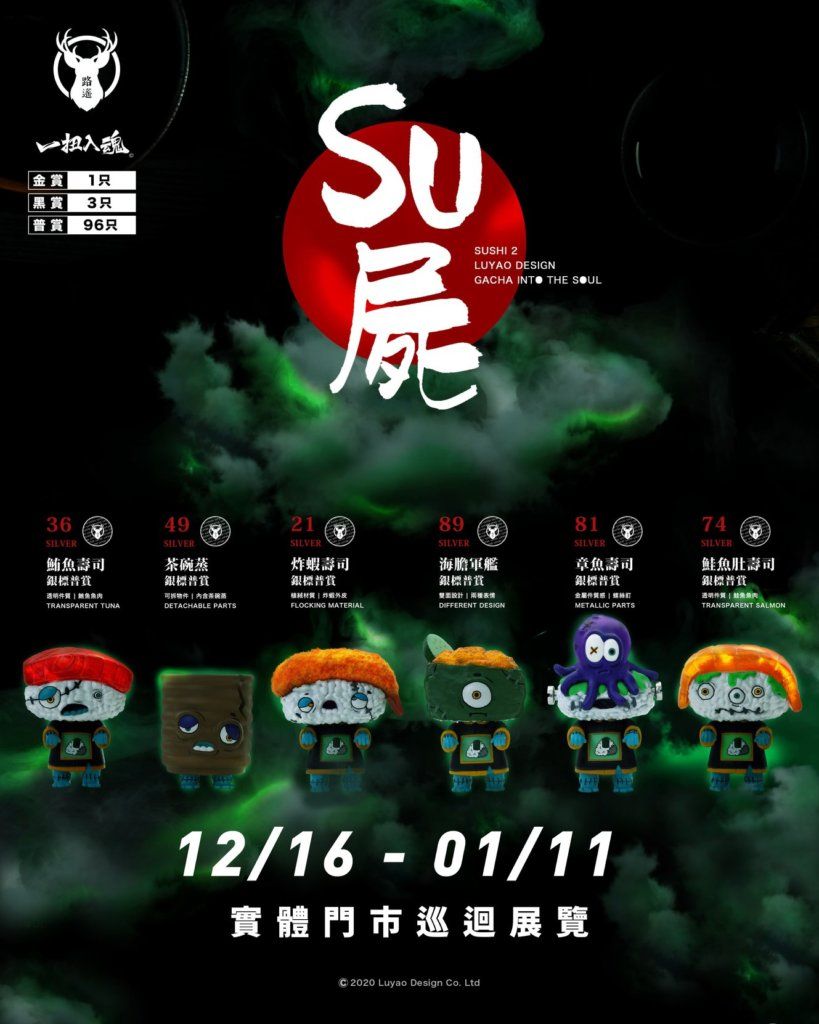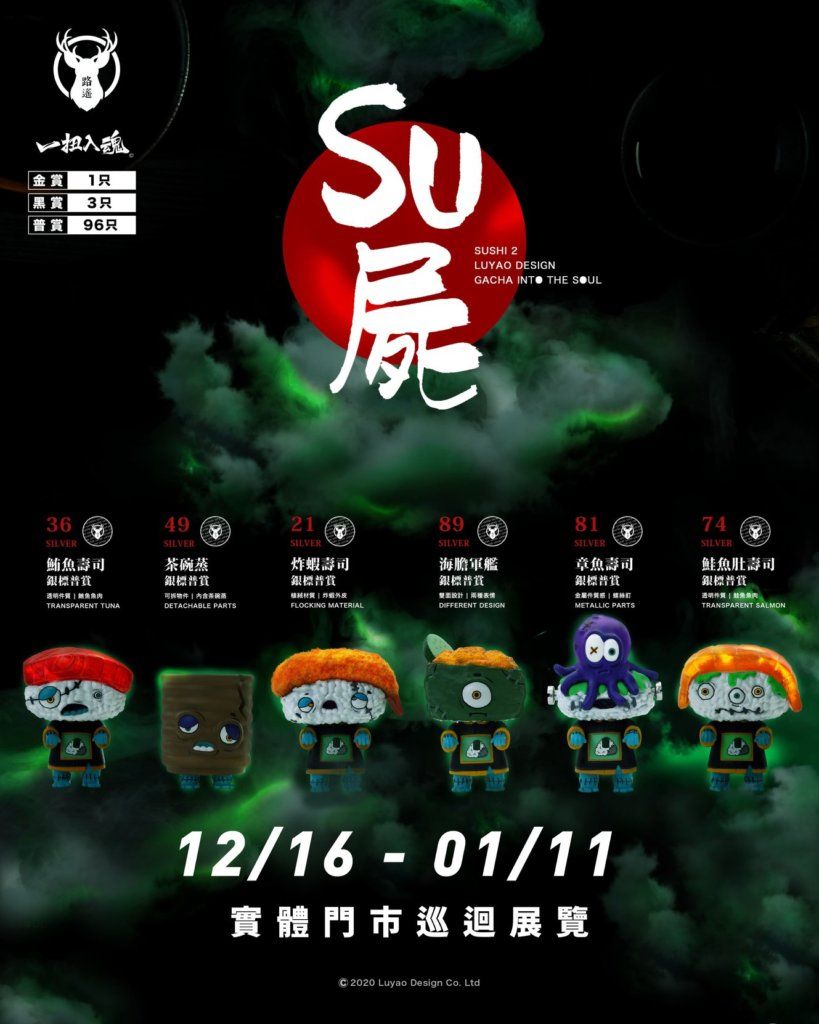 Material: Plastic (body)
Size: 6.5 X 5 CM ⠀⠀⠀⠀⠀⠀⠀⠀
Price: NT$150 /model
⠀⠀⠀
※Pre-order is a set of all six models, not for sale ⠀
Salmon sushi_transparent quality
Octopus sushi _ metal quality
Fried shrimp sushi _ flocking material
Sea Urchin Warship_Double-sided design
Tuna sushi_transparent quality
Tea bowl steaming _ detachable object
WHEN: NOW
WHERE: https://www.surveycake.com/s/PQQW7

A twist into the soul: a chance to get
✹ A reward: a capsule + 12 cm transparent vinyl doll
✹ B reward: One Gacha + Different Color Edition Octopus Sushi
✹ General reward: One capsule (6 types in total)
ESTIMATED shipping April 2021
To order for now it is only via
https://www.facebook.com/group
Stay tuned for the official retailer list.
SU屍2:一扭入魂| 預購處】
購買網址:https://www.surveycake.com/s/PQQW7
.
【SU屍2|全六款】
鮭魚壽司_透明件質
章魚壽司_金屬件質
炸蝦壽司_植絨材質
海膽軍艦_雙面設計
鮪魚壽司_透明件質
茶碗蒸_可拆物件
一扭入魂:有機會獲得
✹ A賞 : 扭蛋乙只 + 12公分透明搪膠公仔
✹ B賞 : 扭蛋乙只 + 異色版章魚壽司
✹ 普賞 : 扭蛋乙只 (共六款)
.
材質 : 塑膠(本體)
尺寸 : 6.5 X 5 CM ⠀⠀⠀⠀⠀⠀⠀⠀
定價 : NT$150 /款
上市時間 : 2021年4月⠀⠀⠀
※預購為全六款一組不拆賣 ⠀
.
⋯⋯⋯⋯⋯⋯⋯⋯⋯⋯⋯⋯⋯⋯⋯⋯⋯⋯⋯⋯⋯⋯⋯⋯⋯⋯⋯⋯⋯⋯⋯⋯⋯
✦ 此為一扭入魂系列商品✦
1.一扭入魂系列商品為100顆/一袋,兩袋一箱
2.此系列商品配率均配100顆,上架須使用兩格扭蛋格數,版面紙每袋2張,上架請左右對齊,版面紙含得獎雷標貼放位置。
3.此系列商品兌獎蛋紙數量96銀標(普賞)/3黑標(B賞)/1金標(A賞)
4.金標(A賞)配率100:1、黑標(B賞)配率100:3、銀標(普賞)配率100:96
5.店家提供對應標籤之獎勵,兌換時該標籤上含對應之編號,需相同編號兌換以免後續有重複兌換之問題(例:金標(A賞)001兌換金標(A賞)001獎品)
6.此系列一扭入魂含商標註冊與意義註冊,兌換時請認名路遙圓創:一扭入魂系列商標為主,任何其他類似商品非一扭入魂商標標示系列,不得兌換與使用。
7.實體店面店家,客戶購買一扭入魂系列商品兌獎後,需將對應之金標雷射防偽標籤貼上於版面紙,協助後續客戶參考配率。
8.任何一扭入魂商品每轉皆涵蓋普獎商品全系列隨機,A、B賞則以標籤另外與店家換取。
9.網路店家銷售一扭入魂系列商品,可將商品寄出後,依中獎客戶回信對應商品蛋紙後寄出獎項,特別注意商品獎項為避免與其他店家搞混,收到對應蛋紙需查看獎勵標籤編號是否為獎項標籤編號,確認後方可出獎。
✦ 一扭入魂系列皆有額外獎勵活動,請各店家注意購買須知與客戶體驗,如有任何問題亦可聯繫路遙圓創有限公司詢問。
✦ 資訊洽詢路遙圓創官方粉絲團
TEL.04-2452-6619
官方LINE@|@642psugn
Find luyao via Facebook and Twitter
You can get your daily Designer Toy fix from our TTC Mobile App. It's free too! FREE! Download on the iPhone or Android smartphones. Search for "The Toy Chronicle" and all your Designer Toy wishes will come true! Pretty much.
It's FREE.



.