#sofubisabbath is a new regular feature on the blog where I'll invite one person a the time to conduct this celebration. Meaning presenting 6 favorite pieces/concepts and talk about them or simply promote your work or show off your collection.
Presiding this ceremony will be Robert aka Manic Images. We have the honour of having the best kaiju photographer out there right now. If you're a fan or simply if you're into sofubi, chances are that you came across with his work at some point. High contrast images with superb illumination in a classic black background, his images capture the essence of sofubi and all the details in the cast like no other. You can almost feel those soft textures we all love through his images, no joke.
No only a photographer, Robert is a hardcore collector and a connoisseur. The passion and knowledge he conveys through his words will sure inspired many of you. We are so thankful for all the time, work and care he put into this.
And without further ado, welcome to Sofubi Sabbath! Brave are those who attend…
We gather once more for this plastic celebration. We can feel an invisible force piercing our brains. Images, colors not from this world start to flow in our subconscious. 6 drops of the chalice, 6 walls crumble down in a far away land, 6 figures Manic Image chose:
My name is Robert. I am an avid toy collector of specific artists, and a hobbyist toy photographer. I go by the online moniker Manic, named after my depressive diagnosis, but also a representative word for my constant, elevated enthusiasm for toys. I heavily associate with Lulubell Toy Bodega out of Mesa, Arizona, and reside in Phoenix, Arizona. Choosing a top six was incredibly difficult, so two honorable mentions are included. There's a lot to digest here, so my apologies in advance. I really wanted to emphasize the importance of these toys to me, toys in general, and offer some history where I felt I could. What I appreciate about each figure, why, and what they mean to me. 
1# Obake Dog by Secret Base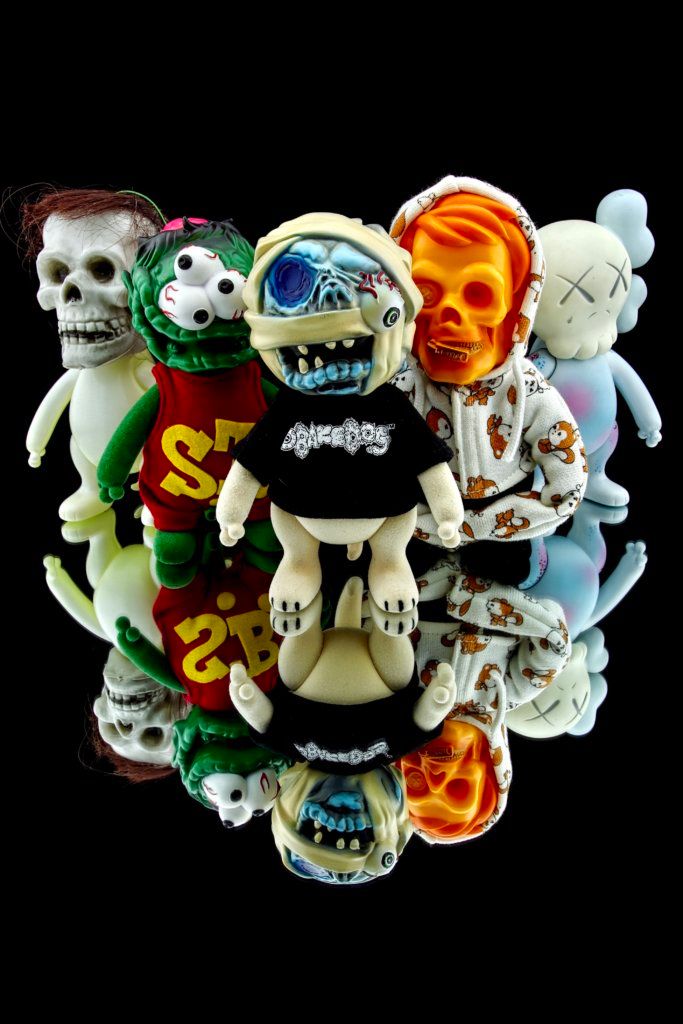 The Obake Dog, translated from Japanese, means 'ghost dog', and was originally released by Hiddy of Japanese toy manufacturer Secret Base in 2006.
It is a combination of grotesque and cute, with a head that resembles heavy influence from James Groman's Madballs(namely Dustbrain) and a vintage Snoopy body. A great contrast of heavily textured, meets super simple and smooth.
I immediately resonated with this toy when I researched Secret Base and stumbled up on an image. When I was a kid, at the grocery store with my parents, I came across the Dustbrain Madball in the toy aisle. I was quickly overcome by the dead and old, mummy – like head, with its painful grin, and colorful card stock packaging. I hollered at my Mom and asked if I could get it, but she was fast to tell me how off putting it was, and that she didn't need it in the house. Disappointed, I began walking back to return Dustbrain to his grocery store tomb, when my Dad stopped me. "We'll get it when you're mother's not looking," he said. That was the first, real father – son moment I had with my Dad, and it's remained special ever since, and why the Obake Dog's Madball influence instantly clicked for me. Since the 2006 release, there have been several other heads released for the body, including the Goner Dog, inspired by Ed Roth's iconic Rat Fink. And the Zip Face, designed by Japanese prog metal band Cocobat's bassist, Takeshit. The skull head is an homage to the original vintage Japanese blow mold toy that looks very similar, which I admittedly know nothing about. And the Kaws head is a mashup put together and painted by Hiddy himself, which was originally purchased in an Osaka auction, and eventually made its way into my home. Most releases also don clothing(shirts, hoodies, onesies), some of which are collaborative efforts alongside clothing brands Whiz76(Japan), Alien Evolution Studios(Taiwan), and even Osaka horror punk band Balzac. 
2# Cinema Monster by Secretoy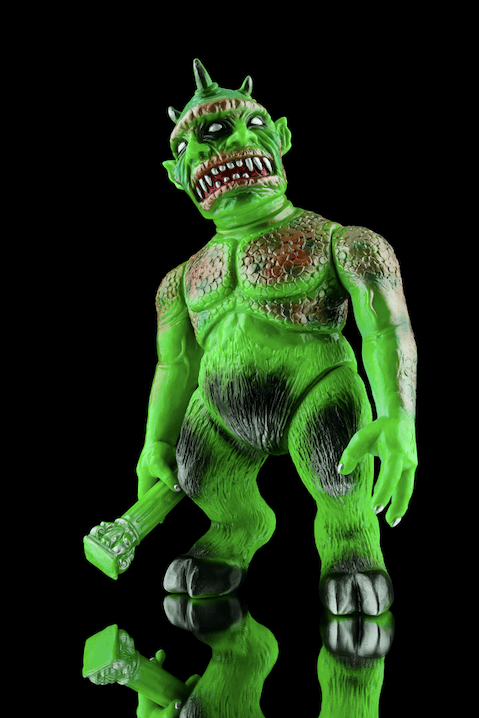 The Cinema Monster is created by American sofubi artist Joe Merrill, aka, Splurrt, and was released in December of 2014, under the separate entity Secretoy. Splurrt felt like this was the proper move, as this new sculpt was his first foray into the realm of creating an original kaiju toy, and decided the aesthetic was too far removed to be released under the Splurrt name. Much like the Obake Dog that's included in this list, the Cinema Monster resides with me emotionally, tied to a moment with my Dad and me from my childhood. In short, he introduced me to the Harryhausen film, The 7th Voyage of Sinbad, simply because he thought I'd love it. And he was correct! Splurrt is a big fan of 80's gross out toys and classic movie monsters, both of which are apparent when you dissect his designs, and pick up on the influences.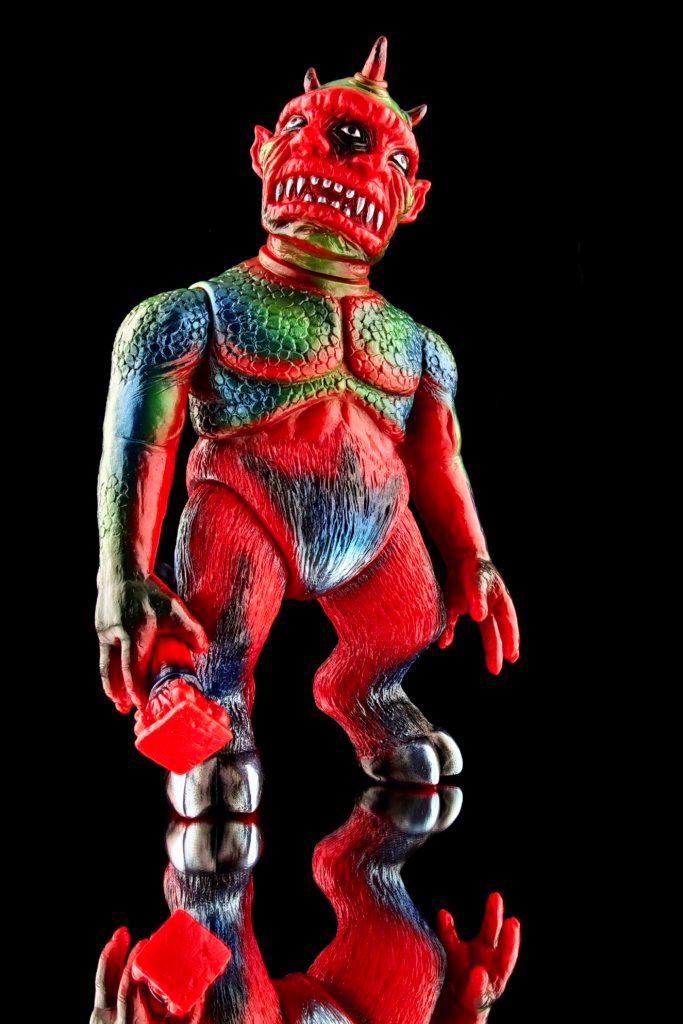 With the Cinema Monster it's clear the Cyclops was a relatively key impact on its form, but with much of Splurrt's precise detail, flair and skillful sculpting, that sets it apart and on its own. Personal favoritism aside what I enjoy very much about Secretoy's works is despite the greatly detailed features of the Cinema Monster's sculpt, the paint applications are generally simplified. Yet they're showcasing of the figure itself, ringing familiarity of vintage toys' simplistic paint apps.
Each Cinema Monster comes with a Greek pillar omake(accessory) that's generally wielded like a club, but carries display variety. There is also a second head variant, resembling another beast of the aforementioned Harryhausen film, very loosely resembling Minoton. This variant is known as Tauros, and debuted at Designer Con 2015. The versions seen here are the first release Cinema Monster, Alpha, a one off Cinema Monster from Five Points Festival 2019, and a one off Tauro from the Australian sofubi show Soft Vinyl Mayhem in 2017.
This toy, as well as a couple others from this artist's portfolio, have inadvertently bridged a social gap between my Dad and me. These toys specifically, and how much I talked about them, showed my Dad just how involved I am in the hobby and how much I love it. It also brought him joy to know that they remind me of important moments from mine and his lives.
4# The Fight Figure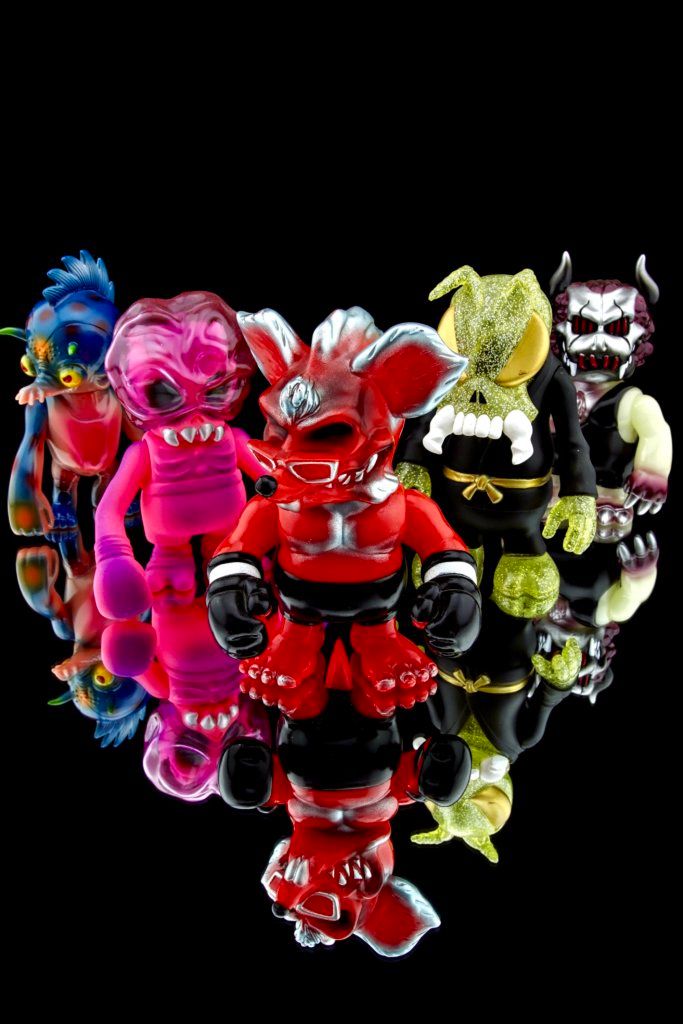 The classification of this toy really describes itself: it's a figure that fights. The original fight toy was sculpted by Cosmo Liquid and released by Cocobat bassist Takeshi Sakamoto, aka Take – Shit, in 1997.
As the story I've been told goes, though unconfirmed by me, is that Take – Shit is a fan of toys, but didn't feel like his personal interests were portrayed by any character(s). Something mean that could kick the shit out of the likes of Mickey Mouse and other mainstream cartoon icons. Thus, the Fink Shit was born. An Ed Roth Fink inspired, punk/metal, mixed martial arts rat with an attitude and the fists to back it up. Since then a handful of companies have birthed with their visions of fight figures, heavily influenced by Take – Shit and his vicious vermin. I'm also a fan of fighting, boxing, mixed martial arts; but mostly Muay Thai and Judo.
What I love about the fight figure is the simplistic diversity. Lots of original characters, but many, many variants of each character, that make for amazing display possibilities when out together in large groups. I also think they're the perfect size, with general simplicity in the form factors, typically compromising of only four total parts per toy. They range in attire(gi's, wrestling uniforms/masks, kickboxing trunks, sap gloves) and stances.
The fight figure was also the very first sofubi toy I ever purchased, specifically a Halloween Balzac Bagman by Secret Base. In this photo(left to right) there's the Chicken Fever by Sinbad Toy, Skull Brain by Secret Base, Fink Shit by Take – Shit, Skull Bee by Secret Base and Gargadeath by Gargamel. 
5# Kid Hunter by Bounty Hunter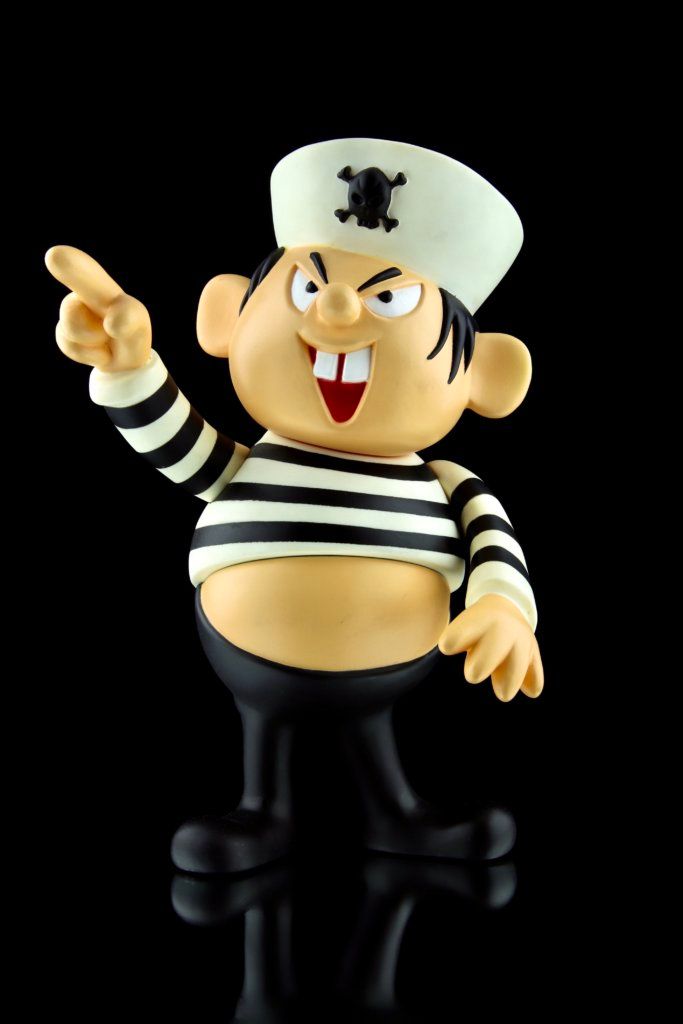 Bounty Hunter first opened its doors in 1995 in Harajuku's fashion district, originally only selling clothing and vintage American toys. Hikaru and Taka, BxH's creators, owners and operators, one day decided to make a toy based on a t – shirt illustration by Tokyo artist Sk8 Thing, the Kid Hunter.
A punk rock pirate mascot for BxH, donning black pants, a crossbones sailor hat and a striped shirt, derived from one of the Captain Crunch Crew of the 60's, Dave. Kid Hunter was released in 1997 and was, as I read, given out for free as a promotional toy when you bought BxH shirts in store.
I love this toy. Like with anything else Bounty Hunter, the Kid carries an inherent playability, despite being the first(yes, I say first) designer toy. Japan is notoriously known for having characters or objects being representations of businesses and companies, and the Kid Hunter is the perfect mascot for just that.
It's playful, fun, displays perfectly, and sits well with other toys (especially other BxH) or on its own. Bounty Hunter is the pioneer company that started designer toys. The first. And it is still alive and kicking today, with the Kid still highly coveted and sought after by diehards. "50% punk, 50% toys. All other toys suck." 
5# Mockbat and Boss Carrion by Paul Kaiju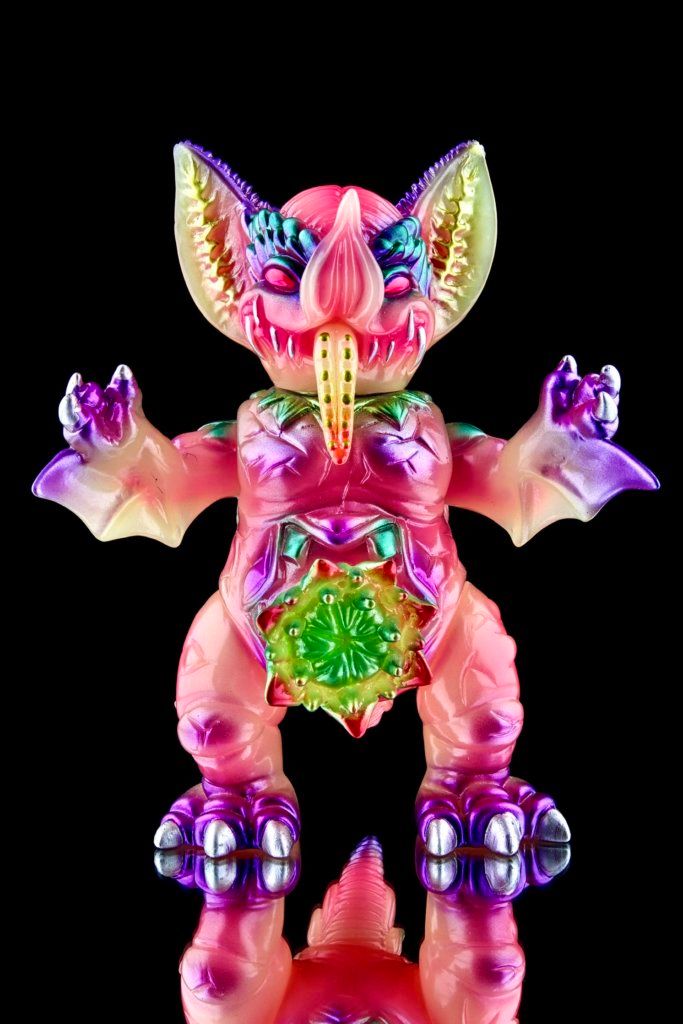 Paul Copeland, aka, Paul Kaiju is what I consider to be the gold standard for American sofubi artists. His character resume and works span incredibly far in terms of both variety and numbers, but none get lost or tired amongst fans, and certainly not in his longevity. Most notably, for me, are the two that got my attention when I was first introduced to PK's work, the Boss Carrion(San Diego Comic Con 2010 debut) and Mockbat(March 2011 debut). These specific characters, I feel, perfectly bridge the gap between vintage influence and what's considered neo – kaiju.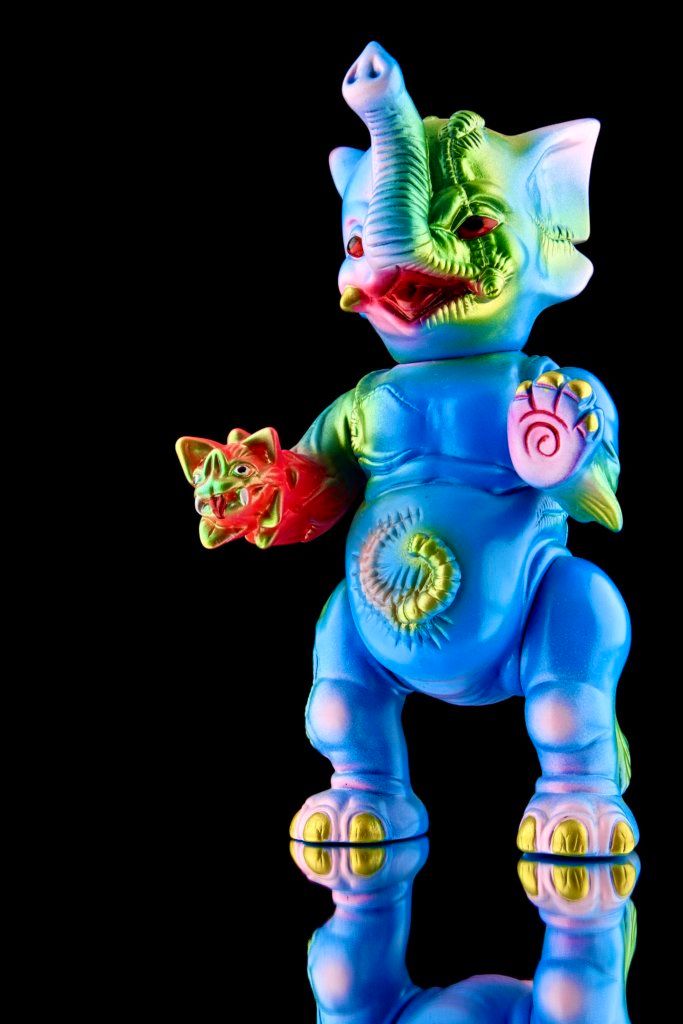 The Mockbat sculpt translates Paul's love for Go Nagai and Devilman, while the Boss Carrion showcases his love for vintage dolls/animals like Kewpie and American squeaker toys. The paints on his toys always feel like a perfect marriage of traditional kaiju sprays and psychedelic visuals/color combinations.
More often times than not you can turn PK's toys in a multitude of directions and find some kind of wild, directional sprays. His toys, his output, his methods and his attitude, always keep collecting fun. He's not only one of my favorite artists, but one of my favorite people in the community. This Boss Carrion is the first painted release, and the Mockbat is a chase variant from Paul's first Gunnzo show, now dubbed Summer Slime, in 2014.
6# Spumpkin by Headlock Studio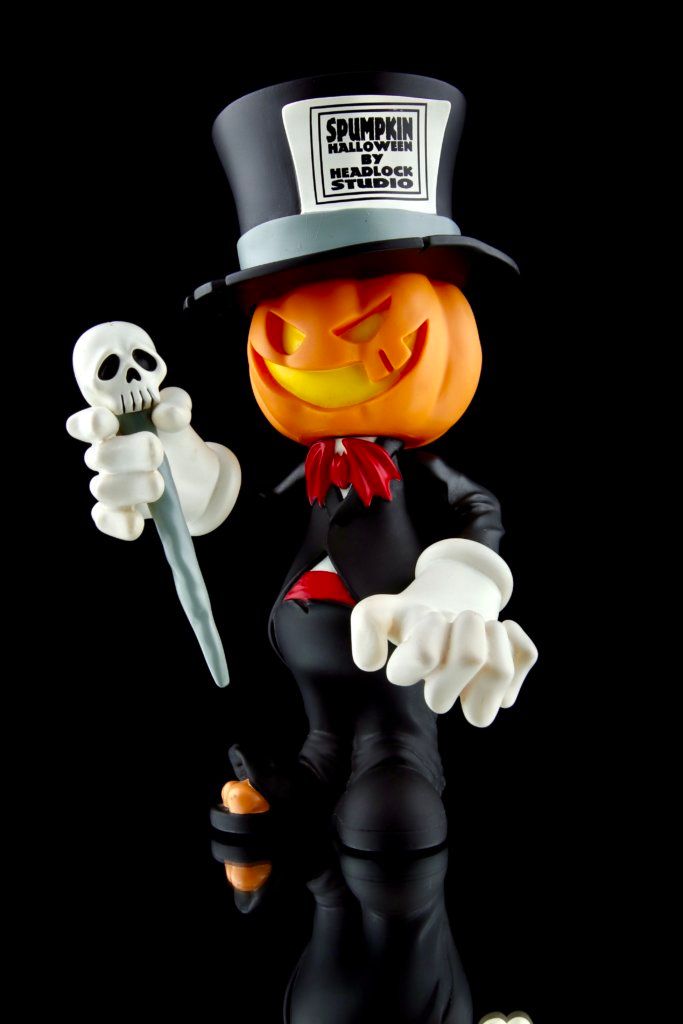 Ken Joho from Nagoya, Japan has been making street figures(or urban vinyl if you're into that term) since the very early 2000's. I had first started collecting toys in February 2010, and it was an entirely new world to me. With what little information I'd gathered from a local vinyl toy shop in Phoenix, Arizona called Red Hot Robot(shoutout to Jason), I went home and began a Google frenzy. Amongst the keywords I frantically searched I peaked my personal interest when I decided to search "Halloween urban vinyl(the only term I'd known at the time)". The first two searches that came up in images were the 2001 Halloween [email protected] by Medicom Toy, and the Spumpkin, sculpted by Knuckle of Little Chip Design, and produced in 2002. Right away, a pumpkin headed figure, wielding a skull cane, wearing a top hat and a bat for a bow tie, fully captured my attention.
The right foot displayed a busted open tip of the boot, exposing the big toe, reminiscent to the classic imagery of a hobo. It would only come to me later that this was, yet again, another influence of Big Daddy Roth's Rat Fink. At the time I was a member of the Kid Robot forums, and immediately took the image to a wants list, asking for any information, and hopefully even an offer to buy the figure from a generous collector. Three years had passed with no luck on either front, and I'd just about given up and forgotten. Fast forward to almost 10 years later, a good friend, and something of a toy sensei, brings a sale listing of Spumpkin to my attention. I couldn't have jumped on the opportunity faster, and have since found all three existing versions.
The original(photographed here), black with red splatter, and grey with GID green splatter. Headlock Studio is very much alive and kicking today with their current line of Kustom Monsters and original artist soft vinyl toys. 
Honorable Mentions
Dero Bear by Jermaine Rogers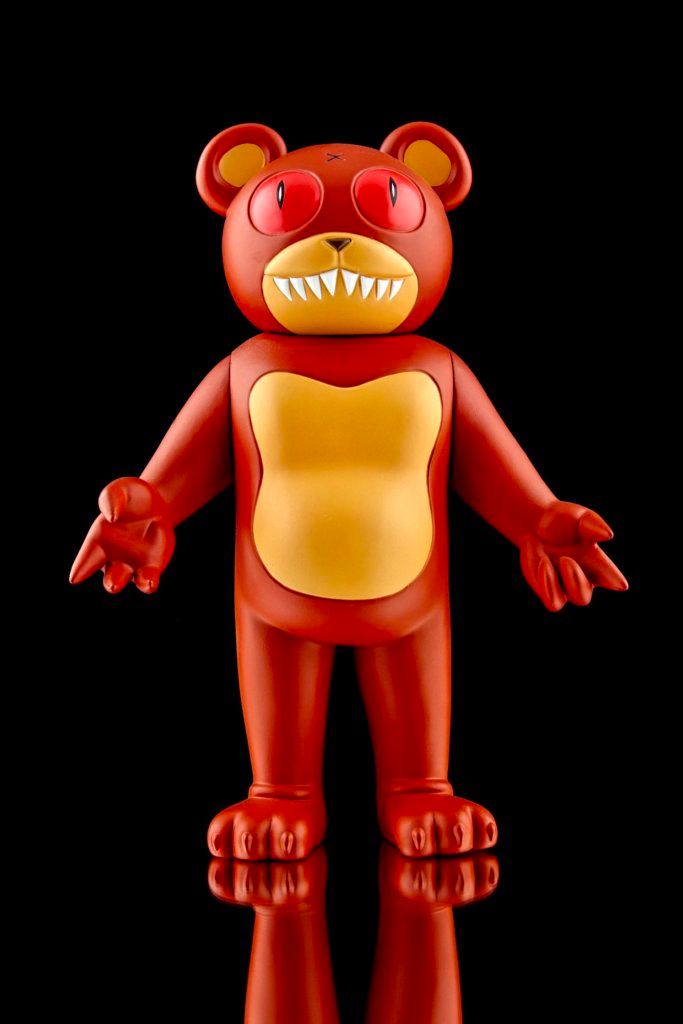 Not at all meaning to take away from Jermaine Rogers' artistry and brilliant design work, this toy represents something incredibly special to me. However, for the sake of record, Dero was produced by Strange Co. and released in 2005, with this pictured version being the first and original. With Red Hot Robot(a local Phoenix toy store) closed we didn't have anything after. Fast forward to December 2011 and I read an article on spankystokes.com about Lulubell Toy Bodega opening in Mesa, Arizona. I introduced myself to Amy and her husband David(The Devil's Kaiju) a week after they opened their doors.
After that, I came in at least two to three times a week to check out the shop, and buy something when I could, often drumming up conversation with Amy. At the time I'd only been accustomed to western vinyl toys and western toy artists, but I did notice some toys she had in back that looked very similar to the Godzilla and Ultra Man monsters from movies and shows I'd watched as a kid. During one of my digs through the Lulu shelves I came across the Dero. I'd never seen one in hand until that day, and I was blown away by how awesome it is, but mainly that Lulubell had something that I'd considered rare at the time. Amy noticed how stoked I was on the figure and essentially said that since I come in so much, and spend so much time in the shop, that I should just take the Dero home. I was floored. Since that day I came in even more frequently, each time Amy introducing me to more toys, more artists, and eventually educating me on sofubi from Japan and much of the roots, while also schooling me on the new waves of toys and artists. I even bought my first sofubi toy from Lulubell; a Secret Base fight figure. That eventually snowballed into not only employment with Lulubell, but a lifelong friendship with Amy and David, as well as realizing a childhood dream of visiting Japan for two months, where I learned firsthand the ins and outs of making Japanese sofubi toys. From concept, to sculpt to the factories, to holding a finished product toy.
I owe Amy and Lulubell my all for every bit of involvement I have in toys. For the places I've been, the people I've met, the friends I've made. Even typing out this list would not have happened had Amy not taken me in. This Dero, to me, is everything. 
Kumon by Shirahama Toy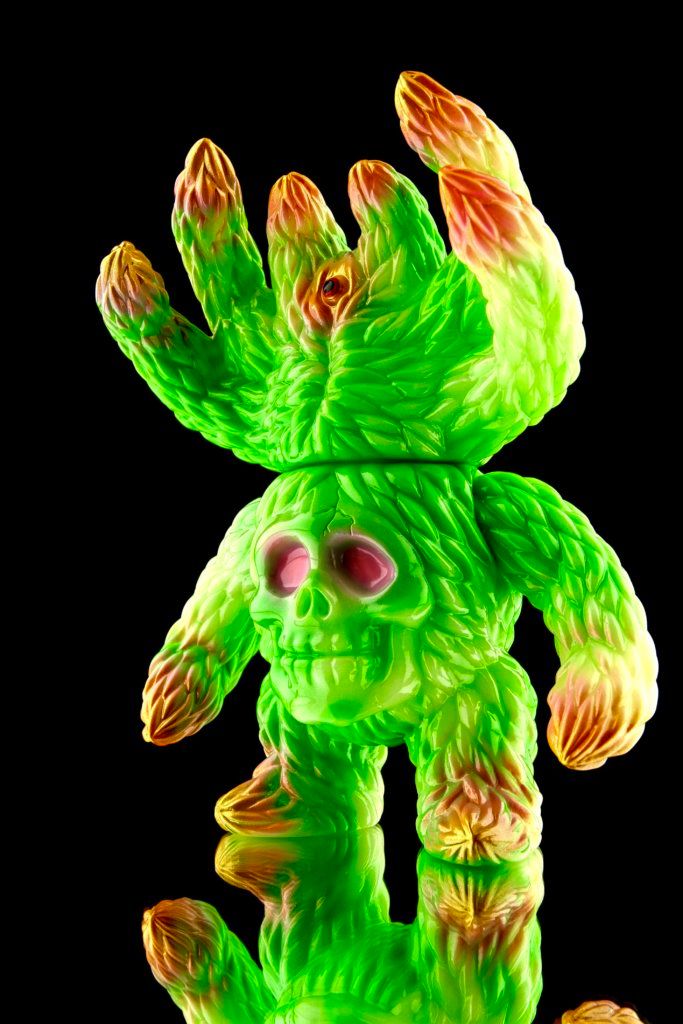 The Kumon by Shirahama Toy debuted at the Japanese event Wonder Festival in 2010. Sculpted by Kiyoka of Gargamel, the toy is a creepily paired figure comprised of a spider and a skull face in the belly.
I do very much love this toy for its flawless, smooth textures and seamless transition from arachnid to cranium throughout. Shirahama also perfectly executes some of the cleanest kaiju sprays you'll ever see on a toy, and his innovative marbled vinyl pours are second to none. However, this is another figure that is tied more to friendship than it is to being a collection favorite. During my 2015 stay in Japan, the Shirahama Sekei factory was a big part of my learning experience and inside look to sofubi production.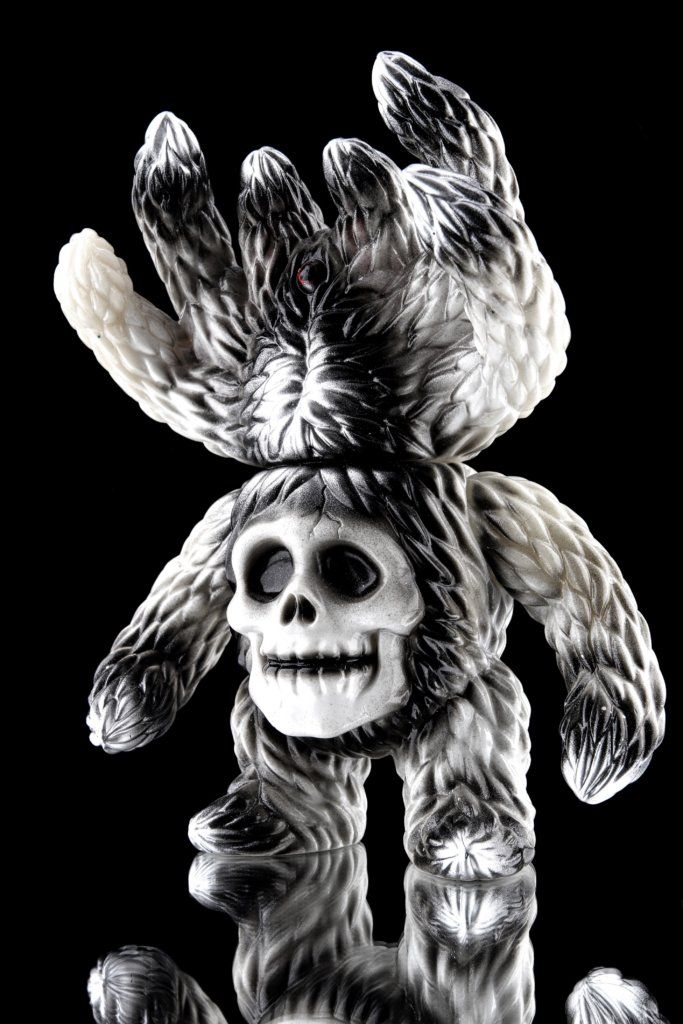 hrough working for Lulubell was how I even gained access to such a privilege, and met Shirahama in the first place. Had it not been for Lulubell Toy Bodega, I'd have never gotten the intimate looks I did. It's also where I learned how to pour and pull sofubi toys by hand. An absolute labor of love. Since then, I've developed a constantly growing and close relationship with Shirahama, and he's become a great, great friend and a teacher to me.
This toy, much like the Dero, stands as a physical representation of the bonds that can be forged through toys and collecting. The monotone Kumon is a 2015 one off, and the green partially painted marble is a one off from the Suicide Prevention Toy Raffle, put together by the organization To Write Love On Her Arms.
We feel honoured and enlightened by the words and pictures shared in this ceremony.
Silently and slowly we return to our every day life with the feeling that nothing will be like before.
Thank you Manic Images for conducting this rite, all pictures by him.
You can follow him on Instagram.
We'll see you on the next #sofubisabbath, brave are those who attend.
We have a forum dedicated to this series, be sure to discuss everything sofubi HERE.
Click below to check previous editions.
Want to preside the ceremony? Email us at [email protected] with your 6 favourite pieces.