Regarded as one of the top shopping capital of the world, Hong Kong has attracted
over millions of tourist every year for its sights & sounds, and most notably for the
wide range of products that could be found exclusively in this city. Located within the heart of Mong Kok are various streets with its own particular theme: Ladies Street for its wide range of local souvenirs; Gold Fish Street and Bird Street for the sheer number of pets available for locals to purchase; and the globally renowned Sneaker Street which is the Mecca for all sneaker lovers alike.
Since its debut in March 2019, Hong Kong's 1-of-a-kind shopping experience, 432Hz has gone down the select shop-route and brought in various brands from around the world such as Alk Phenix, Comfy Outdoor Garment, Goopimade, Hoka One One and Wisdom to the local audience who clamours for new and innovative products. Now, 432Hz is proud to introduce the next product in its line of limited edition collaborative project: the 'SALANGID SENPAI' from Award-winning and local artist CHINO LAM's MAGURO SENPAI designer toy series.
The all-white plimsoll sneakers are the common folk's choice of sporting footwear due to its clean looks, rubberised outsoles and its affordable cost for the masses which lead to its popularity amongst students and blue-collar workers. But due to its simplicity and lack of ergonomic design, incurring foot injuries while wearing them is a common sight around various playgrounds in Hong Kong. But with Hong Kong establishing itself as the financial hub of the world and rise in quality of life, people
then started purchasing proper sneakers while the trusted plimsoll sneakers have
been relegated to the history books.
To preserve this special part of Hong Kong's history, 432Hz teamed up with local artist CHINO LAM on crafting a Sneaker Street-themed designer toy. Using the classic all-white plimsoll sneakers as an inspiration, we present you the 'SALANGID SENPAI'.
Its all-white canvas upper and green rubberised outsoles is a hallmark feature of the plimsoll sneakers that were worn by the common folks. (Photo Source: Google)
Scheduled for release on 23rd of February, the 432Hz x CHINO LAM WORKSHOP
"SALANGID SENPAI" utilises Chino Lam's iconic tuna character but infused with various sneaker-related details, such as the stitching on the face, canvas-like texture and its green belly which is inspired by the rubberised green outsoles of the plimsoll sneakers. Available in 2 different sizes, ( 12cm & FINGER PUPPET ), this is our homage to a cultural icon.
Its head features the upper of the plimsoll sneakers with the shoelaces and lace
holes commanding a prominent position near its eyes, while the body itself is
inspired by the sneaker's rubberised green outsoles. The other unique feature of this the figure could be found on its foot: pass iteration of this figure sees wearing traditional Japanese 'Geta' wooden slippers, but now it sports its own plimsoll sneakers too! Its the smaller thumb-sized figurine is a simplified version of its bigger sibling but sports the same details with the addition of glitter in its stomach and the slip-on version of the plimsoll sneakers!
Painstaking details have gone into the packaging as well, with the box itself a homage to the old-skool plimsoll sneaker boxes which is highlighted on the off-white box by the red & blue stripe. For added nostalgia, CHINO LAM also added various secret phrases used by shop sales within the Sneaker Street area, while also visualising various childhood memories into two illustrations on the side of the box. Overall, this is a must-have item for toy collectors and sneaker lovers!
To coincide with this limited edition release, CHINO LAM has teamed up with
432Hz to host a 1-day limited pop-up shop & gallery within 432Hz on 23rd of
February 2020. The event will showcase various artworks and prints by CHINO LAM which some have been created specifically for this event, and other works which will see its debut feature as well. A special CHINO LAM x 432Hz 'SALANGID SENPAI' t-shirt
in 2 colours (white & green) will be released during the event and is limited to 40
pieces each, featuring CHINO LAM's hand-drawn 'SALANGID SENPAI' print and 432Hz logo. This is a must-have item to top off this wonderful collaboration between both parties
Purchasing Details:
‧ The limited-edition toys will be available for pre-purchase from now until 19th of February, 2020 (HKT 23:59) on 432Hz's official website https://www.432hzofficial.com/

‧ SALANGID SENPAI($800)Allocation: 140 pieces for local release / 60 pieces for International buyers / SALANGID FINGER PUPPET($200) Allocation: 200 pieces for local release / 100 pieces for International buyers ‧ Each person could only pre-purchase 1 piece. ‧ If number of pre-purchase exceeds allocation, buyers will be determined via raffle draw and winners will be individually notified on 21st of February, 2020. ‧ Winners located in Hong Kong would need to visit 432Hz on 23rd of February, 2020 (12:00 – 21:00) to purchase their allocated toy. ‧ International buyers will be notified via email and would have to complete their online purchase by 23rd of February, 2020. Once payment has been confirmed, the toy will be shipped out within 7 business days at the buyer's expenses. ‧ This product is ineligible for refunds, returns or exchanges. ‧ In case of disputes, 432Hz reserves the final rights of judgement.
https://www.432hzofficial.com/ for further info.
Check out our A day with Chino Lam of 豆もやし社長 – mame moyashi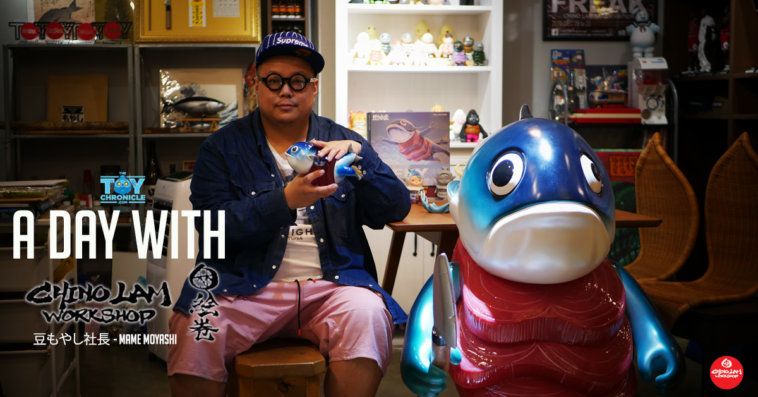 Follow Chino on his artist page HERE.
Find Mame Moyashi on Facebook.
If you want to get your Designer Toy news first, you should look to download our new TTC Mobile App. Designer Toy news direct to your smartphone. No dealing with social media algorithms.
It's FREE.