Last month we gave you the news of Realxhead X Uamou Banri Ikku exhibition at the all new soft opening at JP Toys Gallery. Today we get to look at some of the exclusives and releases at the opening of the exhibition. Thailand ARE YOU READY?! Jeep Tumwattana who's hands are already in JP Toys, JPX as well as being one of the founders of Thailand Toy Expo is ready to launch his next venture J.P. Toys Gallery. Ready to open its gallery doors for the first time you can call it a soft opening with a bang! J.P Toys Gallery have called upon Real x Head and Uamou for J.P Toys Gallery first exhibition in Thailand. Both Real x Head and Uamou will be at the opening. We expect plenty of exclusives as well as a rare chance to meet Real x Head and Uamou in person in Thailand.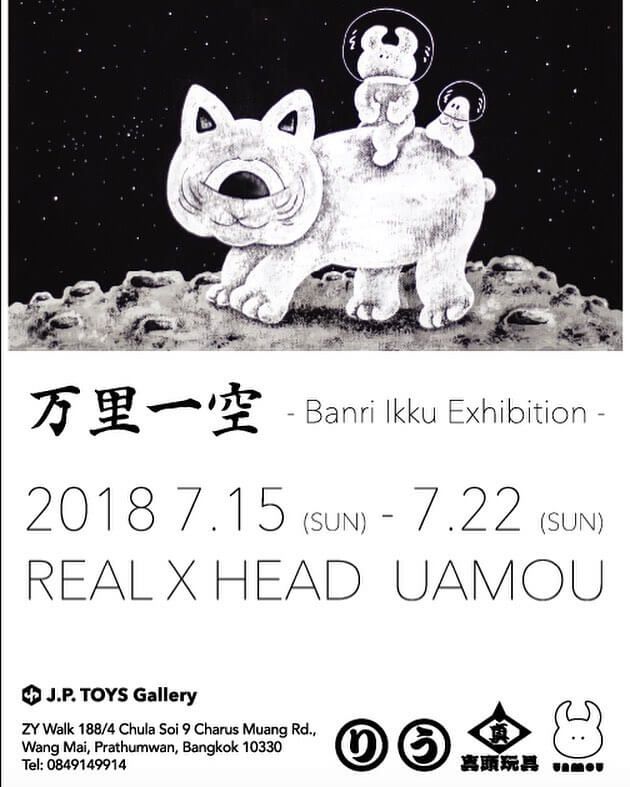 Here are the selling rules:
-Staff will give wristband for the lucky draw from 9-10:00am
-10.30 am announce the lucky customers (with the number of customers that can purchase )
– 11:00 am start selling
– The customers who get picked will be able to purchase 1 pc of RealXhead and 1 pc per each Uamou items
– Customers can get in one at a time, a mobile phone is prohibited to use inside while purchasing goods, each customer will have not more than 5 minutes to make a purchase
– Accept credit card (additional fee )and cash
– Please prepare enough money for purchase item
– Staff decisions are final
– Rules and regulations are subject to change without notice due to certain circumstances
WHEN: July 15th-22 nd 2018 at JP TOYS Gallery.
WHERE:
ZY Walk 188/4 Chula Soi 9 Charus Muang Road
Wang Mai, Prathumwan, Bangkok 10330
Tel: 0849149914
Stay tuned for all the exclusive drops and further info.
You can get your daily Designer Toy fix from our TTC Mobile App. It's free too! FREE! Download on the iPhone or Android smartphones. Search for "The Toy Chronicle" and all your Designer Toy wishes will come true! Pretty much.
Did we fail to mention IT's FREE.
Find J.P Toys Gallery via Instagram and Facebook. http://www.jp-toys.com/