Hey guys! What's happening? It's your boy Pedro from the TTC, yeah, I'm writing this post as myself so my personal opinions and views are to be expected, exciting huh? I was only thinking of making a generalist top10 but my brother Andy aka BTP post about 2016 inspired me, so here we are. Somethings to be said and hopefully you guys will find this a pleasant reading!
Happy 2017! Let's look back at my year in the TTC shall we?
Well, I started writing in Feb 12 of 2106, my first post was about a Chris Squink release, the Surfacing – Smoke Pool;
I was really determined to show Andy and Gary that I was serious about writing in the TTC, but i never thought that things got this serious.
Of course that there are many people out there more talented than me when it comes to writing (for starters I'm not a native English speaker). There are great critics, people with unique and well educated views on art and toys in general. I'm not claiming to be one of those. But one thing that I've learned during this year is that the key is consistency. You can expect from me and my brothers that we will be there everyday when you open up your browser. Delivering not only the news, but reviews (real reviews), behind the scenes, con coverages, live streamings etc… During this period I've written 680+ posts, several live streams and even some talks in my country. I'm sure Gary and Andy have many more. That's to say that I'm 100% dedicated to TTC, I've put it in front of many other of my responsibilities and loved every minute of it. But why?
Well, that's not an easy question. You can't explain love. That's what it's all about, the love for the scene, the artists, collector and the readers. During 2016 I've watched "Designer Toys" becoming more "Art Toys" and other denominations. But what's important is that the scene is growing without a doubt. More players are joining, collectors collecting, more people are creating, more companies producing and more people eager to share their own personal opinions on sites and social media. That's a good thing. The scene is changing and evolving.
During the year my main focus was to search for new artists and of course writing as much as I could. I was so happy in featuring artists for the first time on blogs. Like my brother Dollar Slice Bootlegs who quickly became one of my favourite artist with killer releases this year. For example the Morrisey/Supreme action figure;
That guy surprised me from the beginning to the end of the year. On the final day of 2016 he released the impressive slaughter bots;
That's to say that the bootleg and resin scene grew exponentially. No only on the US and EU but also on Japan, I always made an effort to bring new stuff to the table, such was the case of the Speed Freaks Studio Resin Kits;
Or the first blog appearance of Eyehart Toys with the Boney Bob V2.0 "At Midnight;
The also first ever blog post featuring Thiago, the artist behind Resinagem ;
But let's slow things down. I have to mention ToyCon UK. It was very important to me meeting the team and major players such as Huck Gee and Nathan Hamill over at our both. Making friends with RXSEVEN (with the help of a few beers), Fer MG and of course mister JPK (I got my first JPK custom that con, it was F special)!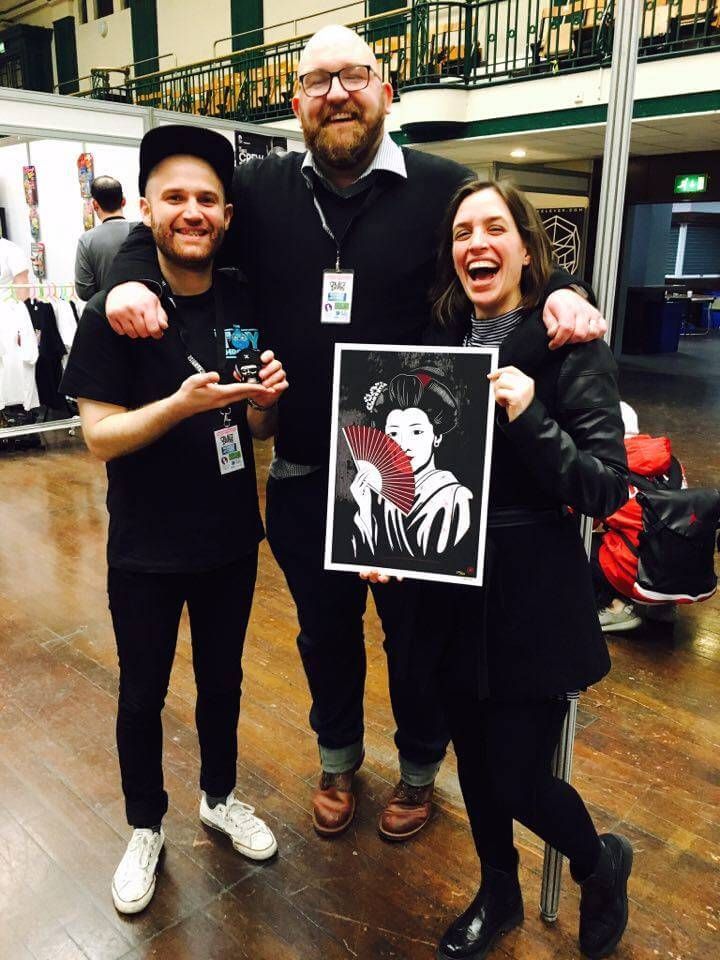 Oh! I even got a special draw from superstar Matt Jones;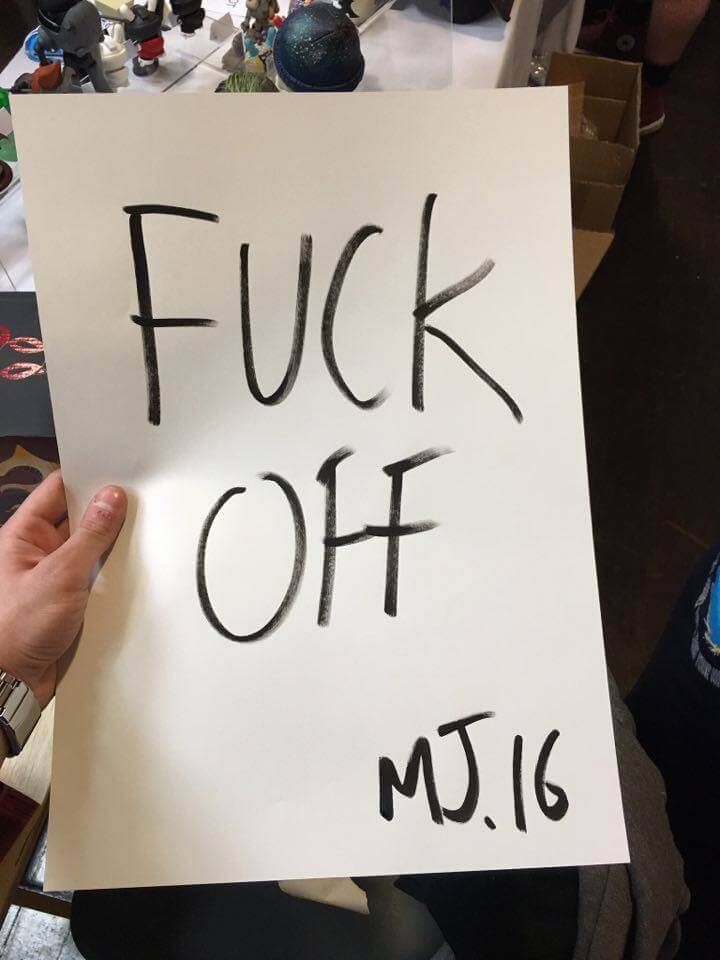 Love!
As I searched everyday for drops and new stuff I quickly noticed that the sofubi scene grew each day! From new artists, new sculpts, new conventions or artists like Zukaty and Obsessed Panda becoming top notch with their technics. Zukaty with the bubbles and extreme colors and OP with that marvelous Nebula effect;
This is just to name a few. Lottery's were sold out and made all over the world. Con's were happening all over the place, from The Clutter Gallery's Kaiju Battlers to Vulgaris Mortem in Guzu Gallery in Austin, TX. I tried to bring you some exclusive Japanese releases that had little to none expression overseas like DABURASU M2 (MANDARAKE LIMITED COLOR);
Major companies like Kidrobot launched impressive collections this year, thumbs up for the Odd Ones and Mishka Dunny series.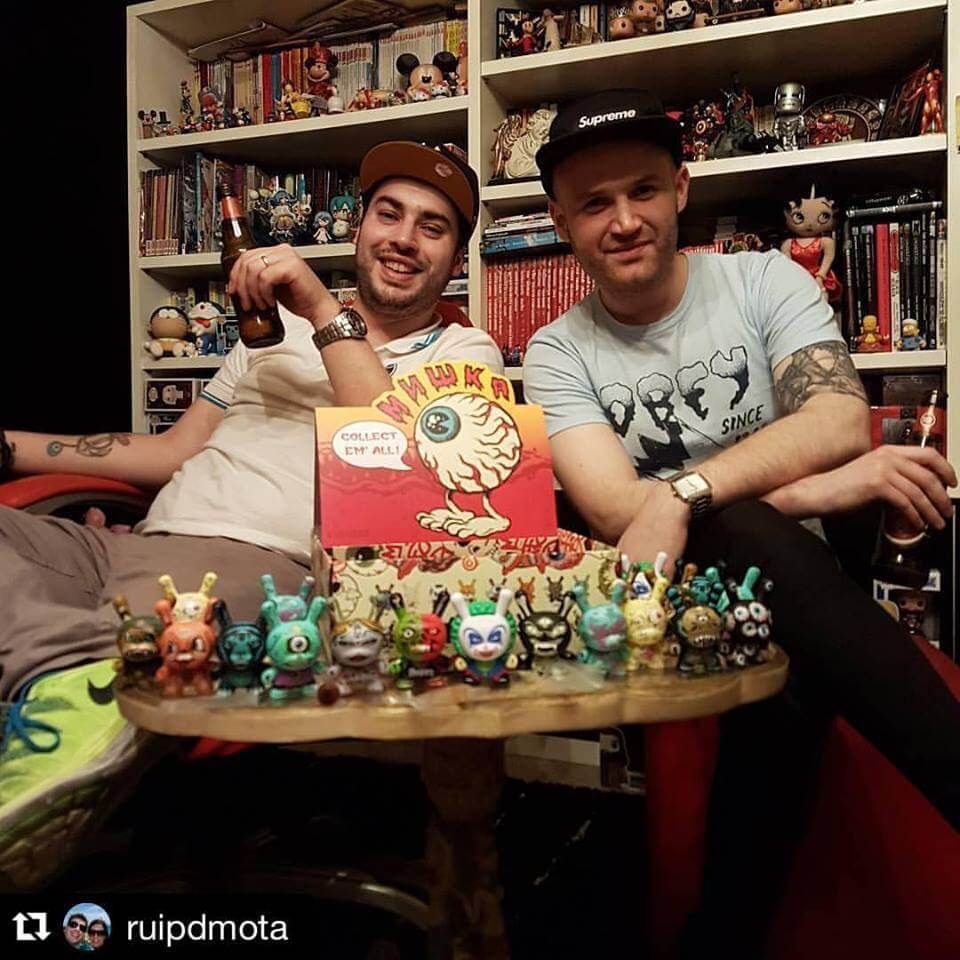 I've watched several collectors from major popular brands and popular figures refine their taste and transitioning to art toys.
I've watched people grasping the concept of "open edition" when the end started for KAWS. I've seen the true meaning of design on designer toys with Elena Kazi's LMNTAL.
I fell in love with the shokonakazawa X medicom_toy Baby Byron, managed to get a custom from Zukaty:
Still dreaming with JPK's Samurai Deshi Baby Byrons;
The podcasts!!! I welcomed them with a full heart, very entertaining content that you can carry wherever you go. The Blind Box, Marsham Toy Hour, For the Masses, The Collection.
I've been to hell and back with Gary and Andy (we shall not speak of it). That got us stronger. More dedicated! Love you guys!
So why The Toy Chronicle matters?
I firmly believe that writing everyday, putting independent lesser known artists and big corporation collectibles you can achieve something, and that's an art market that ultimate results in culture consumption and hopefully leads to critical thinking. That's what humans are all about.
Shout out to several artists and friends that encourage me to do this, Andy, Gary,Madelon Rietveld, GODHAY TOYS, FERMG, Vini Chav Toys, Elena Kazi, D$B, RX SEVEN, TOYSBIAN, Rotten Studio, Miguel Graça, Michael Devra, Tania Barros, Paulo "Zukaty" Mendes, JPK, Rachel Pingel, Rui Pedro Mota, Windy Stroud and everyone in my day to day life.
Thank you all for being with me, i won't let go of this!
My top 10's coming soon! 😉
Peace, happy 2017!