Ok, honestly, if you check our The TTC Beard's wardrobe tonight you'd find that 93.5% of the items you'd find would be Johnny Cupcakes. You just cannot go wrong with a Johnny Cupcakes tee. So when we saw that JC is doing a mini pop-up tour at the Atama Store in Dallas next week we were kinda hoping for a special release. Atama is a Designer Toy store, so it's no surprise that indeed there is a special Tee release for Johnny Cupcakes' Pop-up shop. Featuring the Johnny Cupcakes Big Kid design, taking on iconic Kaws style.
[frame align="center"]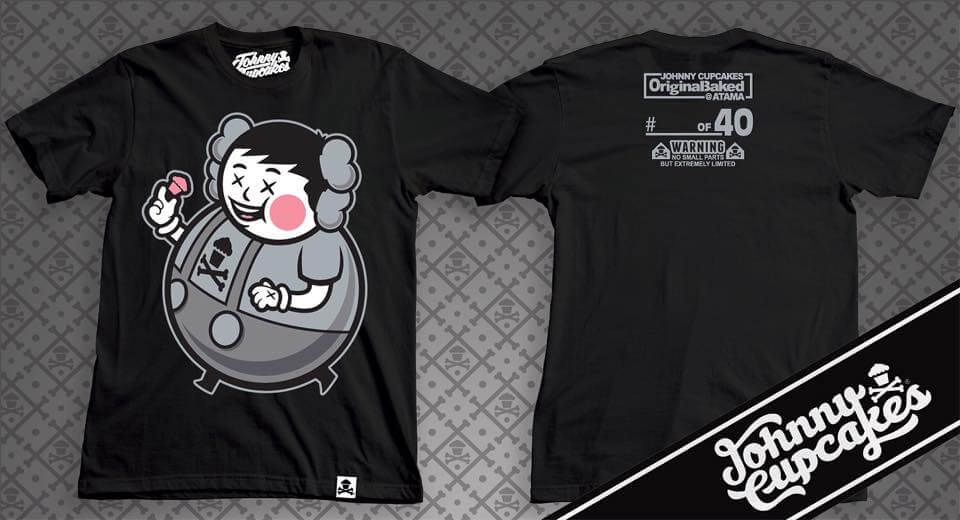 '[/frame]
Only 40 of these limited edition tees will be available for FREE on Monday, October 12th but you'll have to be at the Atama Store and on time to find out how to get your hands on one these sweet treats!
So if you're in Dallas on Monday you should definitely be looking to head over to Atama and meet Johnny. If you happen to grab one of this exclusive tees, let The Toy Chronicle know. We can work out a deal. Please & Thanks x
[frame align="center"]
[/frame]
Johnny Cupcakes is a clothing brand founded in 2001 by Johnny Earle. The clothing line uses cupcakes as the prominent design motif of its merchandise, often replacing iconic symbols with cupcakes. The brand's insignia is a skull and crossbones, with a cupcake silhouette replacing the skull.
The Johnny Cupcakes line includes t-shirts, shorts, sweaters, jewelry, undergarments, pins, toys, and so much more. Its flagship stores are located in Boston, Massachusetts and Los Angeles, California, Oak Bluffs, Massachusetts and Hull, Massachusetts, along with his online store, which ships worldwide. All Johnny Cupcakes retail shops are furnished extensively according to a bakery theme.