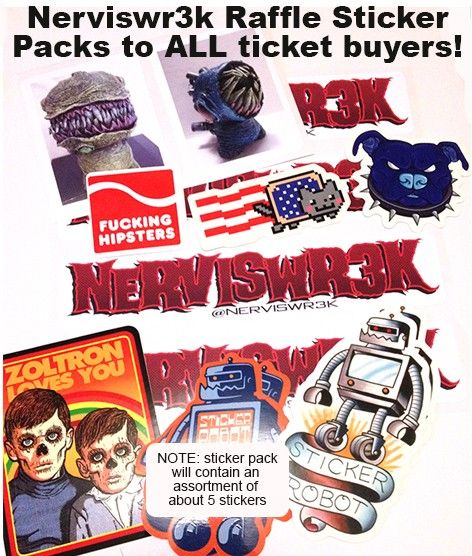 The Toy Chronicle received a message from guys over at Tenacious Toys needing a helping hand with a wonderful and caring cause, plus helping a fellow collector/artist Nerviswr3k. Falling into the festive season means helping each other over come struggles and just a nice helping hand. TT has organised Raffle to Benefit the Family of Nerviswr3k
Recently, toy artist and sculptor Nerviswr3k experienced the loss of a family member who left behind a daughter. In order to support the family of a humble and respected artist who has given so much to our community, Tenacious Toys is organizing a raffle.
Raffle tickets will be $10 each and exactly $10 will be sent to Nerviswr3k per raffle ticket sold. There are 15 different raffle prizes donated by a variety of artists and companies: Beefy & Co, Taylor Lymberry, Mike Die, Blazon Brikhaus, Tenacious Toys and of course, Nerviswr3k himself. Prizes include custom toys, production vinyl and plush toys, Nerviswr3k products and more. The raffle ends on December 10, with winners picked starting December 11. Winner #1 gets to pick any one of the 15 prizes, winner #2 gets to pick any of the remaining 14 prizes, and so on.
15 prizes and FREE sticker packs
Money will be sent to Nerviswr3k every other day this upcoming week to help support this little girl who just lost her father, and to make sure she has something this holiday season.
To encourage ticket sales further, for every raffle ticket purchased, the buyer will get a 5-piece sticker pack including an assortment of stickers by Renone, Abe Lincoln Jr, Sticker Robot & Tenacious Toys. Buyers of multiple raffle tickets will get multiple sticker packs and we will try not to duplicate ANY stickers for such buyers. Benny will hand pick each sticker assortment.
No limit to number of raffle tickets each person can buy.
For further details on prizes, rules and stickers, visit the Raffle Ticket product page on the Tenacious Toys site.
LINKS:
Nerviswr3k Raffle Ticket
http://www.tenacioustoys.com/NERVISWR3K_RAFFLE_TICKET_p/nervisraffl.htm
Tenacious Toys homepage
http://www.tenacioustoys.com
Nerviswr3k site
http://www.nerviswr3k.com/
CONTACT:
Benjamin Kline
PO Box 287042
New York, NY 10128
347-223-5869
[email protected]
www.tenacioustoys.com