As many of you already know i am a HUGE fan of Doktor A so when i first saw the sneak peak of these man was i excited. The Mechtorian line has so much power in the designs and the sketches are just as beautiful. So now there is a way to own a little piece of all the sketches without having to drop some serious money to get them.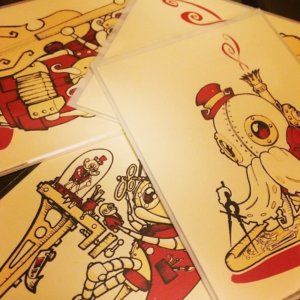 The popular Pobber toys has teamed up with Doktor A to create 'The Mechtorians Collectable Card Set'.
"The Mechtorians collectible card set is a (hopefully) ever-expanding set of limited edition, screen-printed trading cards based on Doktor A's Steampunk Mechtorians world – which in my humble opinion, deserve their own set of trading cards.
There is a total of 4 cards in the first set. Each Mechtorian card is limited to 250 original plus 50 GID variants. All cards are screen-printed on double thick French Construction off-white 100lb card stock in Florida USA. They are crisply printed, high quality heavy duty cards and we call them Collectible Art Cards.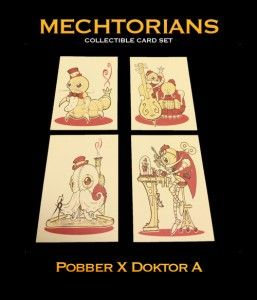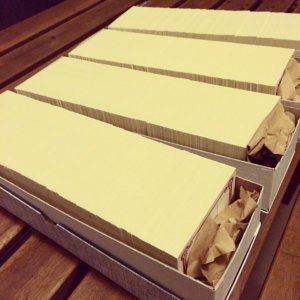 I was super pleased that Doktor A was as excited about the idea as I was when I approached him in March 2013. Since then we have both been hard at work making this into a reality. Screenprinting is a whole new thing to me and I spent hours learning about the different printing terms and how to set up artwork so a screen printer can turn our ideas into high quality cards. Most trading cards end up in drawers or get tossed away after some time. We wanted to do things differently and make something which you will treasure and be proud to display on your walls.
All Mechtorian card orders will be shipped in custom packaging. For added protection, each card will be inside individual plastic sleeves before placed into a top loader so no scratches or dents will happen in transit to your collection. On top of that, i will be supplying some Pobber sticker goodies for every order.
The Mechtorian cards will be sold in packs of 4 for $16. You are guaranteed a full set of 4 Mechtorian character cards when you purchase a pack but not every pack will contain the GID chase variant. So exactly how many packs are there? If you have been counting, that means there are only a total of 300 packs or 1200 cards across 4 characters for this series.
 This is the first collectible card set anyone has attempted with Doktor A. It might work, it might not. Who knows? If it works, we will do a second series. If it doesn't, well it was a lot of fun doing it. This is the start of an adventure and fingers crossed it will not be the last you see of collectible art cards from Pobber."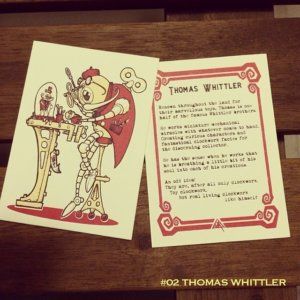 All of the information on each of the cards backstory's can be found on the Pobber blog HERE and the cards will be releasing via Pobber.com on 23 Dec.

Also go check out the rest of the amazing work by Doktor A on his Facebook, Instagram and Website and also go pick up some of his work from his Bigcartel.