Hell YEA! Bigshot Toyworks just uploaded the finished coin banks "LUCKY DOLLAR" & "LUCKY DIME" by  Jeremyville x Kidrobot! it looks like they are ready to be released very soon. Being a fan of Jeremyville and having the old mini Kidrobot blind box series in my collection, this will be another MUST HAVE. Not that I will have any money to stick in it. Boy it's great to have Jeremyville's art in vinyl toy once again. Question is which one do I decided to get my filthy hands on!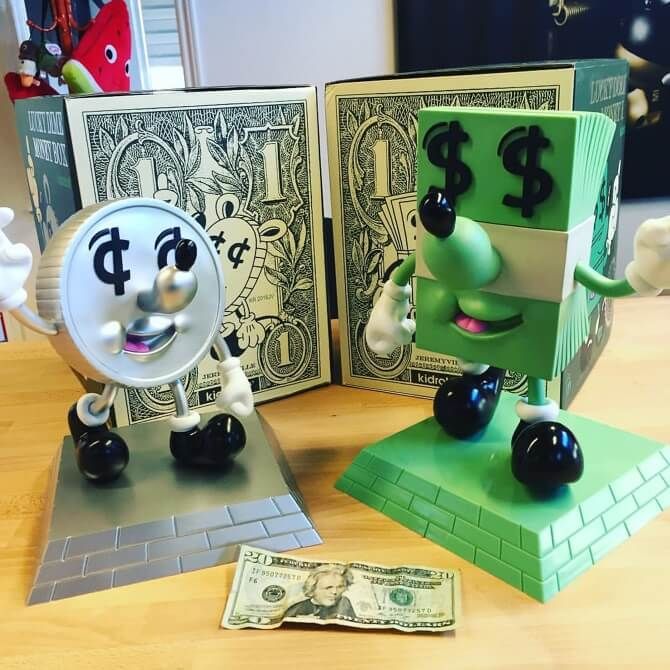 "We love collaborating with world class creatives and agencies, it fuels our creativity and drives us to do our best work.
We recently had a great opportunity to work with Studio Jeremyville, and the result is this 3D representation of their "LUCKY DOLLAR" character. This stack of cash is walking the walk, and in today's economy Jeremyville couldn't be speaking more to the truth. We have worked hard to take Jeremy's charming drawing of the iconic character to create this amazing sculpt."
Designer Con 2015 is right round the corner and Kidrobot will be having a booth at DCon, will we be able to purchase them? Who knows, fingers and toes crossed. We will update you all as always.
Find Jeremyville at http://www.jeremyville.com/ Instagram, Facebook and Twitter.
http://www.kidrobot.com/
(Info and photos lifted from Bigshot Toyworks)