We just brought you a LIVE feed from the Clutter Gallery's Kaleidoscope of Kyoot Show (see HERE) and one of our favourite European artists Emelie Jensen AKA Tomodachi Island will have a custom for the show. Dazzling as always and using the classic Toy2R 8″ QEE as a platform for this wonderful custom, Kuma Hana.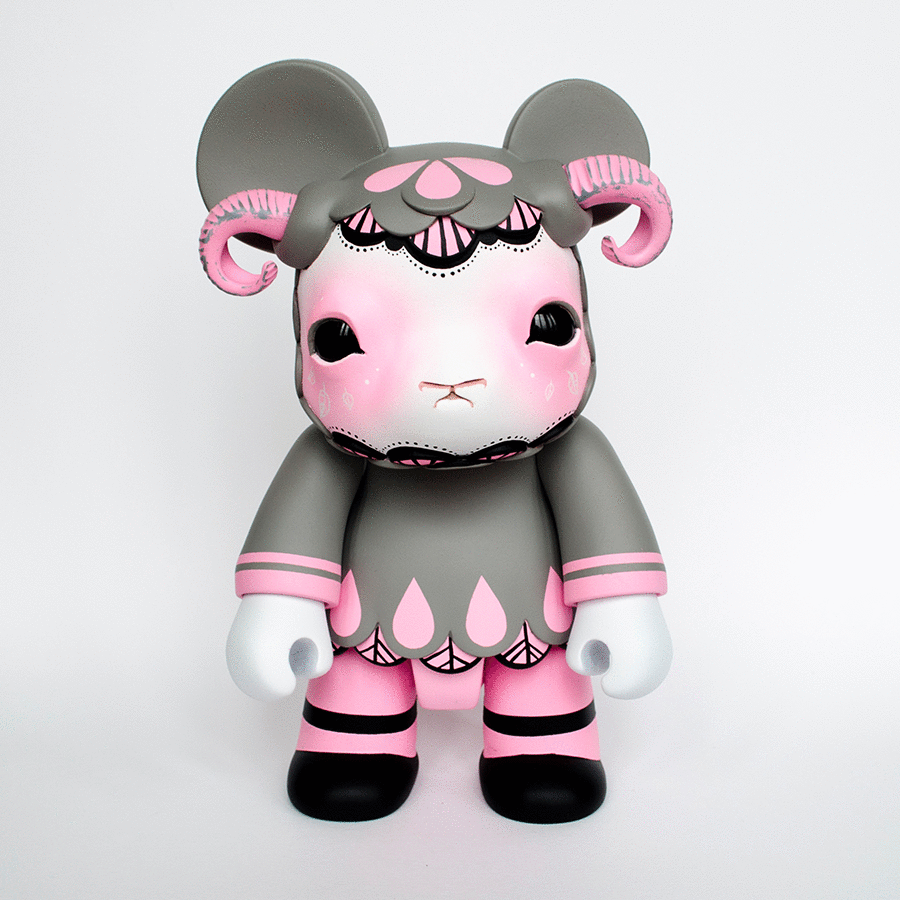 Digging the colour choice for Kuma Hana and those horns…… WOW, don't you like just like the subtle rub that Emelie has done on the horns, brings out the texture.
The flower that Emelie has made could be an art piece on it's own, part 4 leaf clover would it bring goodluck to the collector?
Emelie will also be showing her 2D side of things with artwork called "A Whispering Wind" for the The Clutter Gallery"Kaleidoscope of Kyoot" show, Jaw dropping stuff right."A Whispering Wind" Takes us back to memory lane when we first noticed Emelie drawings before her custom toys.
[slider source="media: 52295,52293,52294″ limit="38″ height="400″ title="no" pages="no"]
The Clutter Gallery is excited to present "Kaleidoscope of Kyoot", a custom designer toy event of cute and colorful pieces!
Participating artists include:
Cat Rabbit, Chernyachi, Claymate Creatures, Crowded Teeth, Cuddly Rigormortis, El Hooligan, Flat Bonnie, Fluffy House, Gail CC, Gretchen Lewis, Grumble Toy, Hanjipan Designs, Hiroshi Yoshii, Horrible Adorables, HungryGhost, Joe Scarano, Josh Mayhem, Kyle Kirwan, Lisa Rae Hansen, Lolle, Maddy Norval, Melodreama, Misfit Menagerie, MJ Hsu, One-Eyed Girl, Seulgie, Silk and Thistle, Stitch of Whimsy, Sugar Fueled, Tomadachi Island, twelveDot, Uamou, Valency Genis, Wesker Zhan, Yoii and more!
The opening reception will be free to the public and take place on August 13th from 6-9pm. The works will remain on display until September 2nd, 2016.
The Clutter Gallery will have all pieces available for sale in their physical location and on their website.
Check out our interview with Tomodachi Island HERE
Find Tomodachi via Faceboook, Instagram and check out her Etsy storeHERE which has some cute and awesome accessories and customs.
Much more on her store that is just a sample! have a look at her sketches too take a look at http://tomodachiisland.com/