We already announced the Medium Kidrobot x Nickelodeon TMNT Shredder and Triceraton HERE a couple of days ago. Kidrobot and Nickelodeon have previously worked together way back in 2014 (wow time didn't seem that long time ago 2014!) Time for series 2. If you're heading to Denver Comic Con Kidrobot will be bringing along all their Teenage Mutant Ninja Turtles madness! Today Kidrobot final reveals the whole series line up for you TMNT fans.


Casey Jones is a must for us but the series doesn't appeal to us. Something about them…. the expressions maybe… Hmmm Krang or Mutagen Man is one of our favourite characters but this version looks too weird. We don't know if it's licensing restrains but we hope in the future KR can give an artist in the scene some free reign to put his/her spin on TMNT. KR must of spent a fair load of cash on the head sculpts. We can see customisers have a field day with Triceraton, Tokka and Rahzar as platform. We love the amount of accessories and quality of accessories Kidrobot have been making over the past few releases and these have them.
"The capsule will include a Teenage Mutant Ninja Turtles Blind Box Mini Series, Teenage Mutant Ninja Turtles PHUNNY Plush, and Teenage Mutant Ninja Turtles Shredder and Triceraton Medium Figures. The capsule pieces will retail from $9.99-$39.99. All items will debut at Kidrobot's Denver Comic Con Booth #337."
"Later this summer, Kidrobot will also release a Teenage Mutant Ninja Turtles Blind Box Keychain Series, retailing for $5.99 each."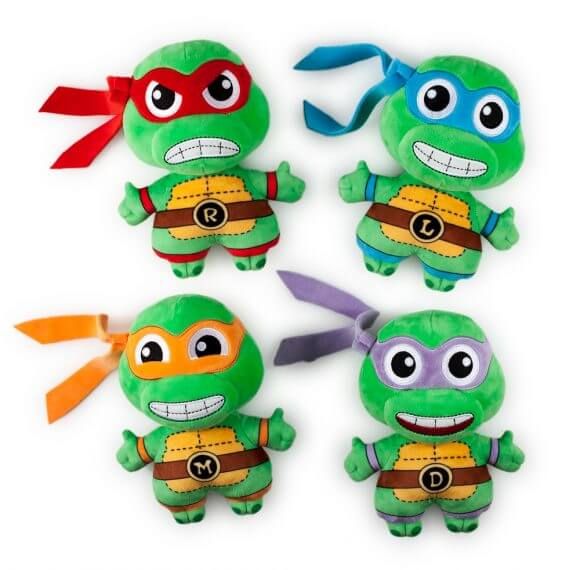 Those PUNNY Plushes are a nightmare… please save your money Kidrobot and forget the PUNNY line, these TMNT PUNNY ain't as bad as the others but still look like fair ground plushes.
Our buddies at Mindzai  have the Kidrobot x Nickelodeon TMNT mini series 2 for pre-order NOW.

(all info lifted from https://www.kidrobot.com/ )