Drum roll, please……… Big update for Junko Mizuno: The Witch, the Nurse, & the Wrestler which was announced HERE last month. We've given you a tease of what to expect at the show but there's MORE! Plus you'd better save the date for the closing ceremony at Woot Bear as some special things are happing.
Another show we wished we could make! The Witch, the Nurse and the Wrestler the art of TRIAD Poposition Press pop up book by Junko Mizuno at Woot Bear Gallery. Junko herself will be at Woot Bear with her art pop up book and exclusive prints, made especially for the show as well as one of a kind paintings and previews of whats to come from Junko.
 Attendees can catch the first glimpse of her Ikea glass figure and the Wilkowski/Junko Bear.
Save the date and charge up your camera as you'll have the chance to meet the beautiful Junko and see her art in person.
Date:  Saturday, December 16th, 2017
Time:  6pm-9pm
Where:  Woot Bear (1512 Haight Street, SF 94117)
All art will be online for purchase during the show, price list and preview list HERE.
In TRIAD, the world of artist Junko Mizuno's three favourite characters: The Nurse, The Witch and The Wrestler come alive in three-dimensional sculptural pop-ups. Available at https://triadpopup.com TRIAD is available in two editions: a Standard Edition which includes 5 pop up pages, and a Special Edition which includes 6 pop ups, a pull out poster, laser etched slipcase, is signed/numbered by Junko Mizuno and limited to only 100 copies.
For further info http://wootbear.com/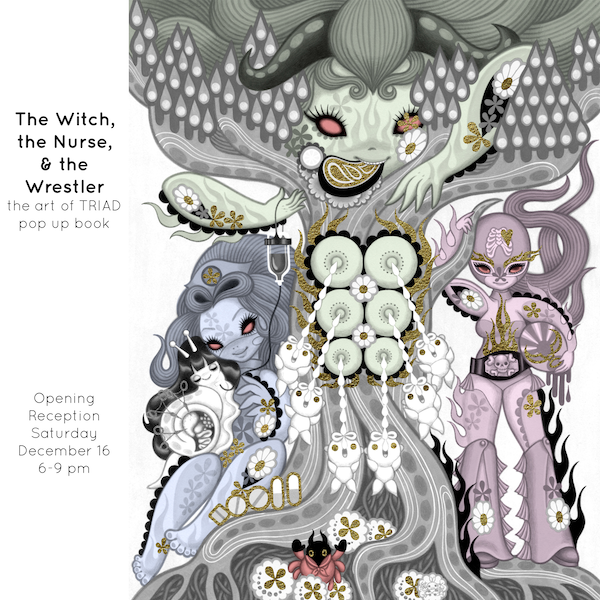 If you want to get your Designer Toy news first, you should look to download our new TTC Mobile App. Designer Toy news direct to your smartphone. No dealing with social media algorithms.