Nope, it's not Trump, its GRAPE BRAIN's Hell's Cat Onigiri & Macaroni causing mischief in Singapore! Giving you a heavy dose of smiles from Japan to Singapore as OZZO has these two EXCLUSIVES! Possibly the most vibrant colourways to hit Singapore.
Release Date: 12:00, Saturday 21.11.2020
Limited set, first come first serve,
PRICE: $160 (Singapore dollar) (only selling as a set of two). walk-in store, do not ship overseas (Mules welcomed, salty collectors need not apply).
OZZO Collection: No. 2 Havelock Road, #03-26, Havelock ii Retail, S 059763. Mon-Sat 12-7pm., Sun/PH 12-5pm.+65 6535 0321
For more Grape Brain goodness visit http://grapebrain.cart.fc2.com/
Twitter https://twitter.com/RAGE_ERADA
Instagram https://www.instagram.com/grapebrain_rage/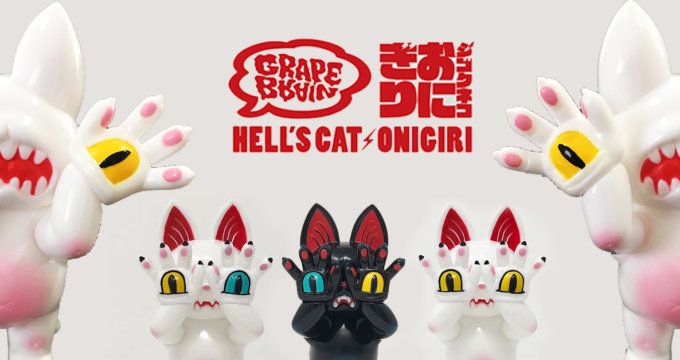 You can get your daily Designer Toy fix from our TTC Mobile App. It's free too! FREE! Download on the iPhone or Android smartphones. Search for "The Toy Chronicle" and all your Designer Toy wishes will come true! Pretty much.
Did we fail to mention IT's FREE.