Born to ride or ride or die, sums up Huck Gee's latest creation. No mech's or ninjas involved but instead something for you petrol heads. If you're like us you would have seen over the past few months Huck grinding away at this beast "FLYNN SKITCH and THE BATSBY BALDERDASH GT250 #27. Dapper meets vintage, with hints of petrol head all mixed into one.
Here's what the boss H had to say about this beast. Enjoy the backstory too.
I've now spent over a year designing this beast. The last 2 months solely invested in printing, sculpting, refining the fit, and finalizing the paint and sew details. It took me 3 days just to finish assembly. I definitely broke some personal goals with this one. I'm delirious and in love…

Driven by Flynn Skitch, sponsored by Kingshead Whiskey and BPB Manufacturing, #27 is a garage modified Batsby Balderdash GT250 nicknamed "The Flying Geordie". This fat boxed beast is an absolute head turner and to hear this monster roar past at full throttle is a thing of sublime audible beauty.

Flynn himself is notable not only because he's an outstanding pilot (medaling in 3 Acorn Runs including Port to Port, Factory Haul 250, & Spring Byways GT), but because he's also openly reps his association with the Dapper Scoundrels, one of Blackwater's more notable gangster families…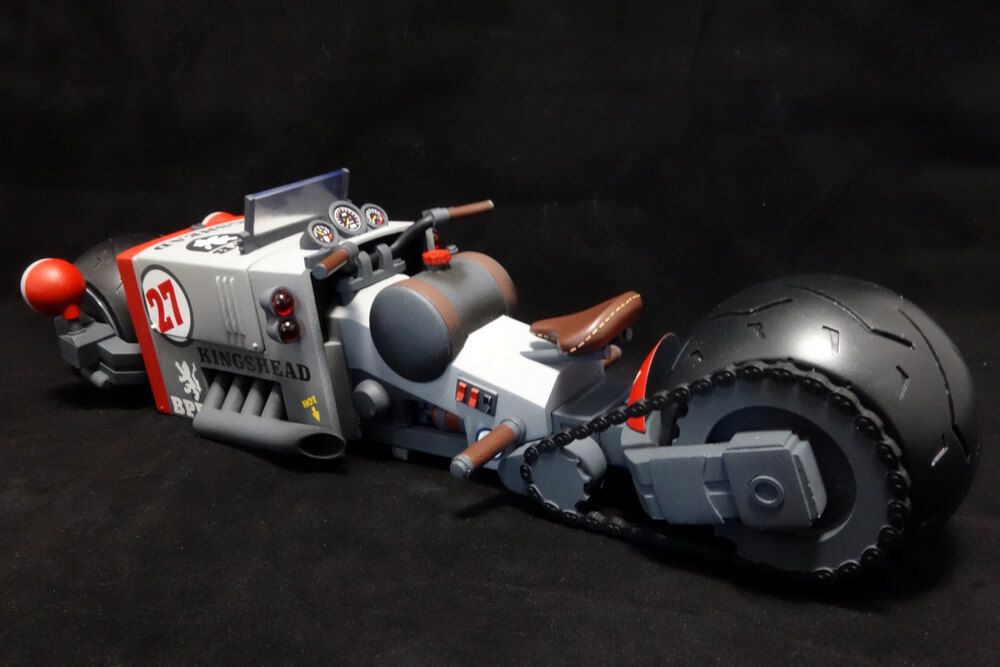 For us the all the work in progress photos that Huck uploaded onto his social media outlets made FLYNN SKITCH and THE BATSBY BALDERDASH GT250 #27 even better even though we knew it would be outta our price range. Seeing Huck levelling up his finishing and embroidery skills every step of the way.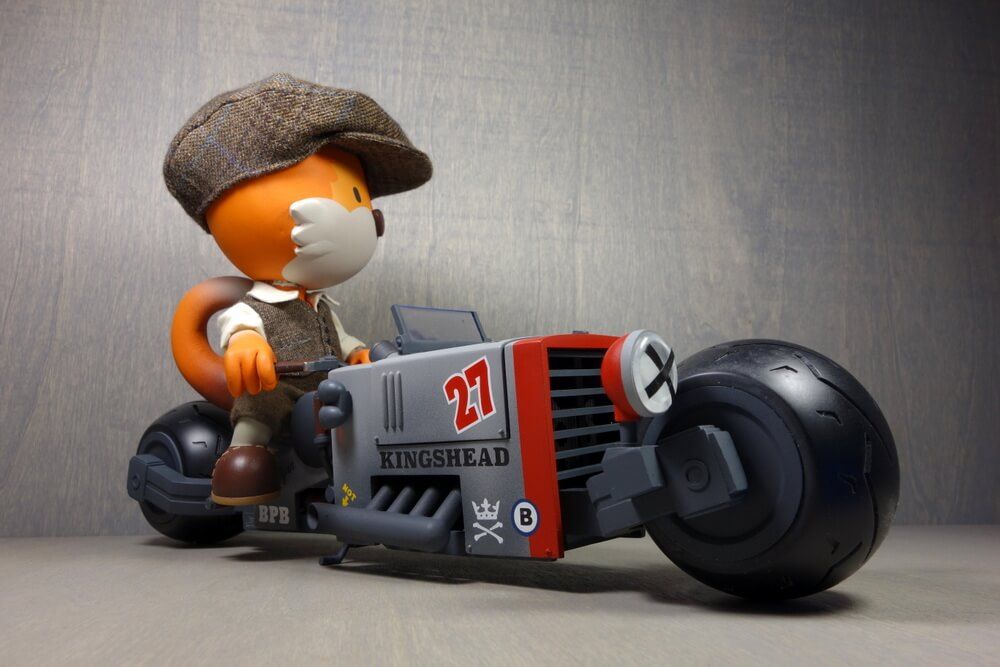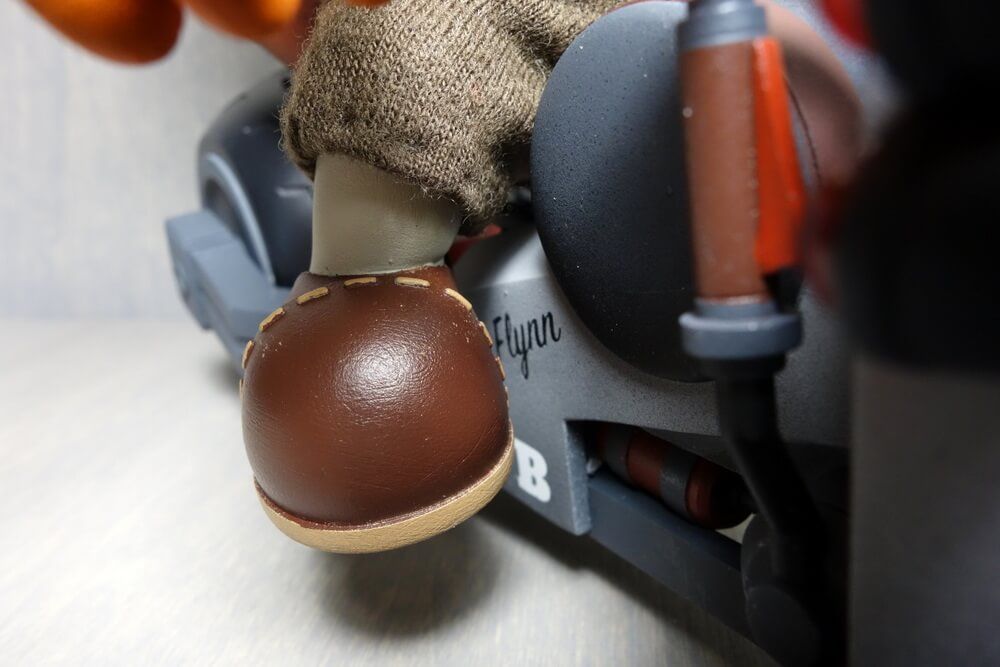 So much detail from decals to the printed stitching, great craftmanship (minus the over paint on the shoe, Ha sorry Huck) Huck wasn't lazy at all as he even put in the smaller details in like the undercarriage of the bike.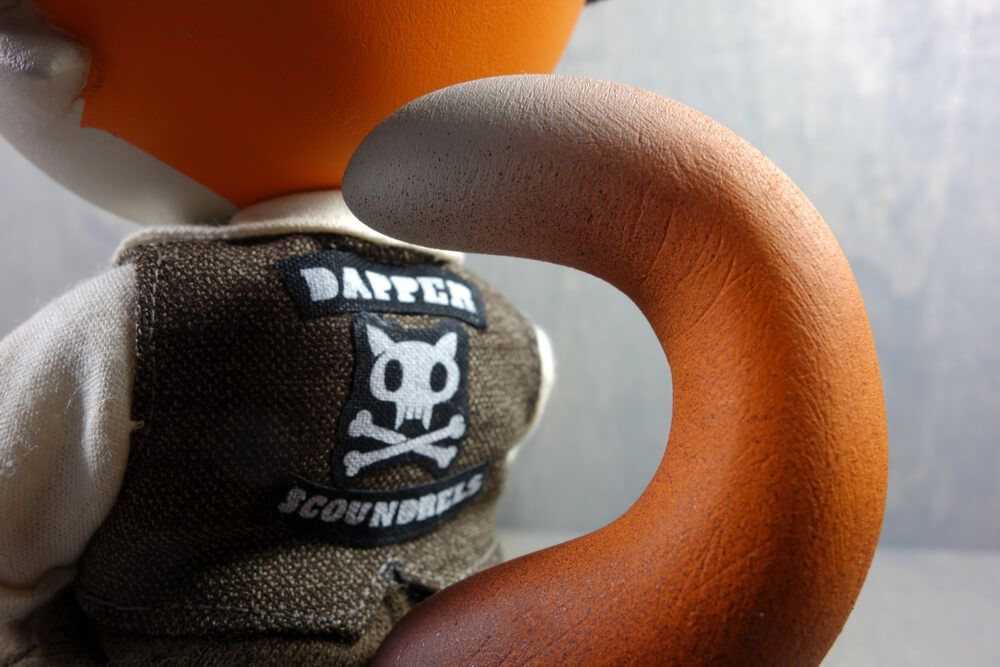 Personally, I would be happy just for the bike itself, but having the FLYNN included is a bonus for sure. I'm sure eco-heads would be cringing over the exhaust fumes. Hey, you don't have to fill up for gas/petrol.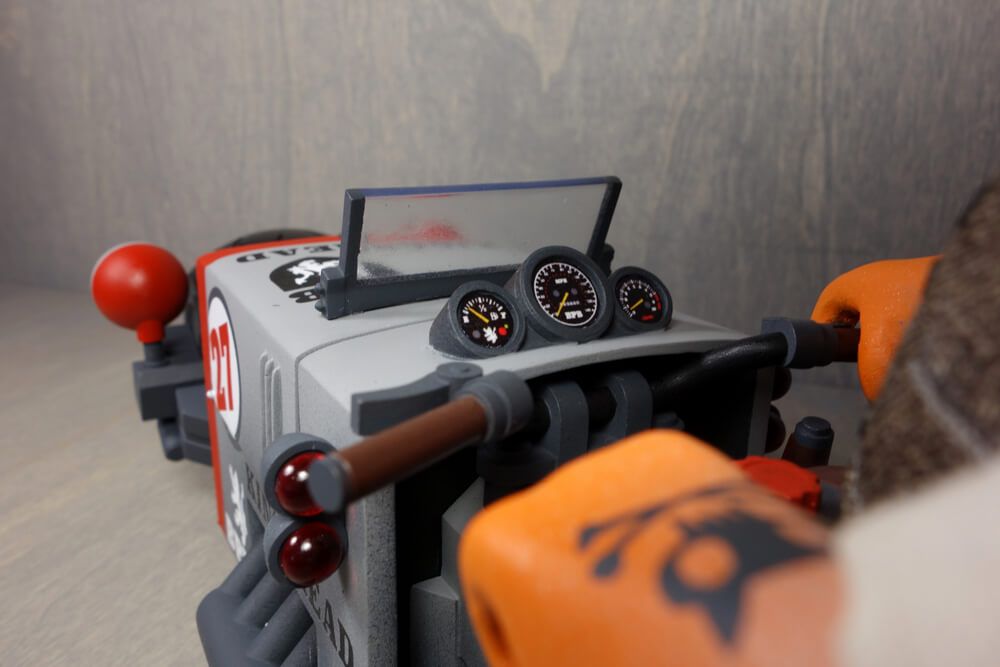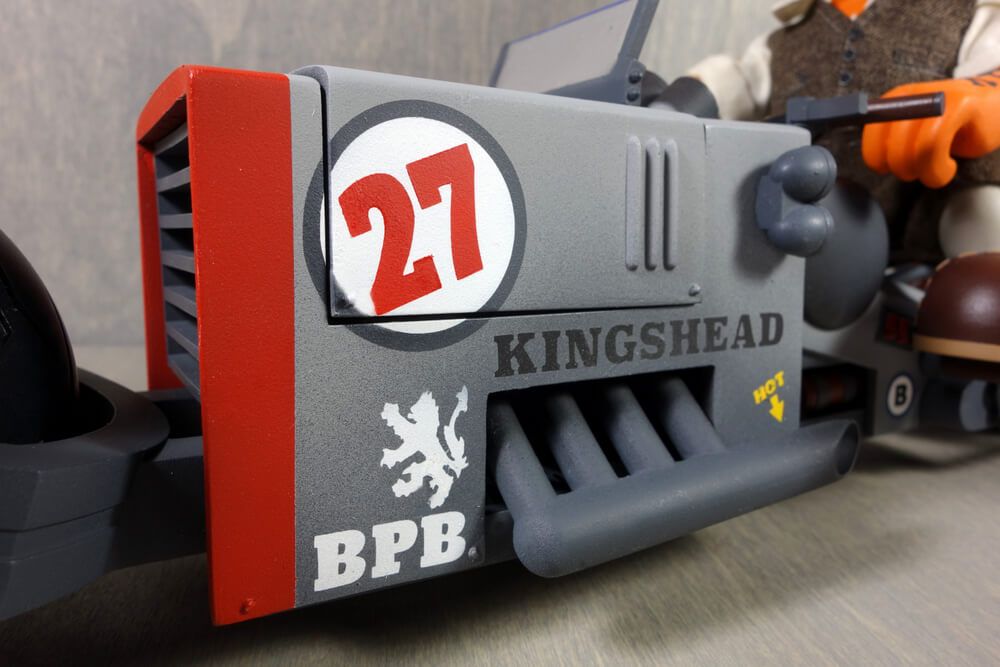 The hood is removable, the engine and air suspension are exposed, the wheels turn, the suicide shifter shifts (mostly), his clothes are dapper, his hat may be doffed, and there are gobs of other details (like the fox skull painted on the radiator, hidden behind the grill). This set will be packed in foam and shipped in a branded wooden crate. This will be a set of 10, measures 14.5″ long by 7″ tall, and each set will be signed and numbered: $1850 + S&H.
Anyone interested in adding this masterpiece to your collection please email [email protected] ASAP.  Payment due at time of ordering and will ship in 6-8 weeks.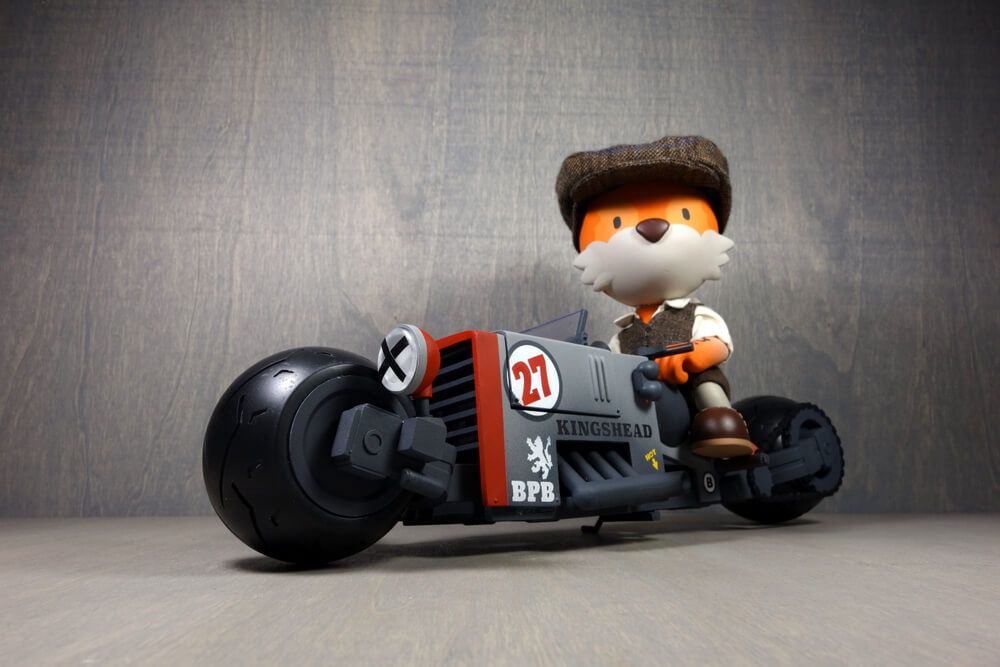 One other thing I want to highlight. I'm digging that Huck has the decently to take some beautiful photos of his work. Artist/ customizers please take note. Doesn't have to be that fancy going outdoors. All you need is black or white paper and use your phone. It's better than taking a toy/ art that you want to sell and expose to the public with photos of a messy background and clutter. Take Hucks photos for an example. Nice to see Huck doesn't have a big ego to get down and dirty taking a shot. Puts in the effort as much as his art.
http://www.huckgee.com/ for further info