DKE Toys at Dcon will have over 2 dozen art toy releases, 2 art shows and a few other tricks! a wide range of resin figures and offer many independent art toy releases. The question is ARE YOU READY for all of this? Here is part one of the BONANZA!
Infected Android Anomalies by Scott Wilkowski x Android Foundry x Pretty in Plastic
In the process of making the DKE SDCC 2014 release there were some pieces left over that either had a bubble or the color was wrong or too cloudy, a dent or some blemish, so Pretty in Plastic coated them, painted, modified, splattered, sparkled, and bedazzled some. They will ALL be on display for buyers to choose the design and color they like best.
[slider source="media: 34392,34390,34391″ width="1200″ height="1200″ title="no"]
$70 tax incl. Edition of 40 one of a kind resin pieces.
Star Case x Suckadelic "Gay Empire" and "Sucklord". Each editions of 25. 6" tall hand painted Japanese Vinyl.
Joystik & G2-B2 by Bill McMullen
 Bill actually made 10 of these figures 2 years ago for DCon and just showed up at the booth with them. Dov from DKE sold them in 5 minutes. The pieces were made for the rest of the edition but it has taken 2 years for the remaining 20 to actually surface. So although it is an edition of 30 DKE will only have 20 for DCON 2015, assuming Bill gets them done.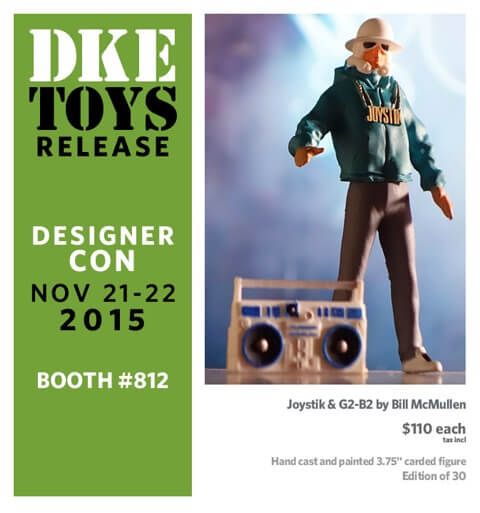 $110 tax inc. Hand cast and painted 3.75″ carded figure 
Edition of 30.
Devil Boy by Manny X Romero – Iconoclast Toys
DKE had "Bad Acid" Bart at Comic Con and it sold out immediately so DKE asked for another.  Comes with Trident accessory. Bubble is resealable. GID.
[slider source="media: 34393,34401,34399,34396,34395,34394,34397,34398,34400″ width="1200″ height="1200″ title="no"]
$60 tax incl, Hand cast and painted 3.5″ carded figure edition of 25.

Protest Trooper DCon Edition by Special Ed Toys 
$45  tax incl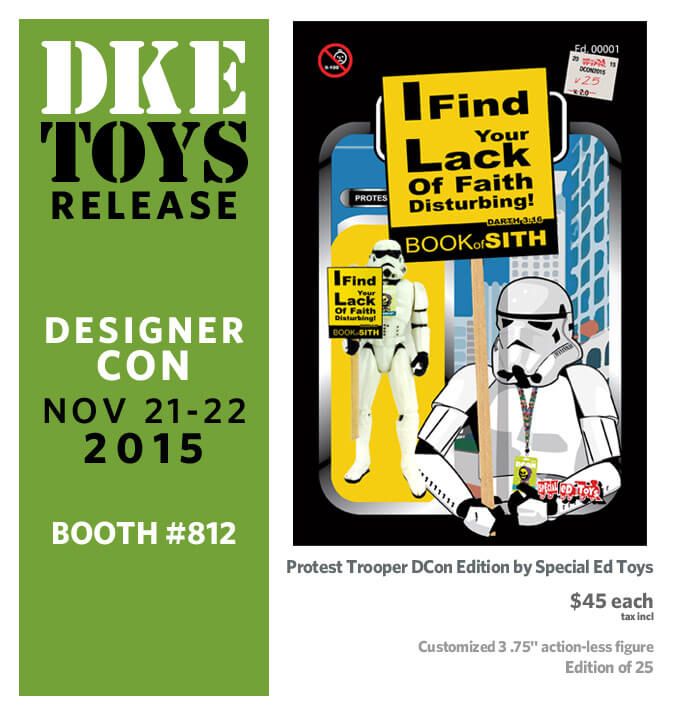 Customized 3 3/4″ action-less figure
Edition of  25 

A follow up to the SDCC hit. This one comes with a miniature DCon badge and lanyard. The price sticker has been altered to look like a vintage Kaybee sticker this time around.
Furiosa by The Mark Ultra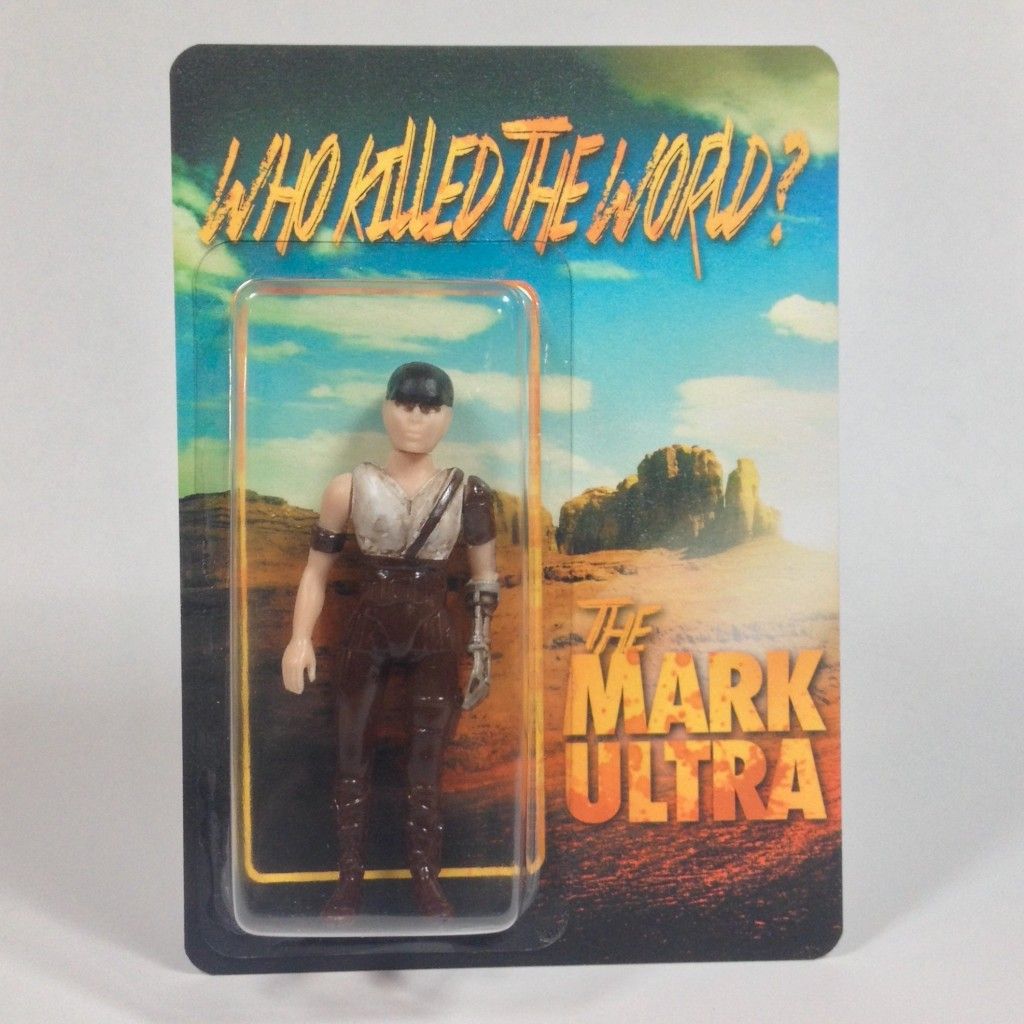 $45 tax included. Hand cast and painted 3.75″  carded figure 
Edition of 30.
Smurf Vader by Greg Aronowitz – BarnYardFX
$55 tax included
These look just like vintage Smurf PVC figures are just the start of the STAR SMURFS universe.
Greg Aronowitz is an artist best know for his  work on over 300 film and
television projects (including Terminator 2, Saving  Private Ryan, Jurassic
Park: Lost World, X-files, The Office, VEEP) and has  created merchandise for
almost every major franchise in pop culture (including Star Wars, Sponge
Bob, TMNT, Marvel, Star Trek, and many others). Growing up in the 80s, there
were few things more inspiring than finding the latest release of  Star Wars
action figures in the local toy store, or the smell of new Smurfs at the
gift card shop on the corner.  A childhood dream brought to reality, Greg has
spent his down time between entertainment projects combining his two
favorite things into his personal art project entitled STAR SMURFS.
Alien vs Predator by Special Ed Toys 
$100  tax incl
[slider source="media: 34386,34384,34385″ width="1400″ height="1100″ title="no"]

Set of two 3 3/4″ scale figures. Hand cast and painted.  
Edition of 30 

"They came into our lives in the 80s, "touching" us in ways we could never imagine. One from the stars and the other a big shinning star on Earth. But 
as quickly as they touched our childhoods, they were gone. But now they're back…and they're coming after your fondest childhood memories and
there's no telling who will win. Will it be the Reese's pieces peddling Alien or the Pretty Young Predator in disguise? One thing's for sure, no matter who wins, your childhood loses."
The ET is a slightly modified vintage toy and MJ is resin.
Andre the Giant's Posse Has A Posse by Junk Fed
$50 tax incl

"Revisiting an experiment in phenomenology, perpetuating a meme into infinity"

"Though it may resemble the action figures from your childhood, it features zero points of articulation and may not play well with the rest of your toys. Not recommended for children."

Generally speaking we try not to release new color ways of previous releases at conventions but we made an exception for this one. It looks amazing in grey scale and the first two editions sold out completely. With only 15 pieces I am sure these will be gone  too. Junk Fed conceptually and execution wise is really at the top of this bootleg resin game.
Luke Smurfwalker by Greg Aronowitz – BarnYardFX
$55 tax included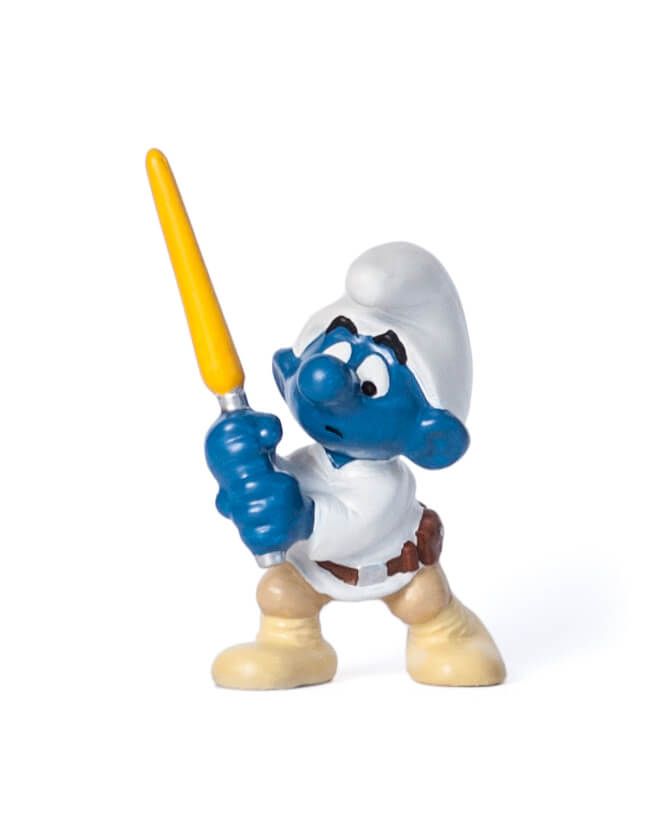 Hand cast and painted 2″ carded figures
Editions of 50
Star Warhol by Killer Bootlegs 
Here is the second figure in the Andy Warhol inspired line. This is a follow up to the sold out Campbell Soup Can Droid from San Diego Comic Con 2015.
$75 tax included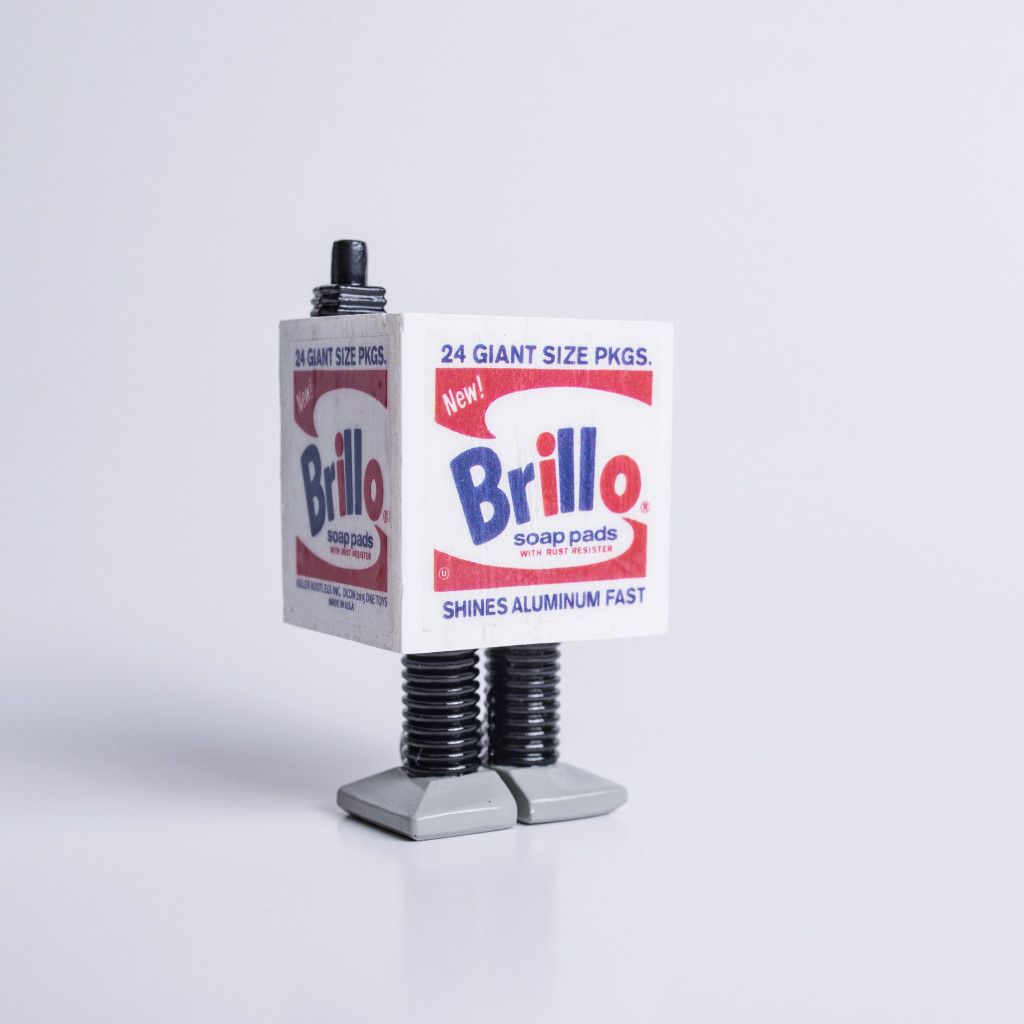 Hand cast and painted 2.75″ carded figure
Edition of 50.
Rebel Girl by Buzzard Guts
The start of an ongoing series called Riot Scum. A Star Wars punk rock mash up. 

"Leia rebels against her overbearing father by starting a punk band with her misfit friends. She convinces her nerdy twin brother to drive the van and they tour the universe playing songs about the evil galactic empire". Figures cast and painted by Buzzard Guts. Hemlock Bootlegs cast the guitars and card art by Last Boss Comics.
[slider source="media: 34404,34402,34403″ width="1400″ height="1100″ title="no"]
Hand cast and painted 3.75″ carded figure. Edition of 20, $45 tax included.
Galactic Chainsaw Massacre by Credenda Studios
Beau Greener of Credenda Studios is at it again. If you recall the sold out edition from San Diego Comic Con "Freddy Fett" mashing up Boba Fett and Freddy Kruger. Here you have Dengar with Texas Chainsaw Massacre.
[slider source="media: 34417,34414,34416,34415″ width="1500″ height="1100″ title="no"]
Hand cast and painted 3.75″  carded figure. Edition of 30 $65 tax included.
B.U.N.N.Y.W.I.T.H. Clear Orange by Alex Pardee
$20 tax included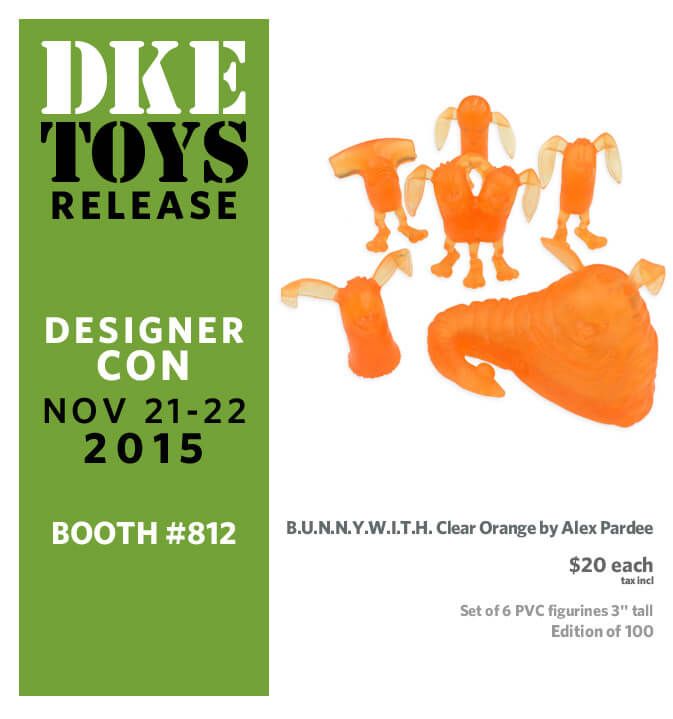 Set of 6 PVC figurines 3″ tall
Edition of 100.
Quantum Lead Nicolas Cage by Janky Toys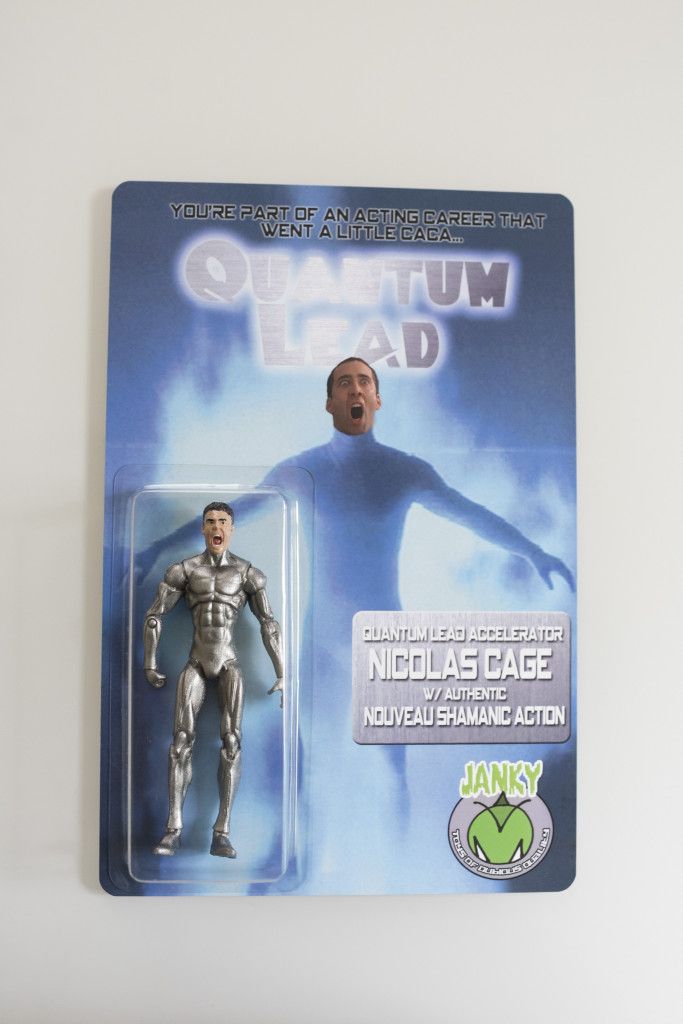 Theorizing that one could travel within his own acting career, Nicolas Coppola stepped into the Quantum Lead Accelerator… and vanished. 

He awoke to find himself known as Nic Cage, facing accents that were not his own, driven by an unknown force to change film history for the better. 

And so Nicolas Cage finds himself leaping from part to part, striving to put right what once went wrong, and hoping that his next lead will be the lead home. 
Hand cast and painted 3.75″ carded figure 
Edition of 20 $45 tax included.
Forecaster by Green Plastic Tunnels
[slider source="media: 34412,34413,34411″ width="1500″ height="1100″ title="no"]
Hand cast and 3″ figure.  Bagged with header card. Edition of 12, $28 tax included
DKE are happy to present in Booth #812 Mr Toast vs D-Con an art show by Dan goodsell
The ever-likable Mr Toast takes on many of DCON's icons in this show that is bound to make you smile. 
5×7″ ink and watercolor framed drawings – $30 each + tax
More info head to http://dketoys.com/ ,twitter.com/sarahjo and facebook.com/DKEdkeDKE.