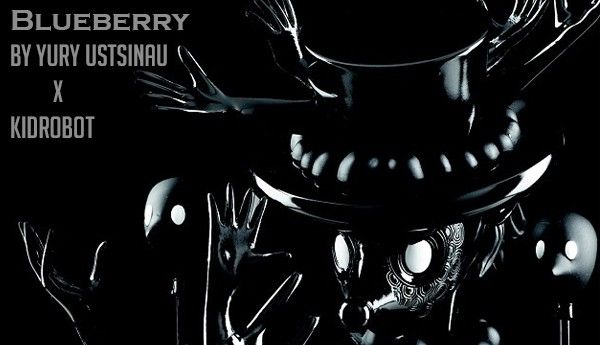 Yury Ustsinau an artist, designer and illustrator residing in Germany, is the latest to join the supreme Kidrobot Black series with the high quality extremely limited art. First teased in January 2014 put haters in silence and Kidrobot showed that Kidrobot is alive an kicking with or without licensed lines.  Yury Ustsinau famous illustration "Blueberry" got the Kidrobot treatment and made into a 3D work of art.
Blueberry looks fantastic and KR looks like they have done a superb job in sculpting the design and transcending it into vinyl. WOW just look at the face pattens. Below is the Illustration version of Yury Ustsinau Blueberry. I guess Yury Ustsinau  was a no brainer getting him to join forces with KR as his Black and White style was a perfect fit for KR Black series.
Kidrobot has just teased a February release date but not actual date or price. I expect it to be no less the £200 so start saving. As always we will inform you when all the full details are released. Kidrobot.com, Kidrobot SF, Kidrobot LV and select specialty retailers for $250 (around £166).
The latest release in the artist based 'Kidrobot Black' series, German artist Yury Ustsinau's "Blueberry" is a brilliant derivative from his original vector based image. Standing at 10 inches in height with a myriad of detail, texture and finish, Blueberry is a true definition of limited edition art toy.
YURY USTSINAU  http://www.ustsinau.com/