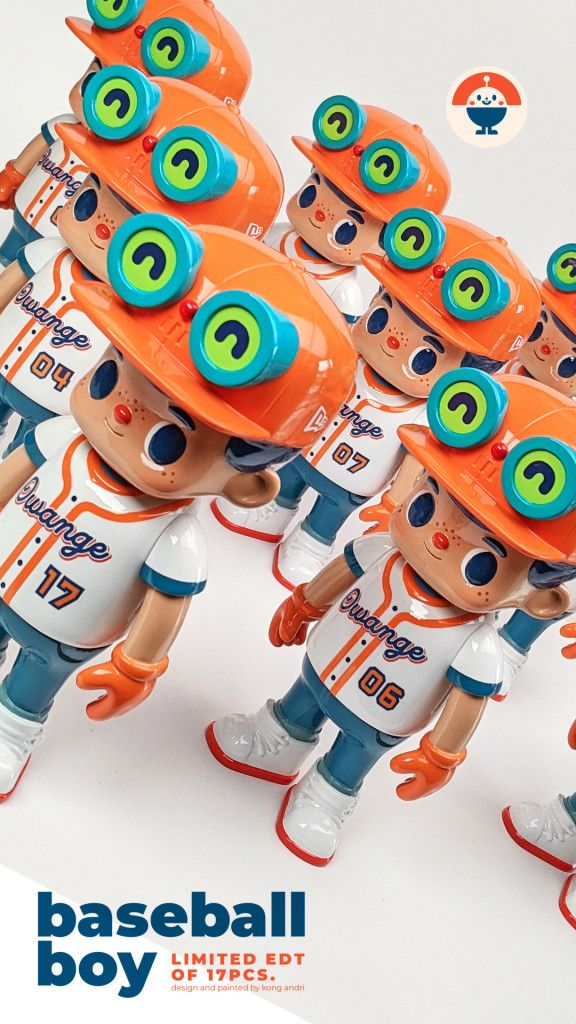 Let's play ball! Kong Andri is about to drop their latest Owangeboy statue this coming Friday in the form of Baseball Boy, and we are all here for it! Baseball Boy has got us in the mood for baseball season. Sat in a ballpark, with a cold beer and hot dog watching nine innings of baseball in the sunshine!
This 8inch polystone resin will feature a different baseball number on each jersey. Limited to only 17 pieces. Priced at $650 (with worldwide shipping included). Each figure is hand-painted by Kong Andri and will arrive with a certificate of authentication. Baseball Boy will release at 1pm BST on Friday 23rd April and will be available HERE.
---
Kong Andri Social Media
Facebook: https://www.facebook.com/Kong-Andri-114452642670467/
Instagram: https://www.instagram.com/kongandri/
---
If you want to support The Toy Chronicle, we have a number of options available to you. We have started to stock a wide range of releases that we think you will enjoy. Ranging from production pieces from Superplastic, Unbox Industries & POP MART, to original pieces from our favourite artists like Sank Toys, Quiccs & Czee13. Purchasing one of our pins also really help. A quick, cheap way to also support the TTC is by making a small donation. These can all be completed below through our online shop. We appreciate all the support! Thanks!