With Five Points Festival done and dusted for the year, clear and clean images of the DTA Kidrobot x Clutter Dunny Series actual surfacing and one of them is the BabyTEQ [God Mode Gold] Edition! 1 of the 3 BabyTEQ colorways included inside the Kidrobot x Clutters Blindbox DTA Dunny Series. Talk about BLING, don't take it to the pawnbroker's ladies and gentlemen it may look like real gold but it ain't.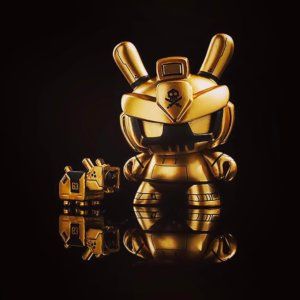 Honored to be part of this project! Brewing up a Manila local launch event with our friends at Secret Fresh Gallery this June featuring the Blindbox sets, artworks and customs from international artists involved in the series, works from some of our favourite local artists, and some surprise exclusives! Stay tuned, folks. –Quiccs
Pre-orders at our sponsors and friends
 https://www.collectanddisplay.com
https://www.ingenioustoyz.com/
Discount codes below especially for you guys, every little helps right.
Collect & Display (UK)
www.collectanddisplay.com
Use code: THETOYCHRONICLE5 for 5% off your order!
Tenacious Toys (US)
www.tenacioustoys.com
WELOVEGARY will get you $10 off orders over $50
WELOVEANDY will get you $15 off orders over $75
WELOVETTC will get you $20 off orders over $100
https://www.kidrobot.com/ for further info.