Roll up, roll up! Ron English fans are in for a treat as APPortfolio present RON ENGLISH  "YOHOOD Shanghai".WARNING Ron English fans bank accounts may take a beating at YOHOOD Shanghai with all the releases. This is what APPortfolio had to say about the event.
Ron English is going to arrive in

Shanghai YOHOOD expo with his new creation.

It's going to shock your vision and taste!

From August 31st to September 2nd

WHAT YOU CAN EXPECT IN THIS FESTIVAL?

– Ron English's NEWEST paintings.

– Special ice cream and ice cream VAN

– Ron English's LITHOGRAPHY prints

– Various derivatives

Come to YOHOOD Shanghai!!
Ron English's LITHOGRAPHY prints –
Various derivatives
Come to YOHOOD Shanghai!!
It's definitely worth to check it out!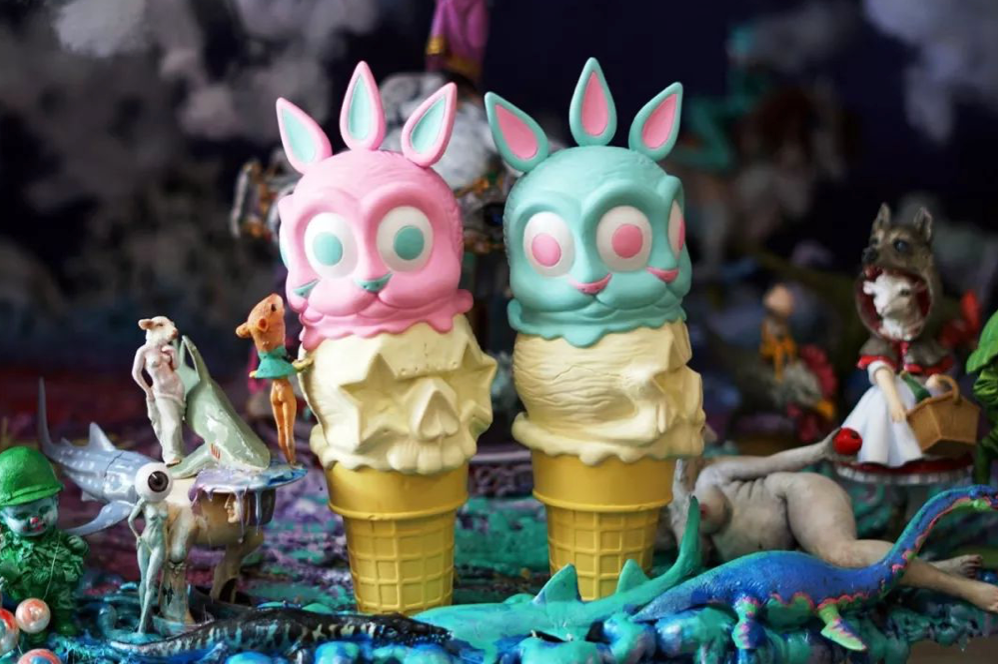 Approaching the end of 2018 summer, APPortfolio is going to bring you one of the MOST magnificent shows of the year. We have been waiting for all this time to cooperate with the most talented American POP ART master "Ron English". Finally everything we dreamed of have come together in this festival. This show (festival) is definitely going to break the stereotypes of how we see cartoon characters and POP culture.
This entire show is built and designed into "Street Art Style". The colourful "Neon Light Tubes" will be throughout the entire venue that brought out the mysterious and energetic atmosphere for the show. YOHOOD's main vision for the show is called "RENEW THE RULES" that is also the slogan of this event. The reason that it is called "RENEW THE RULES" is to break the previous regulations, giving fans a refreshing and unconventional experience. The series of FUN activities will be throughout the entire show from  8/31  to 9/2. Welcome to join one of the most "FASHIONABLE and APPEALING" event this year! Come and join fantastic
Ron English's "RENEW THE RULES" show of 2018!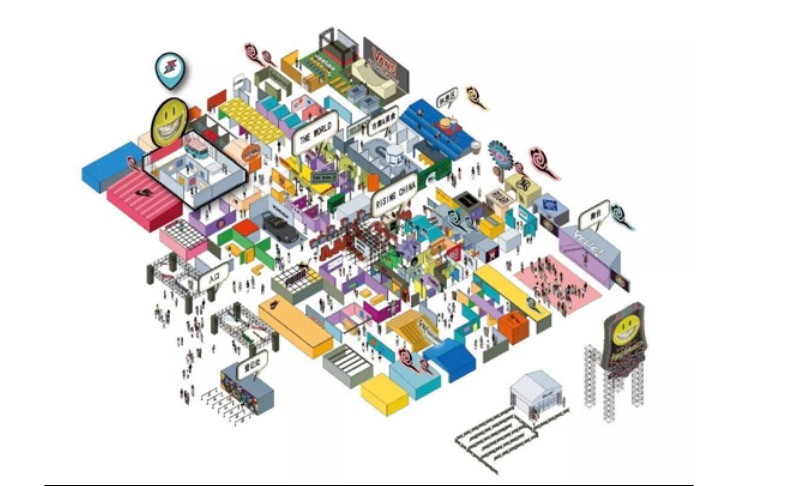 This year a RON ENGLISH ice cream van on site, part of the space built as a basketball court and the entrance will be a gallery space. Visitors and fans can come in site to take as many photographs as you want, have a bite of the ice cream, and play. There are many activities throughout this event just like an art carnival.
Let's take a look at the HIGHLIGHTS of the curation
From APPortfolio for YOHOOD Shanghai 2018
Ron English 11 ORIGINAL paintings: 

Ron English brought

11 of his epic art pieces

and

significant "lithography" art prints that we have been spending hours and hours of making

are to the scene. There are several large-scale works. Once you enter the show you can see the artist's original paintings.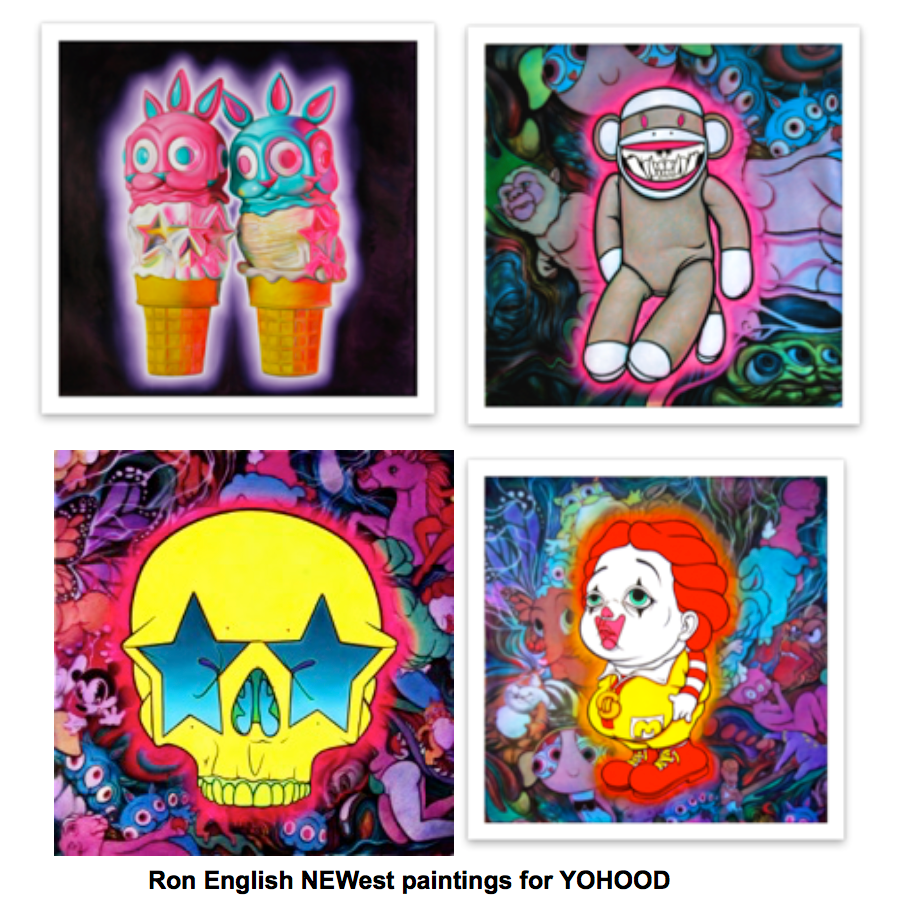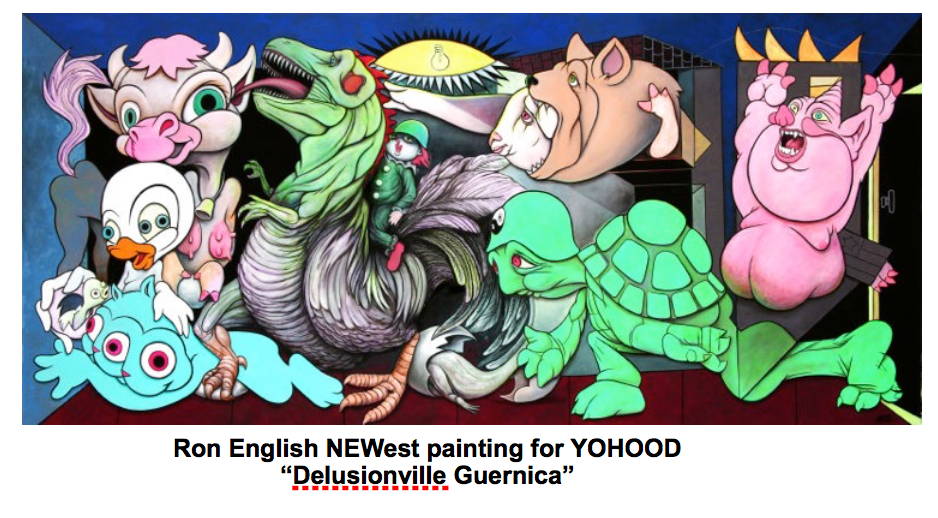 (The meaning behind RON ENGLISH's paintings: The artist traverses his cultural values into his works, inspiring people to question consumer capitalism at the same time inviting viewers to a series of  strong, unrealistic, grotesque presentations of his art, and a variety of offensive characters to tempt us to reveal the unknown truths in our culture and society.)
Artist Ron English ART Improvisation on the spot:
Ron English's painting his newest artwork.
It is not a dream to see the artist's deity creation on the spot! Our loved Ron English will be at YOHOOD for 3 days (The specific time will be announced). There will be a-15-meter long space for Ron English to paint. This area will be built seemingly as a small basketball court. Sitting on the wooden bench in the exhibition hall will make the audiences have an appeal of the New York street scene where Ron English currently lives. The kind of experience-based curatorial approach will make fans never forget this exciting moment.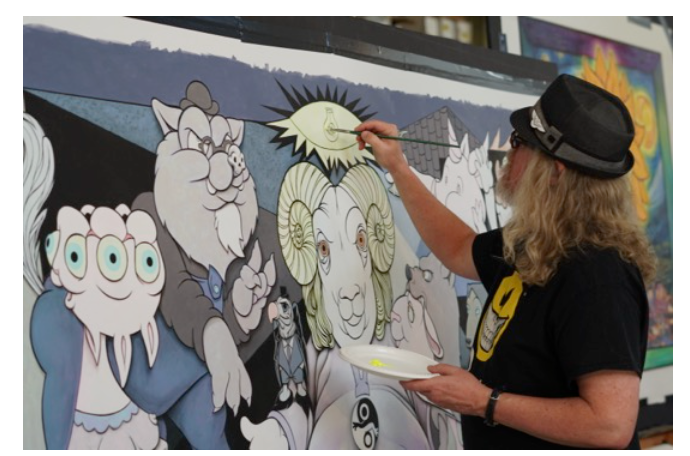 Ron English on-site signature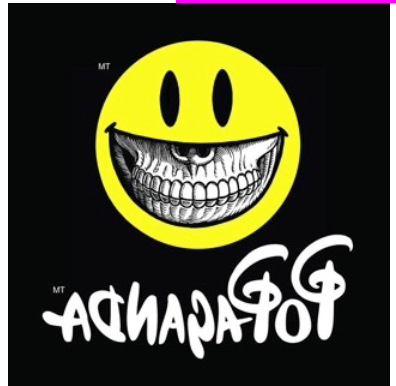 Ron English is going to sign the limited edition prints for you! If you want to have a more intimate interaction with the artist face to face in person, then better come to the show. Remember to purchase Ron English's products before asking for a signature. I am sure the artist will never let you down!
Ronnnie Rabbbit's ice cream VAN appeared on the scene:
What if you are hungry? Don't worry! There will be some ice cream sold on the spot. APPortfolio specially launched the coolest and most popular "Ronnnie Rabbbit" ice cream van. Enjoy Ron's art with a cone of ice cream in your month! YUMMY!! This show is not going to surprise your vision but also your sense of taste.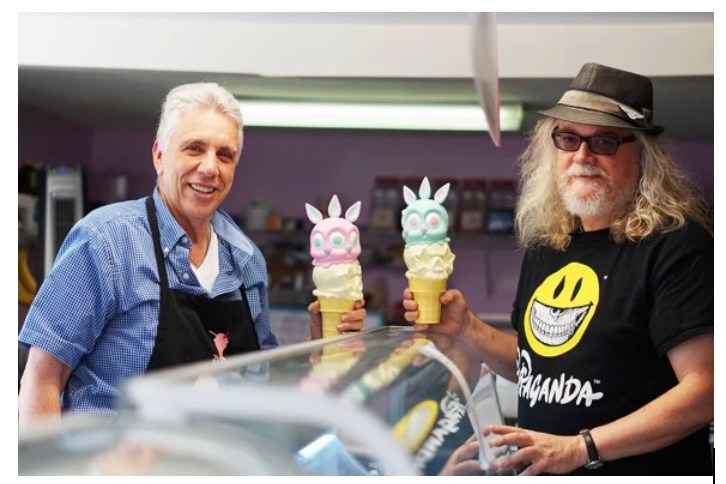 Ron English x APPortfolio Cooperative Derivatives:
This APPortfolio limited derivative includes skateboards, ice cream sculpture, 2 types of plush dolls, "RENEW THE RULES" towel and 3 different kinds of cushions. Each item has an artist signature and number and each item is specially selected by the APPortfolio team!
Art Sculpture:
Ron English x APPortfolio x made by monsters Melty Ronnnie Rabbbit
Want to taste a bite of the ice cream? Wow! This pinkish and blueish green ice cream sculpture looks like the real ice cream cone. At the first glance, really want to eat it! It feels like a sense of visual confusion for us, that's the reason why Ron English insisted on creating the artworks that challenge our visual experience. This adorable ice cream art sculpture is unlike the ones we have seen in the past. in between real and surreal. This special sculpture is Ron's latest creation. APPortfolio again cooperated with Ron English. Each sculpture has its unique serial numbers. If you miss buying it this time, there won't be a second chance in the future!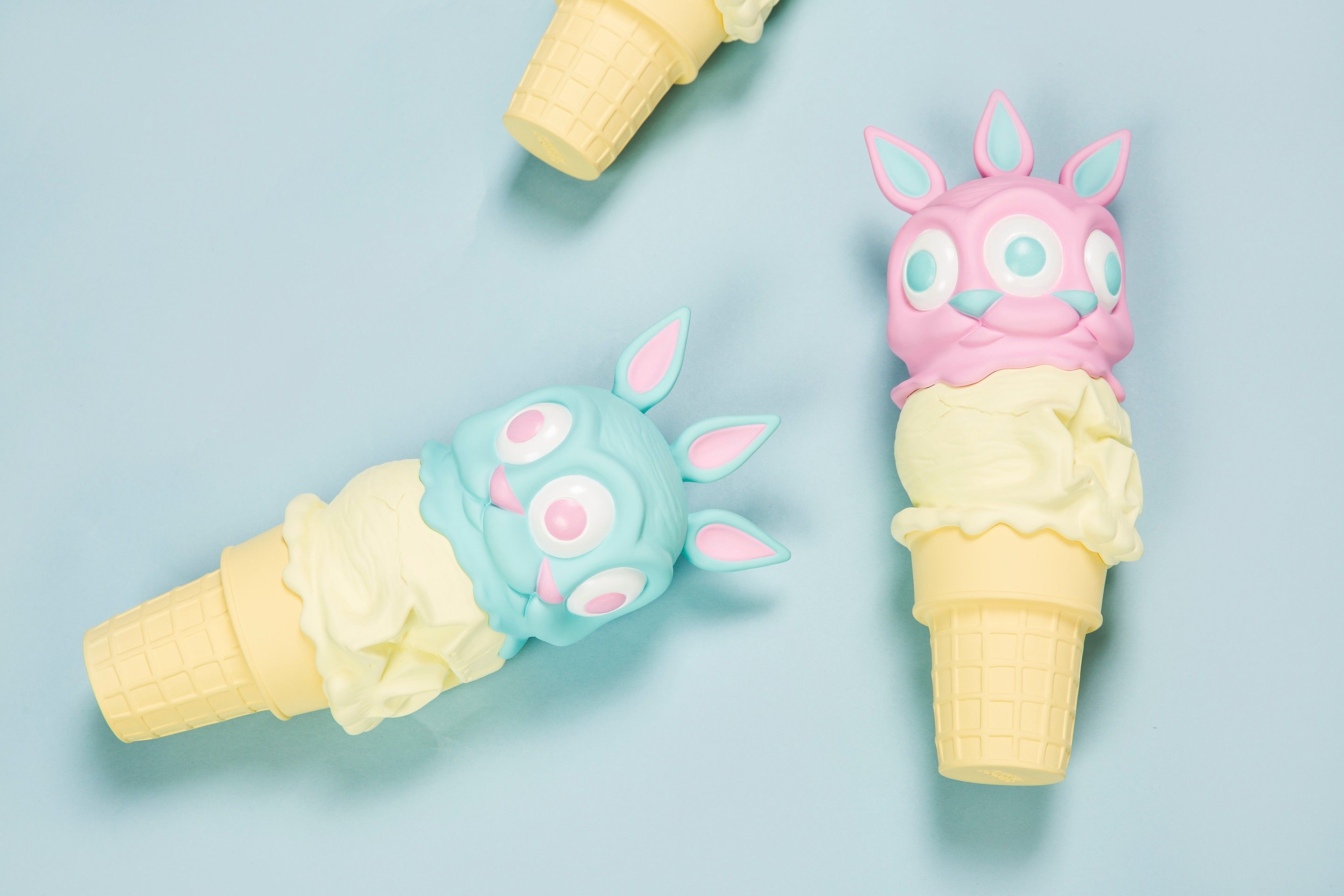 Size: H27.5cm x W10.6cm x D9.7cm
Material: silicone / vinyl
Skateboard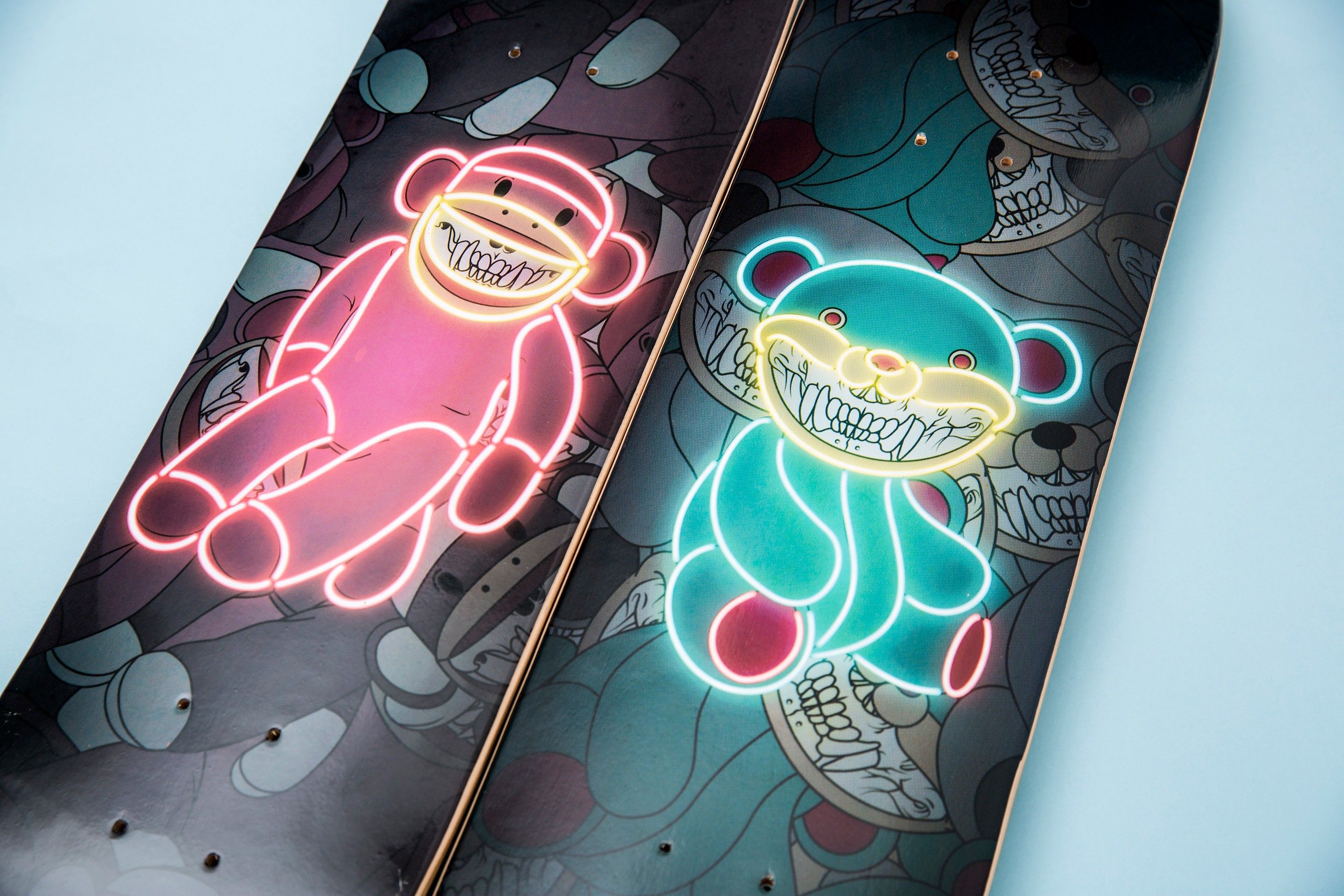 Do you remember the image of "Teddy" and "Sock Monkey"? Hasn't it stuck in our head? Ron English created a whole new irony and innovative way to show his fans these two characters. "Teddy Grin" looks cute but naughty, on the other hand, "Sock Monkey Grin" looks silly and fierce that both characters break our previous stereotypes. In the choice of color, the macaron colors of "Teddy" and "Sock Monkey" are specially selected by APPortfolio team and also the neon colors added to the background black makes these two skateboards stand out. It gives us a nightlife world that reflects the life that modern people escape to.

Size: 80x20cm
Material: wood
Ron English x APPortfolio RENEW THE RULES TOWEL
One of a kind style you have never seen before is this rebellious neon-coloured towel launched by APPortfolio and Ron English! This towel is an extension of "YOHOOD 2018 main vision". As the title "RENEW THE RULES" is the slogan of this event, which is to break the previous regulations and the stereotypes you had. All the iconic images on the towel are made by Ron. He often uses a visual language that mixtures with the high and low cultures. The best of this towel is that all the images are classic artworks that the artist ever created. The interesting mix of colour scheme of the towel which reflects the artist's interpretation of today's popular culture. Perhaps it is psychedelic? Perhaps it is a mirage? Hurry up and purchase this fantastic towel.
Size: 140X70cm
Material: 100% polyster
4 Different Kinds of Cushions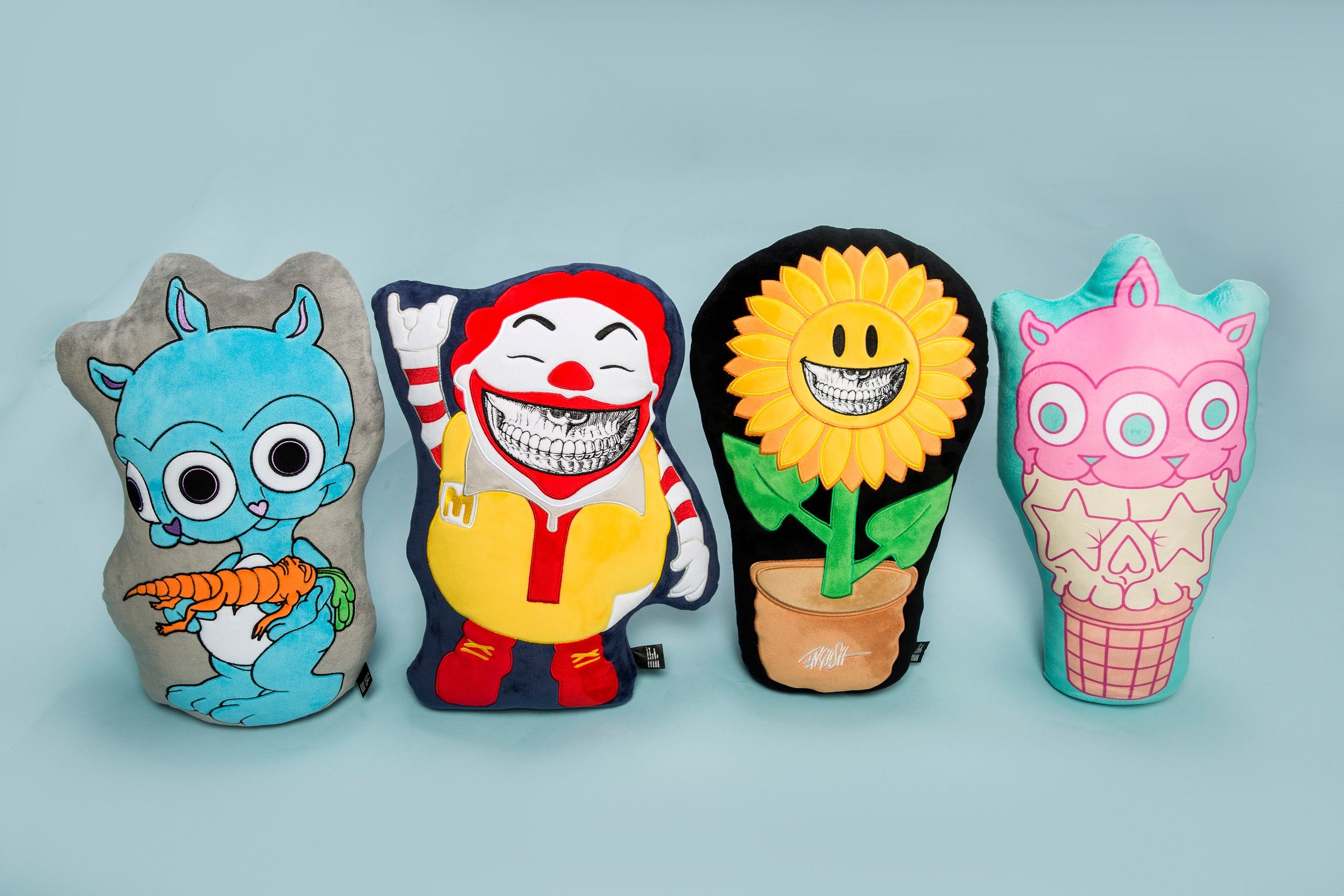 Ron English x APPortfolio MC Supersized Cushion
Everyone knows the worldwide known fast-food restaurant McDonald's serves an extra-large size fast food meal. The artist has also brought this uncle, McDonald, he created to Asia for exhibition a couple of years ago! Like the artist's previous creations, this uncle McDonald also grins creepily.
Size: 50x38cm
Material: Fabric
Composition: 100% cotton
Lining composition: 100% polyester fibre
Product description: The rabbit, called Ronnie, is one of the animals that ONLY survived after living in the picturesque paradise of "Delusionville". It was the only animal in this place that tried to accept all contradictory belief systems, however, this lifestyle made it completely go insane.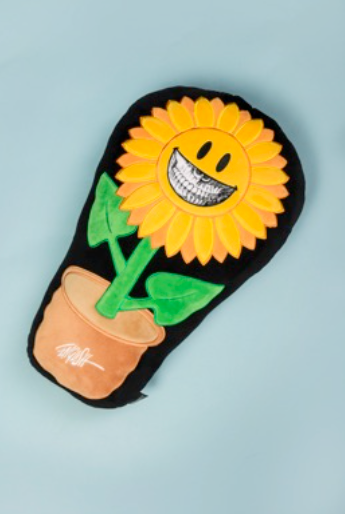 Literally, the name of this artwork is called "Stunning Sun Flower." Remember the myths of Clytie and Apollo, the most common meaning of sunflower is worship and loyalty. However, the signature style "Grin" has been used many times in Ron's art. Do you think that you will need one potted plant in your home?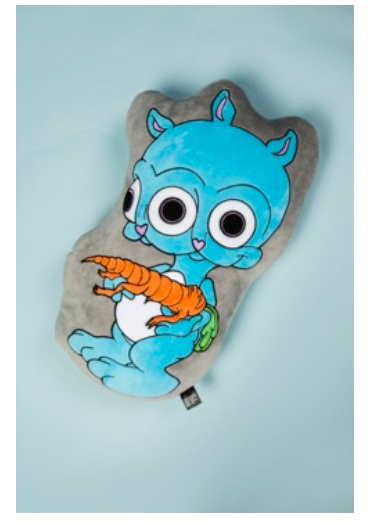 Ronnie and its radish are presented in an anthropomorphic way. The same contradictory visual literacy appears again in this product, three-eyed Ronnie and its beloved dead radish shows a radical style. The uniqueness of colour choices – beautiful sky blue of macaron colour and the low-colour grey as background colour lits up this amusing product.
Size: 50x30cm
Material: Fabric
Composition: 100% cotton
Lining composition: 100% polyester fiber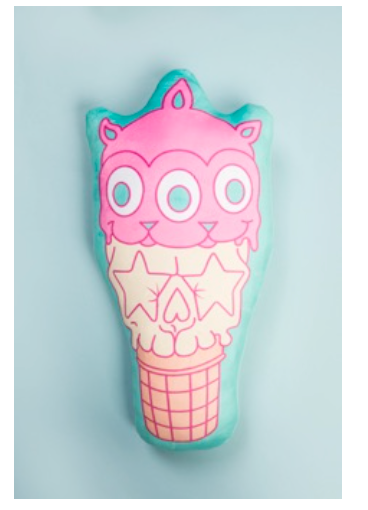 This "Melty Ronnnie Rabbit" cushion is an extra large ice
cream cone. It has two flavours. The bottom layer of ice cream is a skeleton image, and then the top layer is a pink Ronnie. This product is also based on the artist's previous creation. The colours we picked for this cushion is like a sweet macaron. And the contradictory colour we chose purposedly gives a hidden meaning with a deep dark momentum!
Size: 50x23cm Material: Fabric
Composition: 100% cotton
Lining composition: 100% polyester fiber
Plush Doll
Teddy Grin and  Sock Monkey Grin Plush Dolls
"Teddy Grin" has never appeared in the past Ron English products. The material of this doll is super comfortable. There are two special colours we specially chose. The first one is pink orange and the other is pink Tiffany blue. These plush dolls are nice to cuddle and carry. This gentle and cute grin babies are good to collect at the same time use it. Want to give your friends a special gift?  "Sock Monkey Grin" is a mix of folk culture and kitsch culture. This grin plush doll is relatively rare in the artist's previous creations. The material of this baby is as comfortable as the "Teddy Grin Plush Doll"! There are two special colours, one is coffee milk, and the other is dark blue.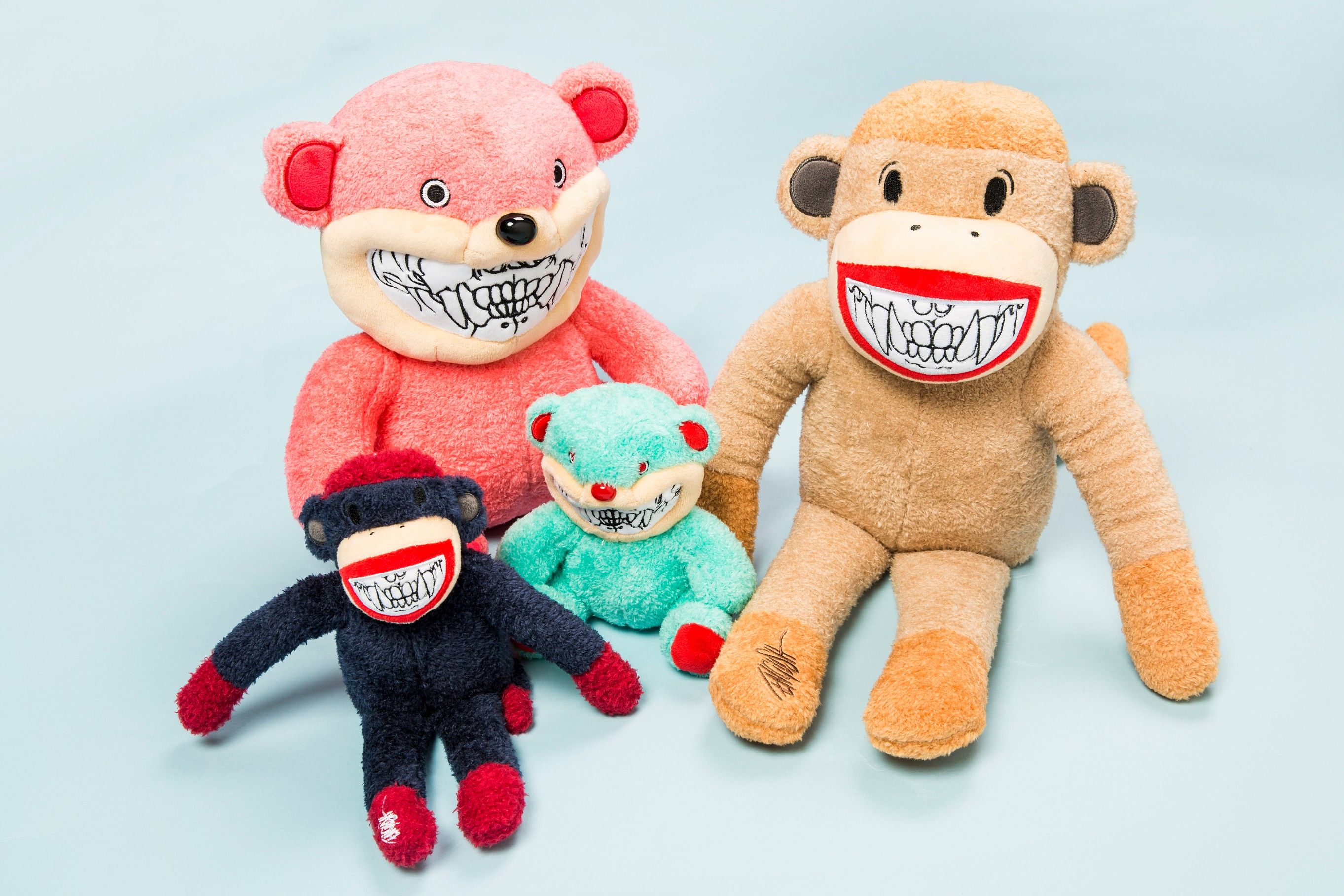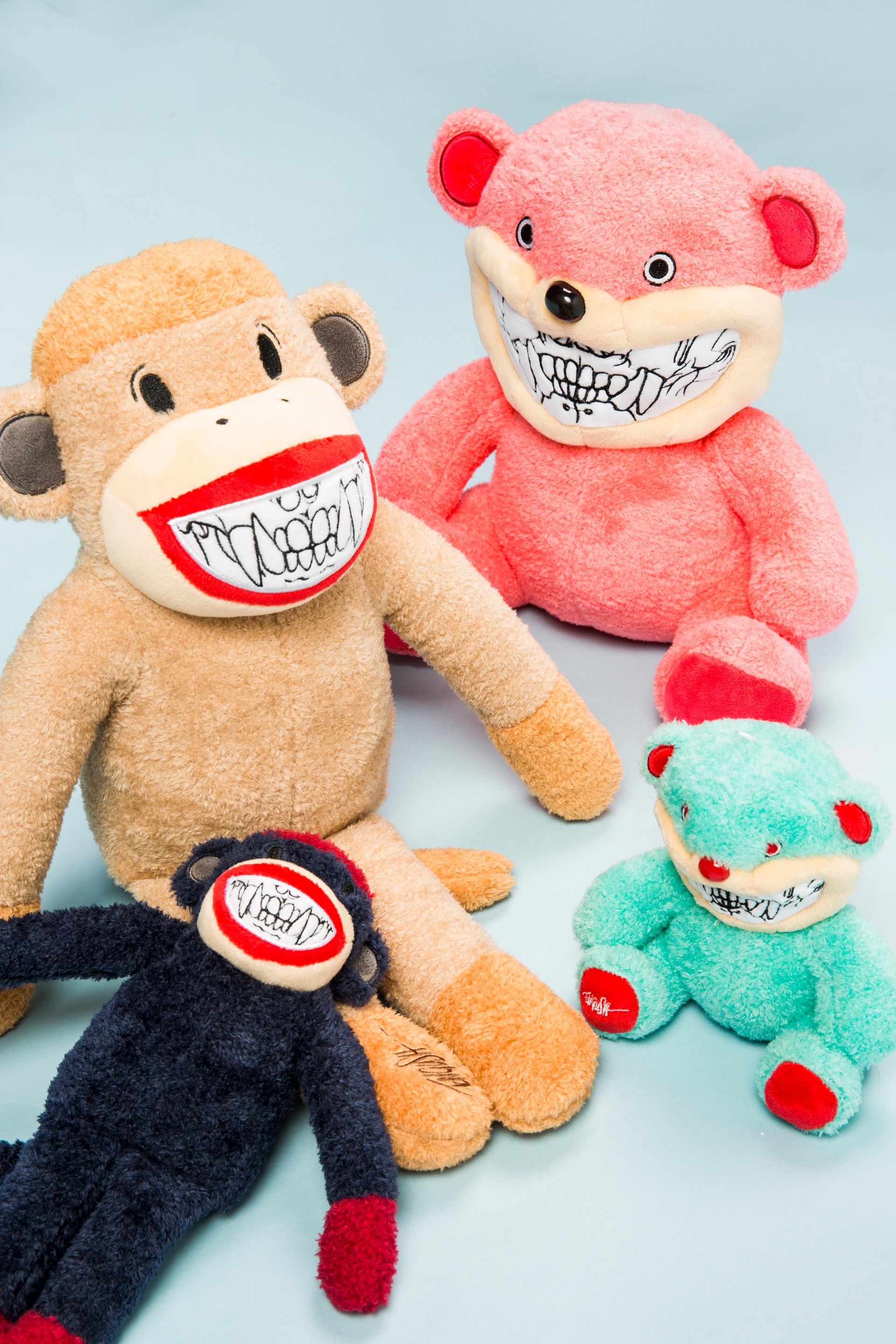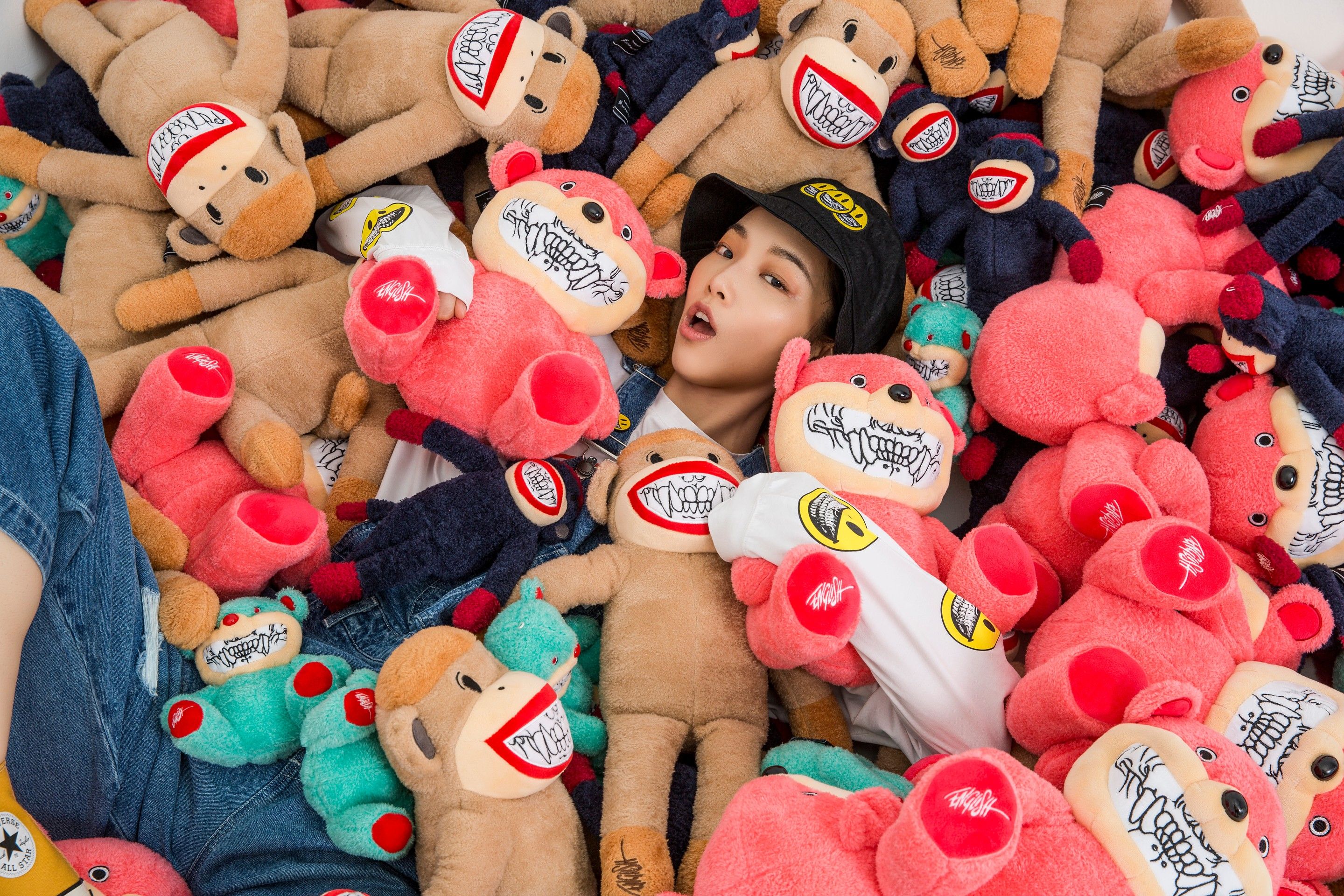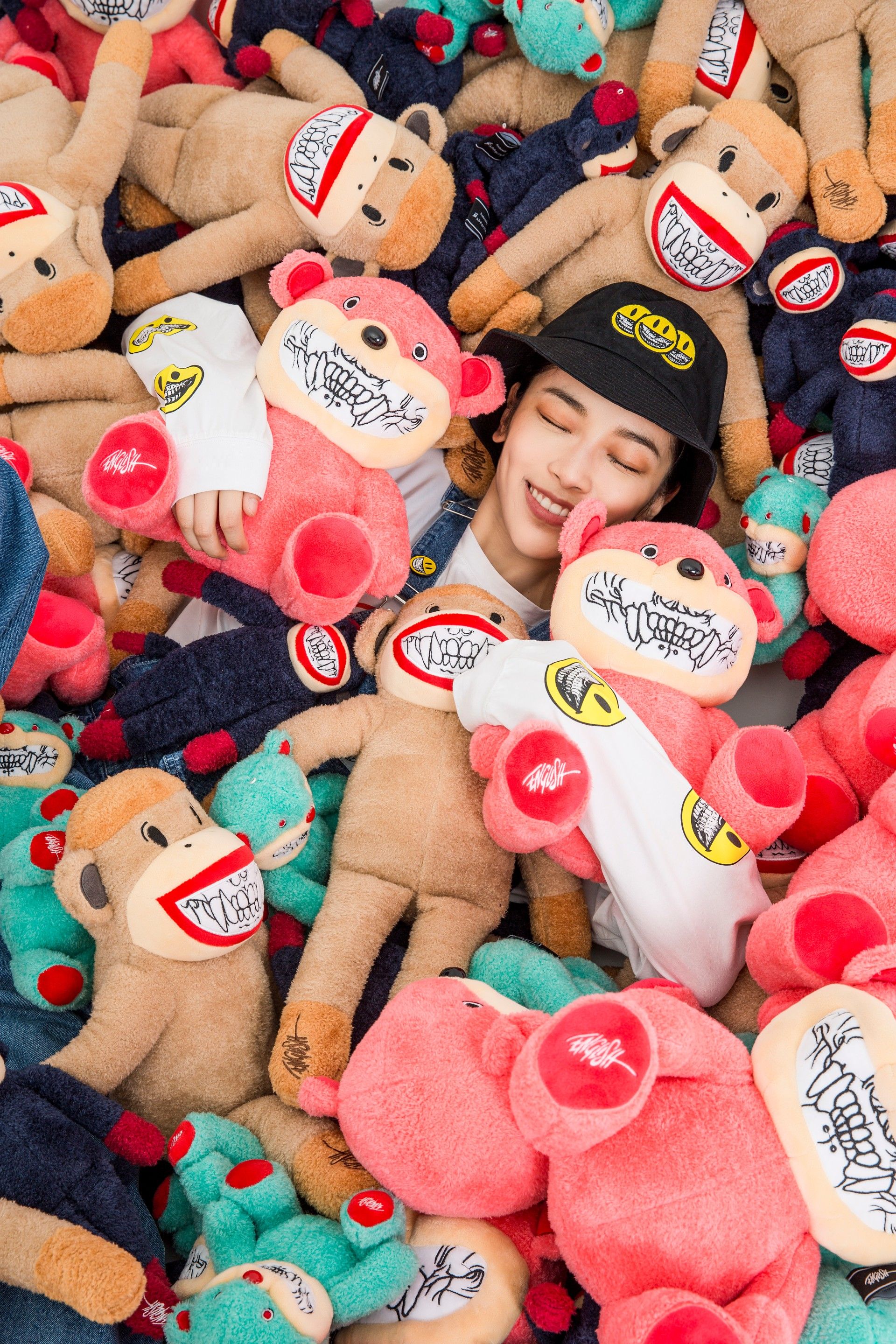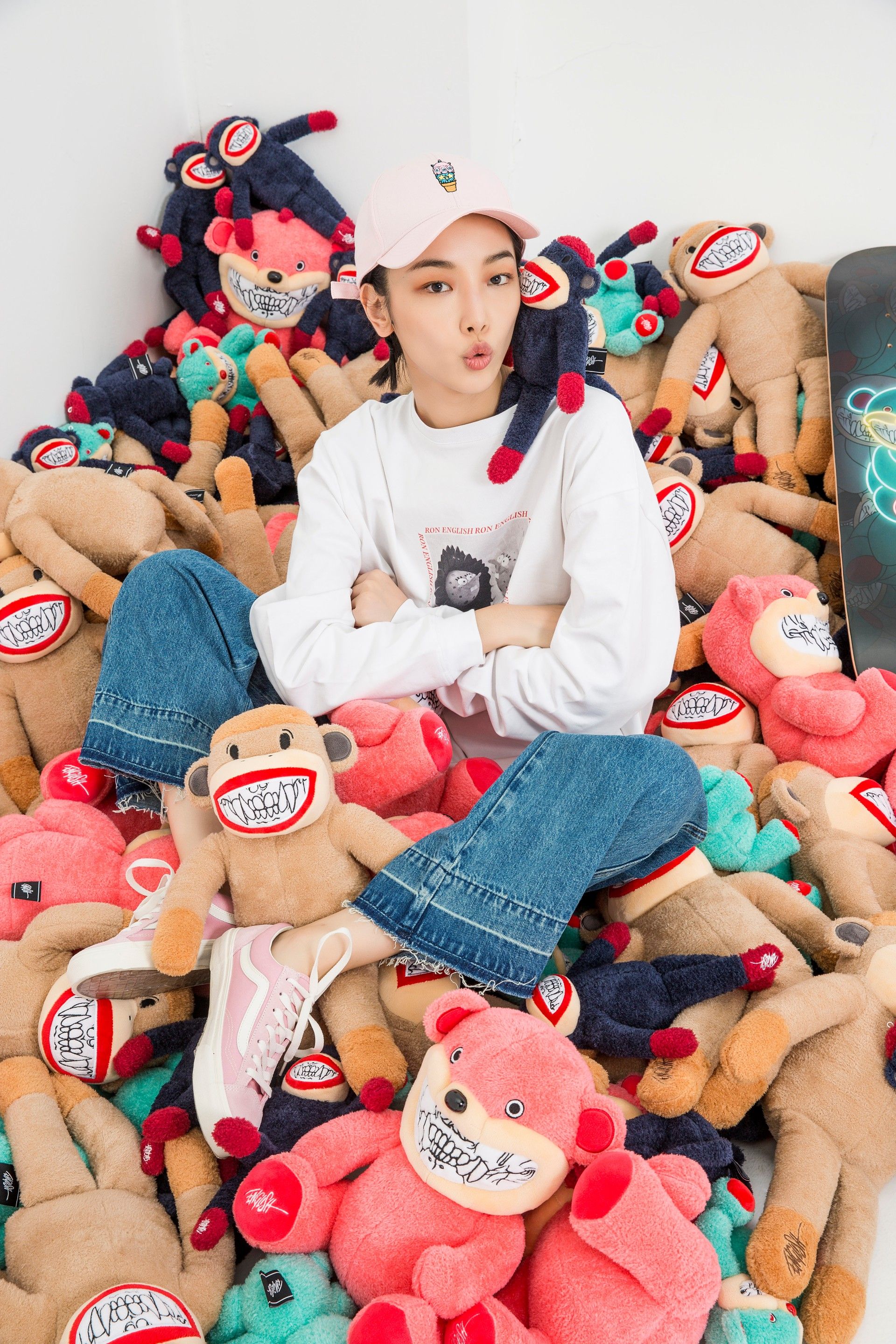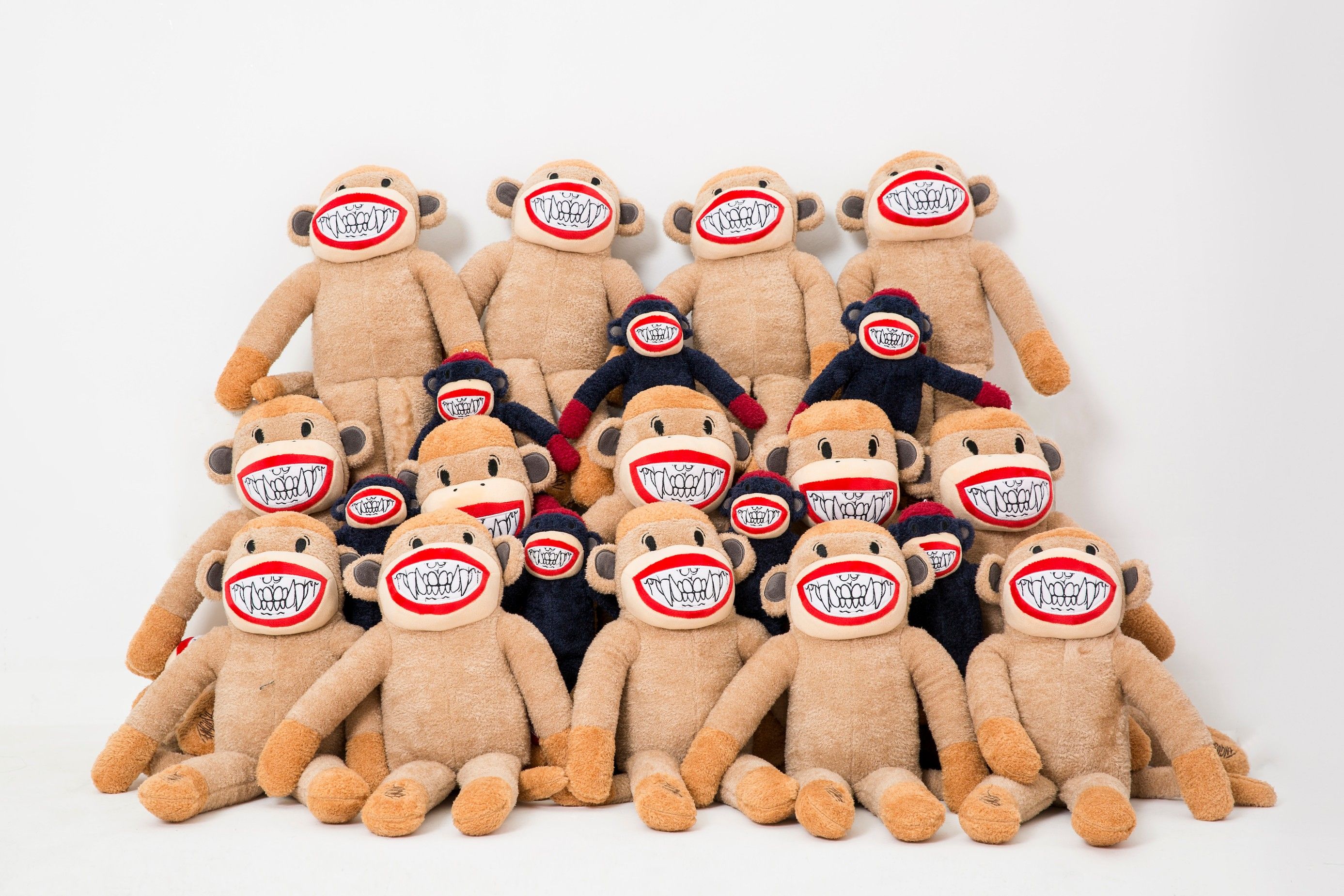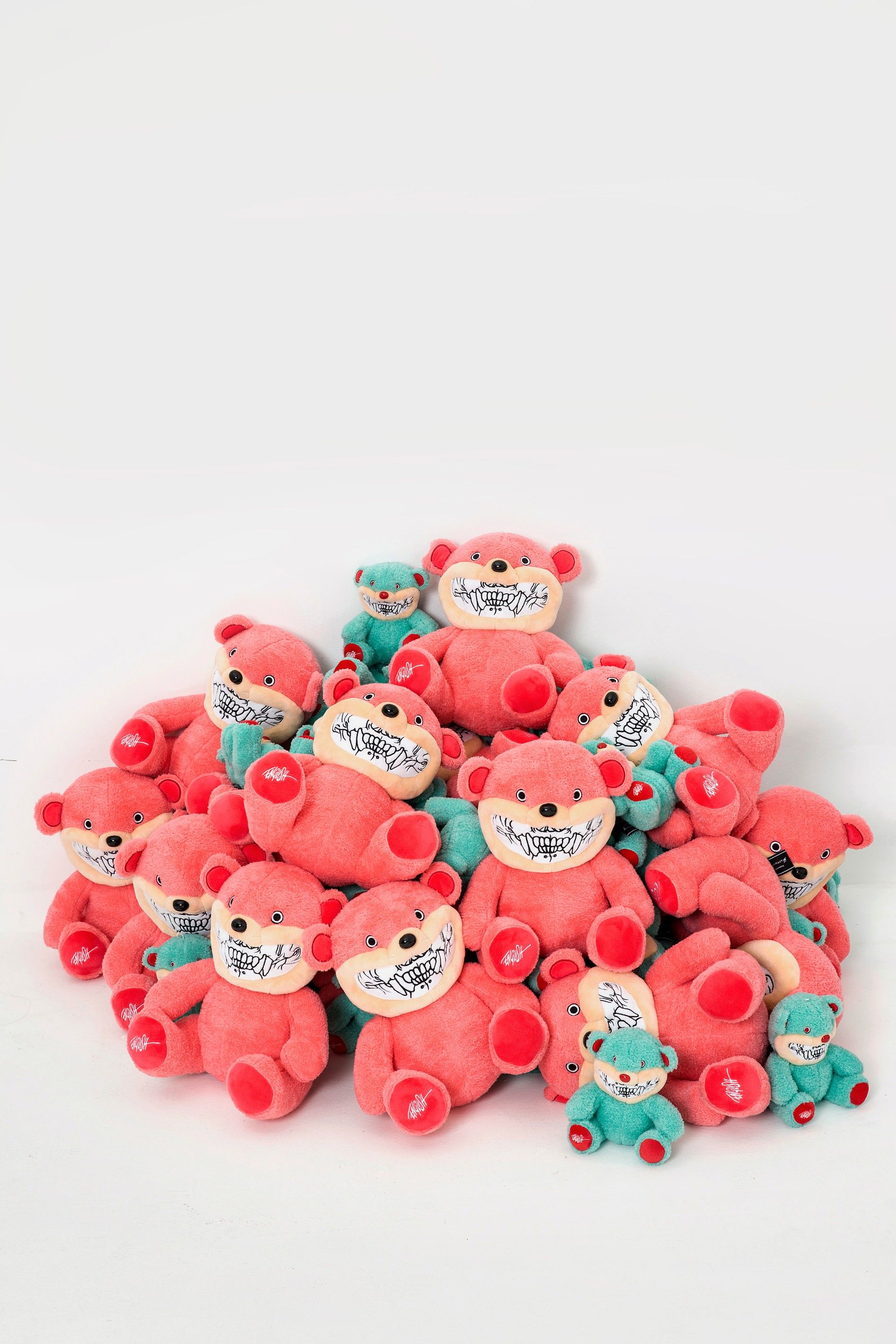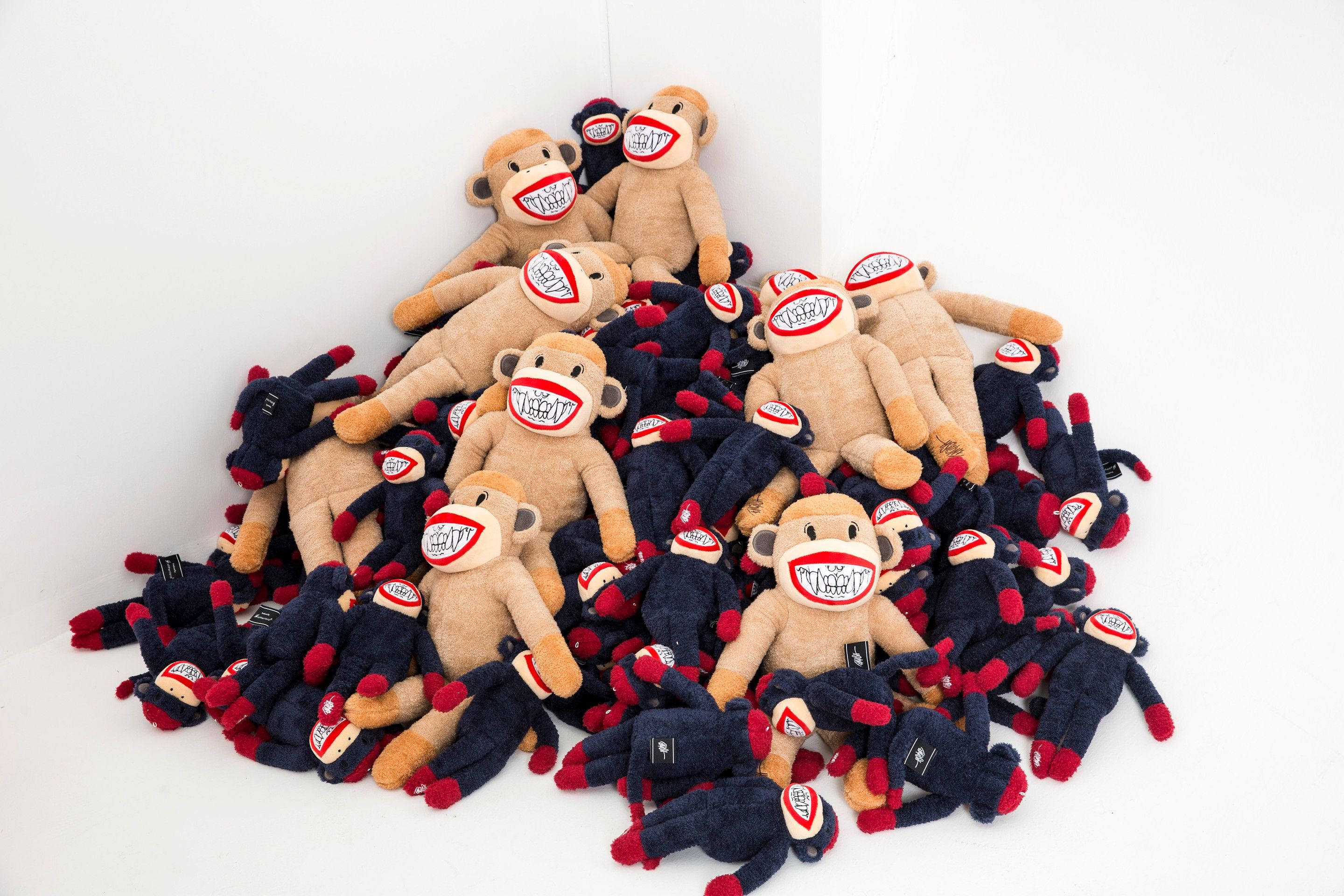 ADDITIONAL:
APPortfolio has jointly launched the street urban cultural style brand DPLS of the West Coast of the U.S., and launched a variety of art cross-border apparel products on behalf of the young and energetic brand 19LXXIX! Products by APPortfolio x YOHOOD x DPLS.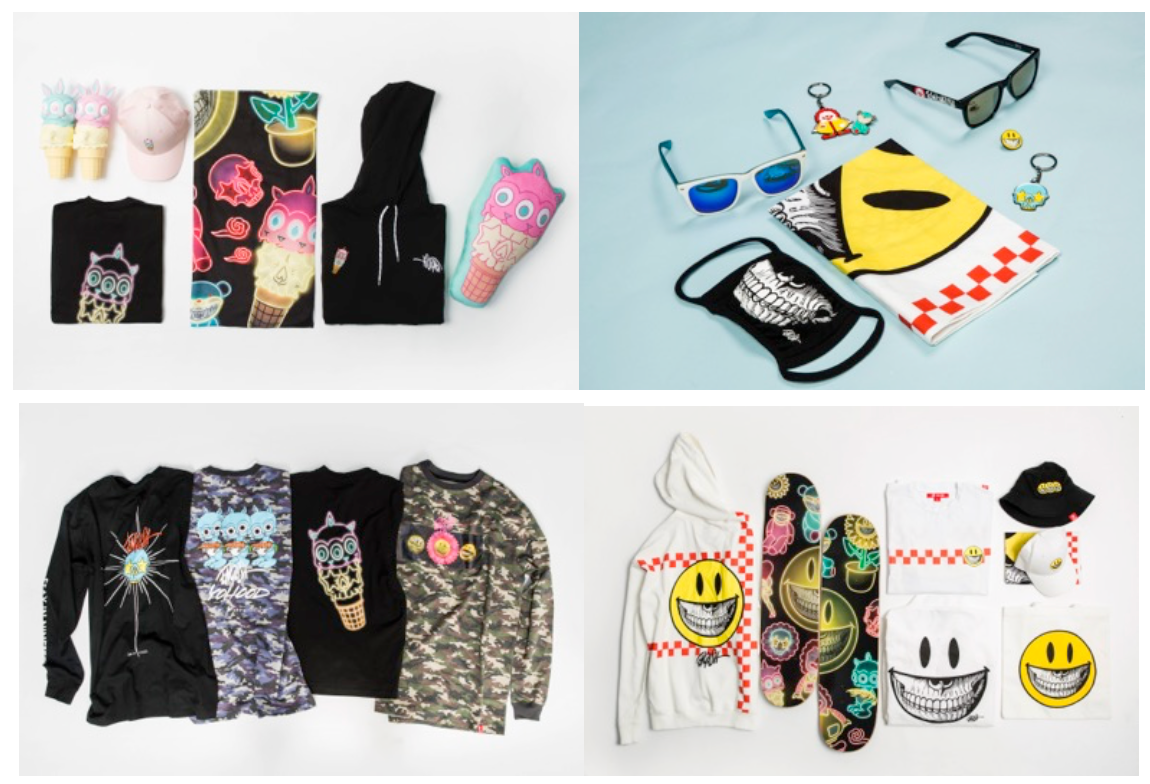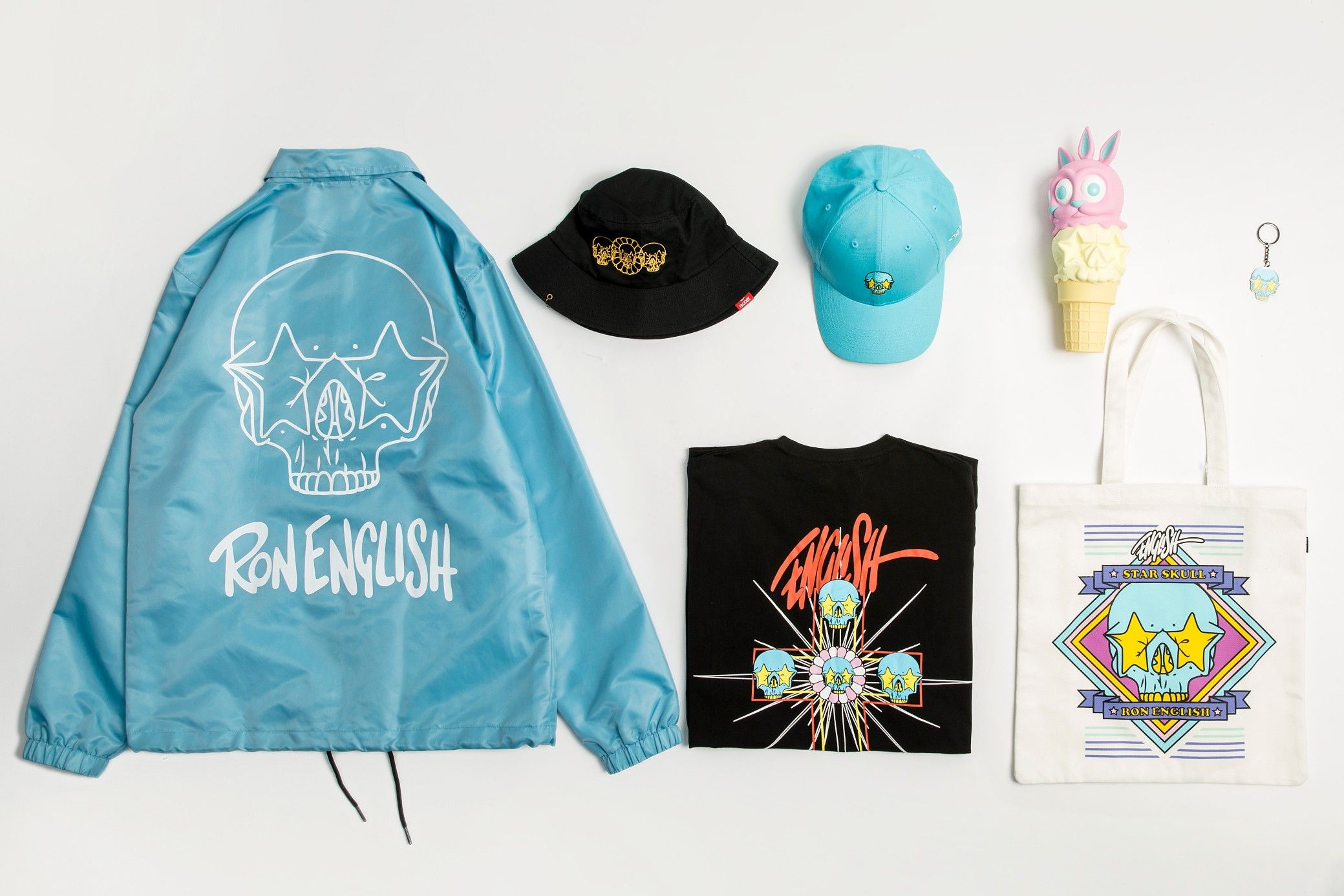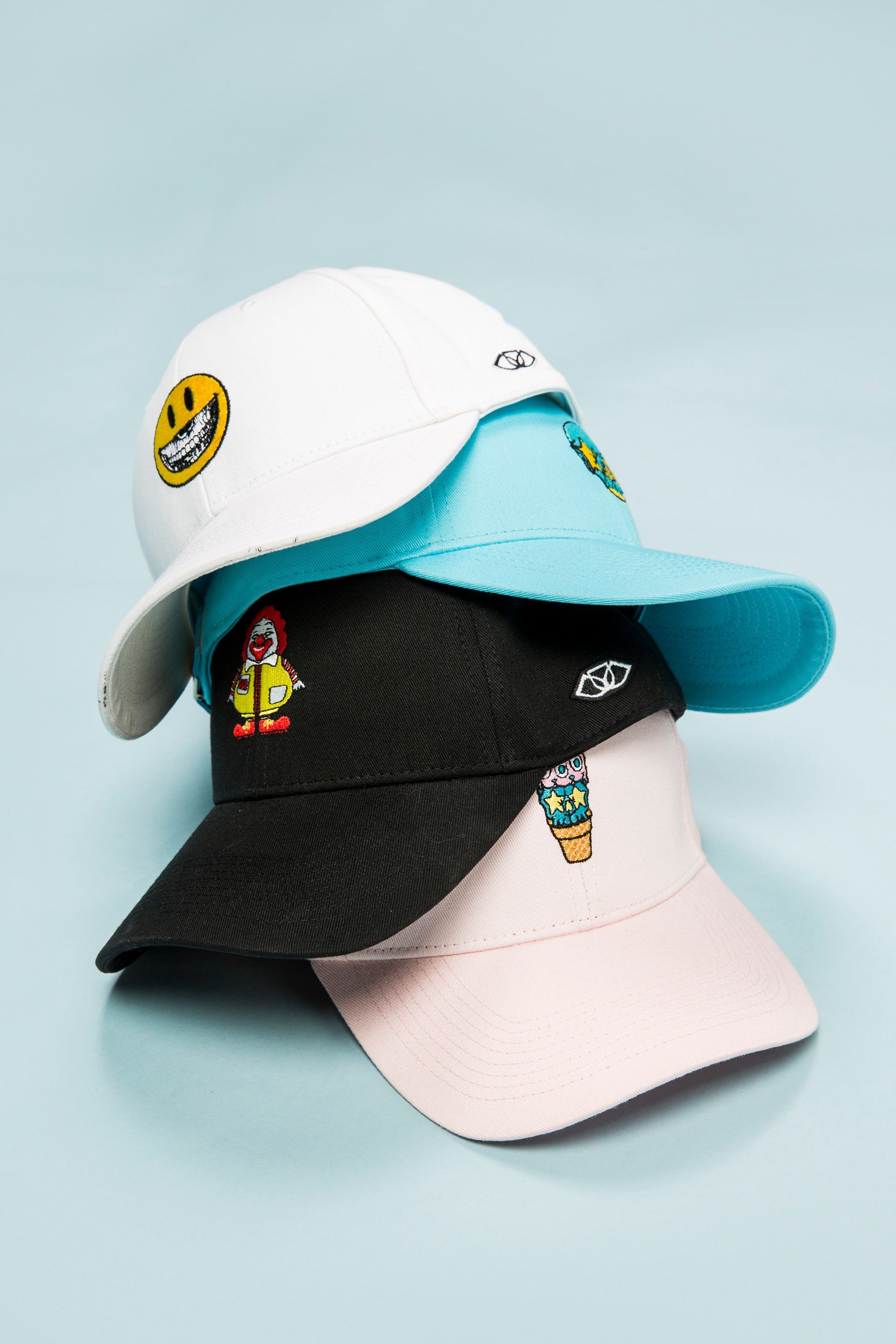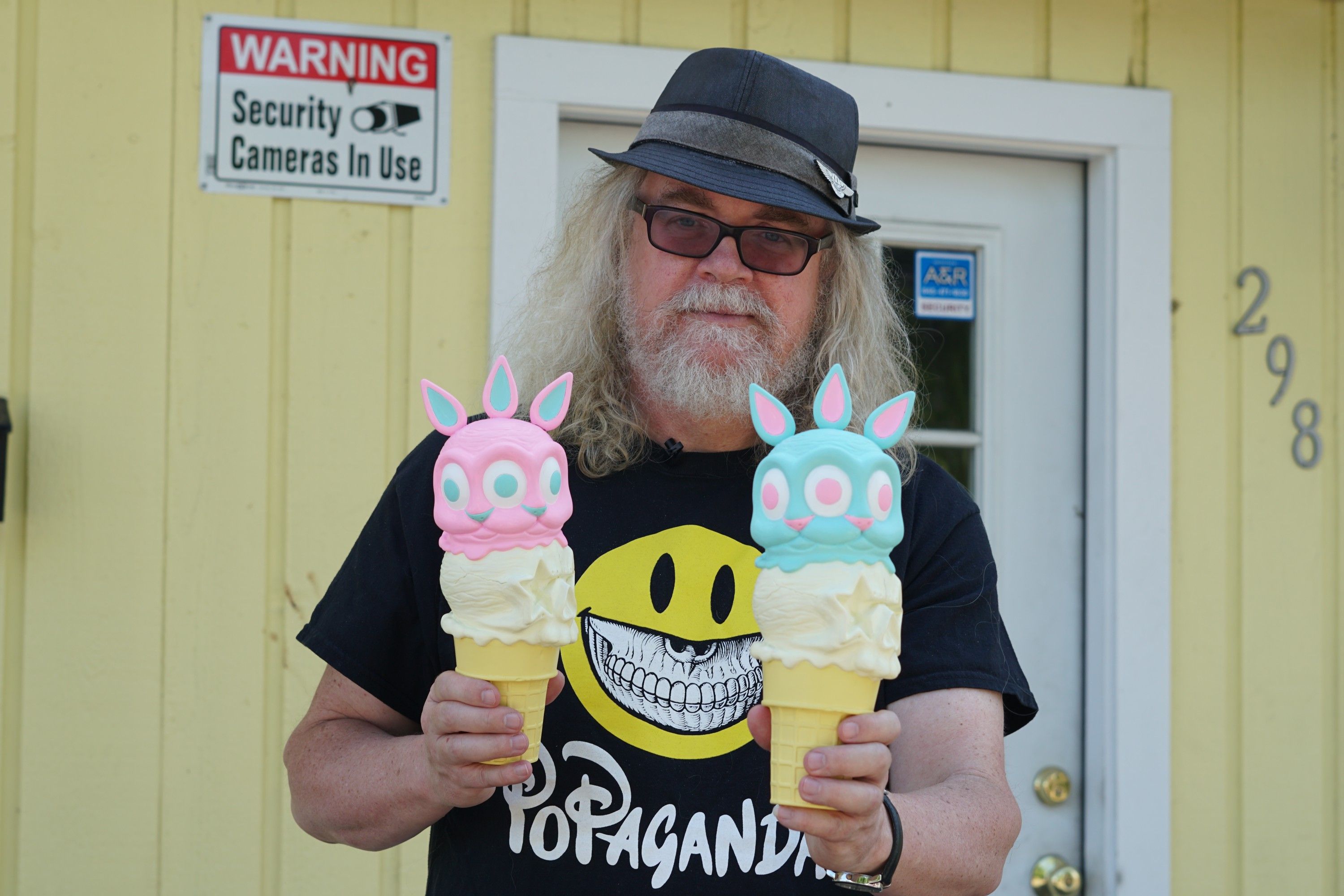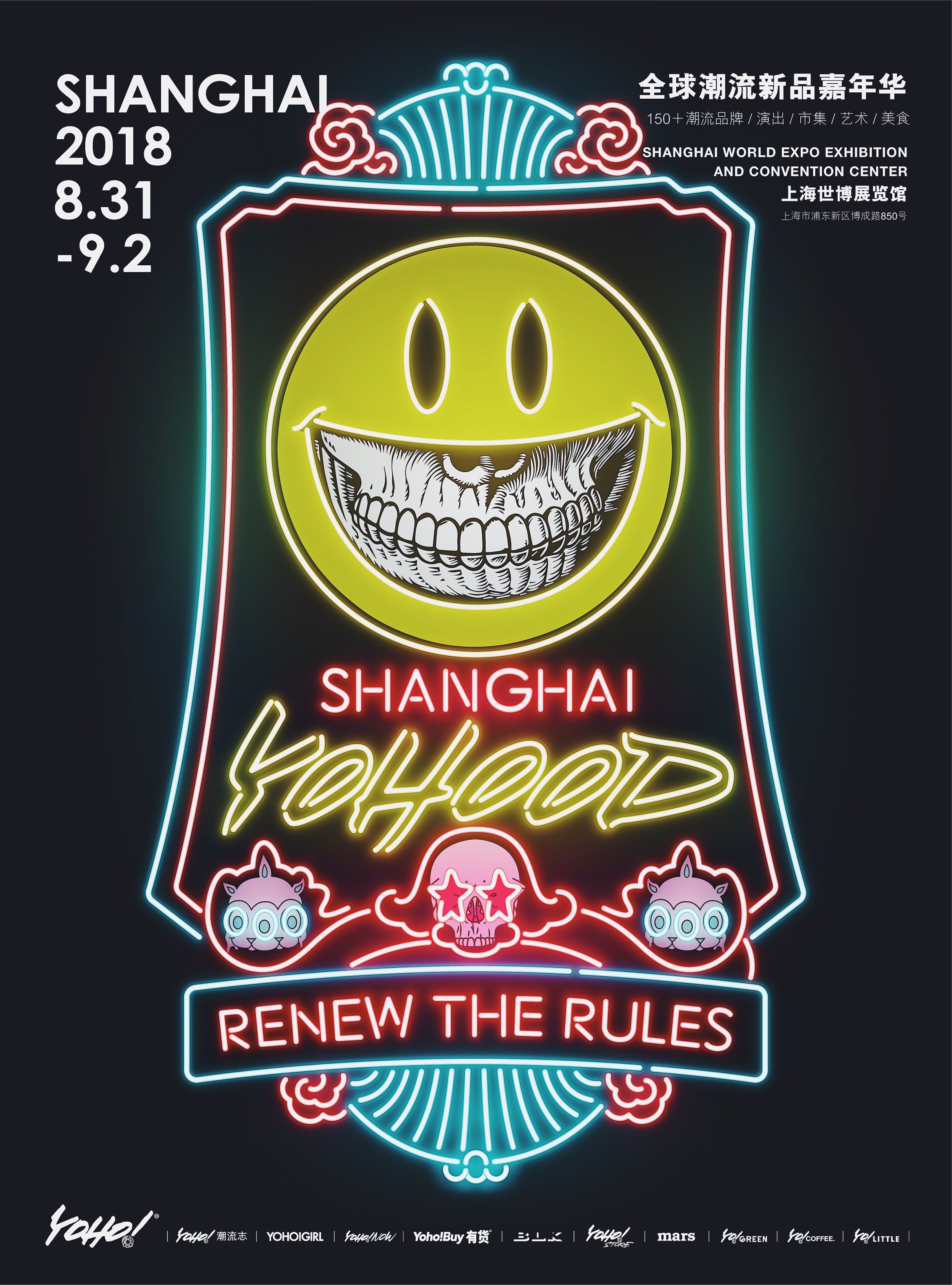 www.apportfolioasia.com for more info./
About APPortfolio
APPortfolio is an art platform for integrating international art resources, recruiting cutting-edge artists and designers across Asia, curating professional exhibitions and activities. To provide a platform for artists and taking up social responsibility, APPortfolio lines up its subsidiary brands and physical venue, together with charity groups and different types of art & cultural space, commercial complex, to export high quality and creative cross-border artistic activity.
You can get your daily Designer Toy fix from our TTC Mobile App. It's free too! FREE! Download on the iPhone or Android smartphones. Search for "The Toy Chronicle" and all your Designer Toy wishes will come true! Pretty much.
Did we fail to mention IT's FREE.