The power couple of Poland "Katyushka" just can't stop coming up with jaw-dropping art figures! Check out one of the latest series "Alien Crabs" intergalactic creatures have landed on earth and ready to invade your collection. Coming in albino, red, purple and blue the finishing and choice of colour ranges never fails to impress us. Check that bottom lip! Ha, he ain't happy, is he?
Run before their mother's back!
First Series: Only 5
These creatures are unique/ One of a Kind (OOAK) They are handmade one by one… delivered before 3 months from the requested date of purchase.
You can choose between these colors:
– albino
– red
– purple
– blue
When you making PREORDER, please tell them which you want
(Blue, red and albino ready for shipping within two weeks)
They will be sending a mount for them to stand on that will be included in the package.
MEASURES:
Size:
L: 10cm
+ stand
TECHNIQUE: resin cast, handpainted
WHERE: http://arttoygama.storenvy.com/
Price: $270 USD
Need more? Check out Katyushka's "Unknown Ocean Part two" HERE.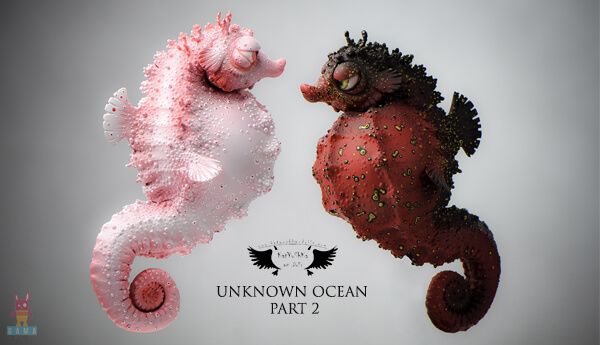 Or the epic Skinny and Fatty CUCUMBERs HERE.
BIOGRAPHY: Katyushka Art Dolls is created by the marriage of Katarzyna and Jacek Anyszkiewicz. It all starts in Kasia's head – she draws, sculpts and paints. Jacek deals with mould making, castings and visual side (photography, short clips etc.). We create everything from scratch – 100% made by hands, using the highest quality materials, with an attention to the smallest detail.
If you want to get your Designer Toy news first, you should look to download our new TTC Mobile App. Designer Toy news direct to your smartphone. No dealing with social media algorithms.
It's FREE BABY!

Find Katyushka at http://www.katyushka-dolls.com/ Facebook, Twitter and Deviantart.
You can also find and support Art Toy Gamma on Facebook.