Back in November 2015, Artoyz release their wicked vinyl toy Leo'z series 2. Today theirs a big boy in town to coincide with the new series. Artoyz presents you Huck Gee 8inch Leo! the PEUGEOT DESIGN LAB and ARTOYZ have worked together once more to offer the Series 2 Léo'z but it will be the first time we get to have our hands on a 8inch version. Will more designs be released in a 8inch version? who knows.
"We're proud to introduce you our latest collaboration with Peugeot Design Lab and the artist Huck Gee himself!"
Huck Gee is the first artist to put his design on an 8″ Leo'z and pays tribute to the Peugeot 2008 engaged on the Paris-Dakar 2016 using the same treatment he already used on Leo'z series 1 which was a tribute to the Peugeot 205 Rally.
The 8″ Leo'z DKR2016 is sold in a very classy black window box also designed by Huck Gee. The Leo'z DKR2016 is limited to 500 pieces worldwide.
[slider source="media: 37520,37519,37522,37521″ width="1300″ height="1300″ title="no"]
Limited Edition :
500 ex.
"Leo is a very stylished lion created by Christophe Pialat, Peugeot Design Lab designer. He has totally reshaped the famous lion from Peugeot pushing forward the new codes of the brand. The result is a design really contemporary and original.
Series 2 is made of 12 designs to collect. The series brings together 6 designers from Peugeot Design Lab – 2Bom, Yang Cai, Vadim Gilca, GKO, Michael Jaffrain, Cyrielle Lecher and 6 artists well known from the designer toy scene – Junko Mizuno (JAP), Otto Björnik (PHI), JPK design (UK), Kronk (ZAF), Fakir (FR) et NIARK 1 (FR).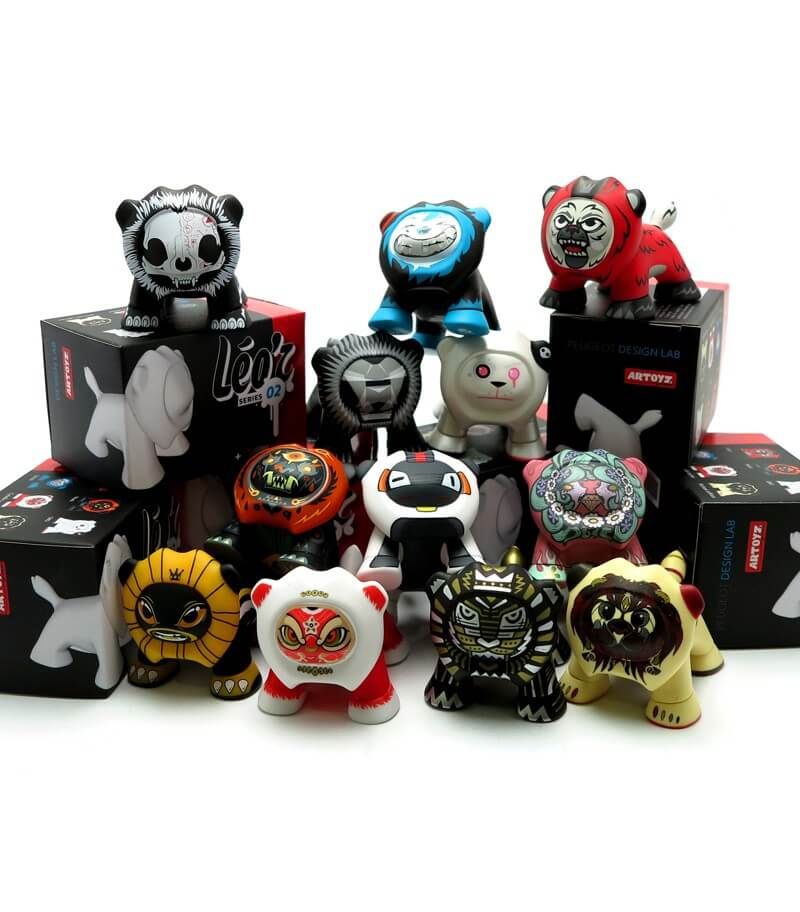 Each Art Toy on sale is the fruit of an artistic process, and involving lengthy and painstaking work, drawing inspiration from worlds as diverse as contemporary art, poetry, chemistry, origami, architecture, fashion…These unique objects form a link between the world of childhood, by adopting the design of the brand's lion soft toy mascot created by Christophe Pialat (France), and the grown-up world.
The Artoys Léo'z vinyl figurines are on sale at Peugeot Avenue Paris priced at €12 each. Online at http://artoyz.com/shop/en/ €12 each. The 8″ Leo'z Huck Gee DKR2016 priced at €75 http://artoyz.com/shop/en/