We fell in love since Grape Brain showed the early stages of the making of 6feet Axolotl Macaroni back in February. Keeping all eyes out on the progression of the Macaroni it seems like Raw milk peach and Milky white 6feet Axolotl Macaroni will make its debut at Wonder Festival [summer]
Meet one of the cutest Axolotl EVER! ( in our opinion) XL teeth and a cute butt to go with it. When we saw the video clip via Grape Brain's Twitter we fell in love with the little munchkin. 
Booth 7-51-04
July Sunday 28th (Sun) 2019
Makuhari Messe, Inc.
2-1, Nakase, Mihama-ku, Chiba-city, 261-8550 Japan
What colours would you guys like to see MACARONI AXOLOTL in? Answers in the comment section below.
Stay tuned for fully painted editions as well as international releases. We will be keeping tabs on the progress for sure. Stay tuned for further updates and start saving.
For more Grape Brain goodness visit http://grapebrain.cart.fc2.com/
Twitter https://twitter.com/RAGE_ERADA
Instagram https://www.instagram.com/grapebrain_rage/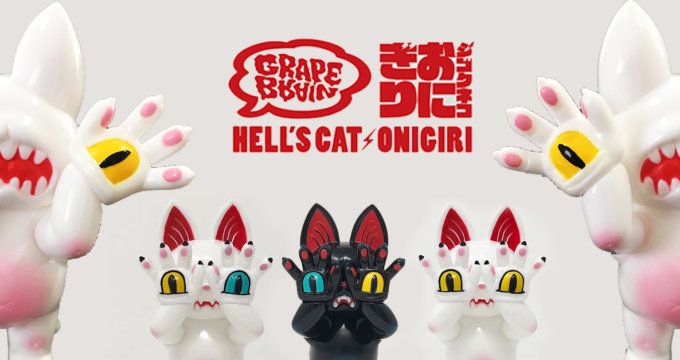 You can get your daily Designer Toy fix from our TTC Mobile App. It's free too! FREE! Download on the iPhone or Android smartphones. Search for "The Toy Chronicle" and all your Designer Toy wishes will come true! Pretty much.
Did we fail to mention IT's FREE.


For more Grape Brain goodness visit http://grapebrain.cart.fc2.com/
Twitter https://twitter.com/RAGE_ERADA
Instagram https://www.instagram.com/grapebrain_rage/