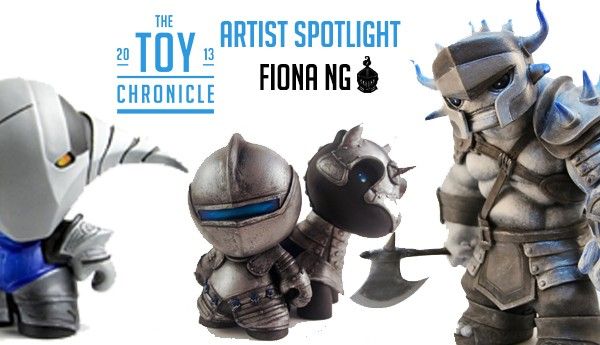 The Toy Chronicle Artist Spotlight shines the light over to New York to toy designer and entrepreneur,Fiona Ng. By day, she is the co-founder of PianoVerse, a place to play, learn, and love music in New York. By night, she is bringing life to little armoured toy heroes and heroines. Her fantastic work turning designer toys into armoured knights/warriors like no other artist right now.
Fiona's latest creation is Sven the Rogue Knight which is a Custom 4″ Kidrobot Munny
The fine details in the is what makes her one of the best in the business.
Fiona's sculpting work is supreme! her weathering is never over the top.
From head to toe her work is sublime.
The attention to detail is crazy, just look at the accessories!
Fiona is a great photographer too, great product placement.
Fiona grew up loving toys not because they were just fun to play with. But because they brought a smile to her face.
Love her colour choices.
Fiona's fantastical creations and designs have mostly been inspired by her deep love and appreciation for fantasy/sci-fi novels, JRR Tolkien, Ursula K. Le Guin, video games, Star Wars, and anything quirky or strange.
I could just put that sword along on display its that pretty.