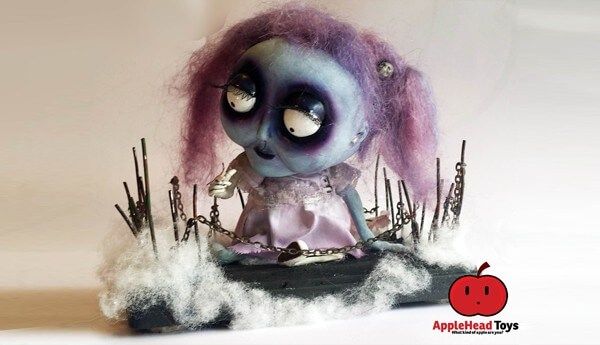 In honour of Tim Burton's The Corpse Bride, the artist, AppleHead has created a 4" Munny titled, The Corpse Daughter.
If Victor and the Corpse Bride had a daughter, this would be her. She is sitting by the graveyard, enjoying the midnight fog. This is her favourite place to sit and enjoy the ambiance. She has a beautiful pet butterfly to keep her company from time to time. The butterfly favours the boney arm so in the daughter's purple ombre dress, she sits and enjoys the butterfly's company.
The corpse daughter is a 4" Munny sculpted in clay. Her dress is made using real fabric.  Her hair and dress has been delicately dyed and her eyes and lashes are sealed for protection. Take her home and take a slice of Burton's world for you to view every day.
The Corpse Daughter will be showcased and for sale at The Thumbprint Gallery on Tuesday, September 30- October 1, 2014  for the Melanjolly, an artistic tribute to Tim Burton movies.
AppleHeadToys really knows how to shock people with her customs, to find more of her work head over to www.AppleHeadToys.com Twitter ,Facebook and Instagram