The exciting news that Twelvedot have announced the ordering process of APO Frogs is now available worldwide.  Not only worldwide availability but new colours and accessories. The demand is high so be quick boys and girls!
****UPDATED*****
Our great buddy over at Collect and Display have secured a deal to stock all the new Apo Frogs! This will make it easier for Euro guys to get hold of Apo Frogs http://www.collectanddisplay.com/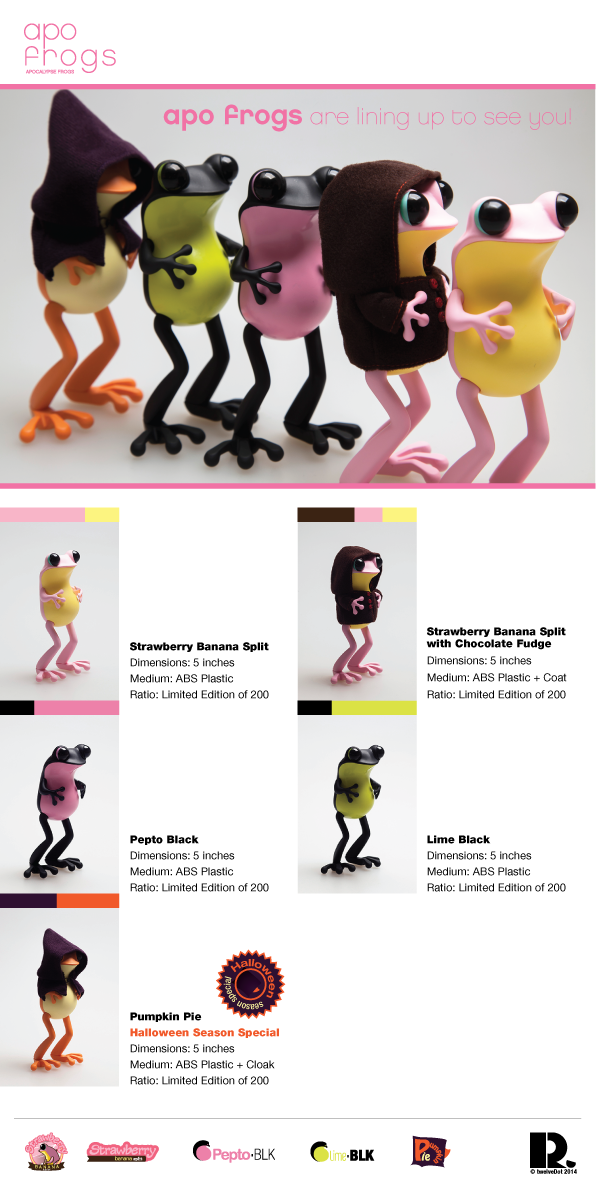 How to place orders
To place an order, please fill out the form below and reply to:
[email protected] / [email protected]
(please state the name that will appear upon payment through Paypal or wire transfers)

 

(for invoices and order status updates)

 

(with full information to guarantee international shipment including postal code)

 

(required on EMS shipping form)

 

(please choose between PayPal or international wire transfers)

 

 

Strawberry Banana Split with Chocolate Fudge (+coat)

 

 

 

 
Total production on each frog is fixed at 200 pieces and Twelvedot have a limited number of frogs available for sale at present. As with Twelvedot previous handmade resin pieces, none of the versions will be reproduced once they sell out.  
When we receive your order information, Twelvedot will get a quotation on shipping costs from our EMS provider and send you the invoice for your order. If you would like us to ship via a different service (e.g. FedEx, DHL, etc.), please specify your preferred shipment method in your email.
Alternatively, to eliminate shipping costs, we can hand carry your frog and deliver it in person if you plan to come to the Taipei Toy Festival held from Oct 9-12 this year. In that case, please specify that you will be at TTF in your email so we can send you a confirmation number to give us when you come to our booth for your frog. You can find us at the Coolrain Studio booth (Booth A61).
For those in Korea, we will be sending out our frogs via domestic parcel services.
With prior appointment, you could also pick up your frog in person at our studio in Seogyo-dong, Seoul. Upon completion of payment, we will send your frog and email you a copy of the shipment order with parcel tracking information.
We started to create APO FROGS to raise awareness for endangered frogs. The inside panel of the boxes our frogs are shipped in contain more information on the importance of frogs as the middle link in our ecosystem and the devastating consequences of frog extinction. Please take a moment to read through and help them spread the word to protect these wonderful creatures from extinction.
Now the hard part is choosing which colourway to get!