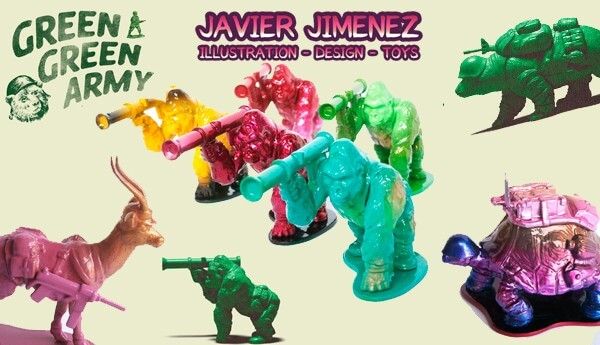 Everyone who has seen The Japanese "Red Panda ana's GREEN ARMY" gashapon figures by http://www.takaratomy-arts.co.jp/ wants one or the whole set (including me) Javier Jimenez has got hold of some and turned the bad ass army into multi coloured! Javier paint work actually makes the detail of the figures pop out a lot more. I personally wouldn't mind this set along with the original Green.
They will be sold randomly starting today at 11AM EST  (4PM UK TIME) HERE
 Sold randomly, except for the lime green bear that came with a defective base. That one is a bit cheaper and you can select it.
 Here are the original versions. Guess its time to get you're vintage green army men out.
Give him a Holla Via
Facebook , Deviantart , Website , Instagram and Twitter and check out the WIP and past blog post about Wananeko HERE