The Spanish street art artist / customiser Jalos returns and takes on Martin Hsu's Dragon Boy companion, Blacky!  transforming him into a colourful RED LioN. Jalos takes his street art style including his fabulous colour swatches and totally transforms Blacky. Adding small amount of sculpting to Blacky including Jalos trademark skull adds a little belleza to REd LiOn.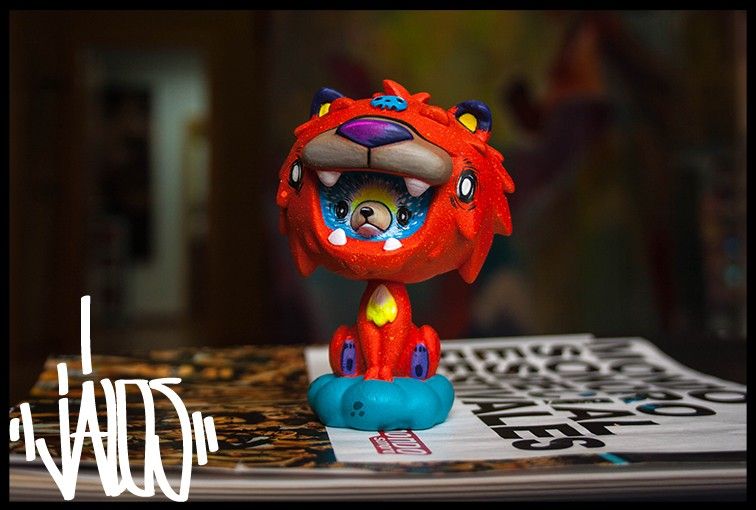 [slider source="media: 27325,27323,27324″ limit="100″ width="1400″ height="900″ title="no" pages="no" mousewheel="no" speed="800″]
Jalos Has also transformed the tail too into more a stumpy tail, cute never the less. What we really like the expression of Red LIon so adoriable yet a little sad. all round this custom you will be able to spot a few tattoo markings which are a nice touch. Can you tell Jalos is doing Tattoos for real now?  if you're reading this good luck with your new venture. Sadly this one was a commission and not for sale.
Don't want to wait for a commission or next release? we have a couple of custom Kidrobot Dunnys by Jalos, which are available over at our store http://thetoychronicle.bigcartel.com/ the hard choice is which one to choose! for every custom we will also send you some exclusive stickers too from JALOS and TTC!

Here are a few WIP shots.
[slider source="media: 27328,27330,27331,27332,27333,27334″ limit="100″ width="1400″ height="900″ title="no" pages="no" mousewheel="no" speed="800″]
You can find him Via all social media
Website http://www.jalos.es/
Facebook https://www.facebook.com/pages/JALOS/109087329112075
Twitter https://twitter.com/JALOS_
Instagram http://instagram.com/_jalos_
Flickr https://www.flickr.com/photos/jalos_nitropolitans