For the past two Toycon UK we've had the honour to showcase Mike Sticks work and now Mike has been selected to be part of Collect and Display's artist monthly series. This means it's your chance to buy one of Mike's "RAY" – Phantom Edition. These figures are perfectly weight distributed and the finishes are 5 star standard, Mike would never sell anything below that. Just wait till you see these in person.
[slider source="media: 32900,32899,32902,32898,32897,32901″ width="1100″ height="1300″ title="no"]
These will be a very limited run of hand cast, hand painted figures with some points of articulation at neck & shoulders. Also, the helmet is removable to reveal a random, blind-packed head!
[slider source="media: 32893,32894,32895,32896″ width="1100″ height="1300″ title="no"]
The exclusive Phantom edition features a glow-in-the-dark head with painted details that shines though the semi-clear visor at night.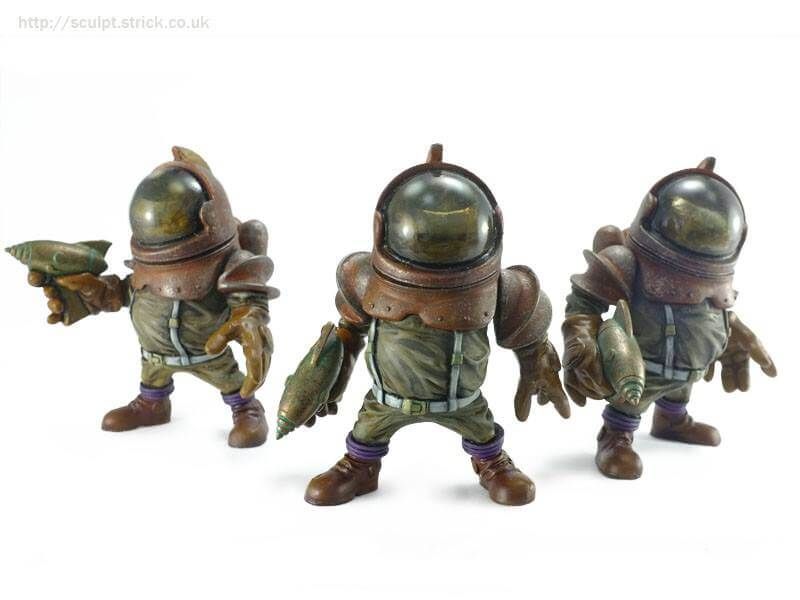 "I thought it had a nice classic Flash Gordon/Dan Dare feel to it"
Friday 30th October 8:00pm UK time at http://www.collectanddisplay.com/ priced at £75.
You can catch Mike over at his blog, it is a great insight to his work. http://sculpt.strick.co.uk/