Otto Björnik is set to release Cadmium Geisha this time in a different colourway. These are beauties should be released anytime now and these will sell out in the matter of seconds.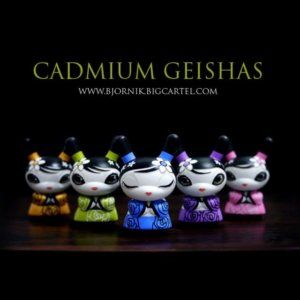 looking at the Geishas he is using the Dunny head but with a resin cast  body. So hopefully more Gishas should be popping up again if you missed out.
Dam those eyes are mesmerising
Personally the blue and purple one are the winners for me. Obviously a whole set would look amazing.
The last 5  will be available at Here on Tuesday, December 17th at 10am EST (3PM London Time)
Go take a look into Otto Björnik world and be mesmerised!