Okkle is a UK based artist, illustrator, animator and games designer with a penchant for character and creature design. Currently based in the West Midlands, with over 5 years experience in the industry working on a wide range of projects.
Surprisingly he still has a couple of artist proof Dunnys for sale on his shop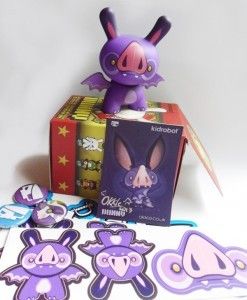 3″ Bodkin the Bat Dunny, His design from the Kidrobot Dunny 2013 series.
Each of these Dunnys have been signed by Okkle on the back of the head and numbered & marked 'AP' underfoot. Each art card has also been signed.
Boxes can be signed upon request for no extra charge.
Along with your specially signed Dunny, each AP will come with 3 random Okkle button badges, 2 micro vinyl Bodkin sticker sheets (15 x 5cm) and one micro vinyl Okkle sticker sheet. Which is a total of 8 stickers.
At £16
Limited to 20 pieces. One per customer please.
Shipping is £4.50 to UK, £5.50 everywhere else. Shipping will be discounted though for combined orders.
Okkle also has a few custom toys on his shop right now like
King Ralph
The most awesome king ever and the best living creature you will lay your eyes on. King Ralph the first is the best at literally everything, he's the best at all sports, he's the best guitarist, he's the best surgeon, he's the best artist, writer, singer, bomb diffuser… everything! You think you're better than King Ralph the First at something? Ha! King Ralph the First laughs at you! You are clearly forgetting one simple fact, he is king and therefore he is best by default.
But he's not just the best, he's also the most handsome and most fearsome king ever to exist. His lush royal purple fur is the softest, he's royal red cape is the swishiest, and his royal gold crown the shiniest!

You can find Okkle on his
Website http://www.okkle.co.uk/
Flickr http://www.flickr.com/photos/okkle
Facebook  https://www.facebook.com/okkle
Instagram http://instagram.com/okkle
Okkle will be showcasing at ToyConUK 2014