UK based artist, illustrator, animator and games designer Olly Klinkenberg aka Okkle, is coming to ToyCon UK with some great little customs. So let's take a look shall we.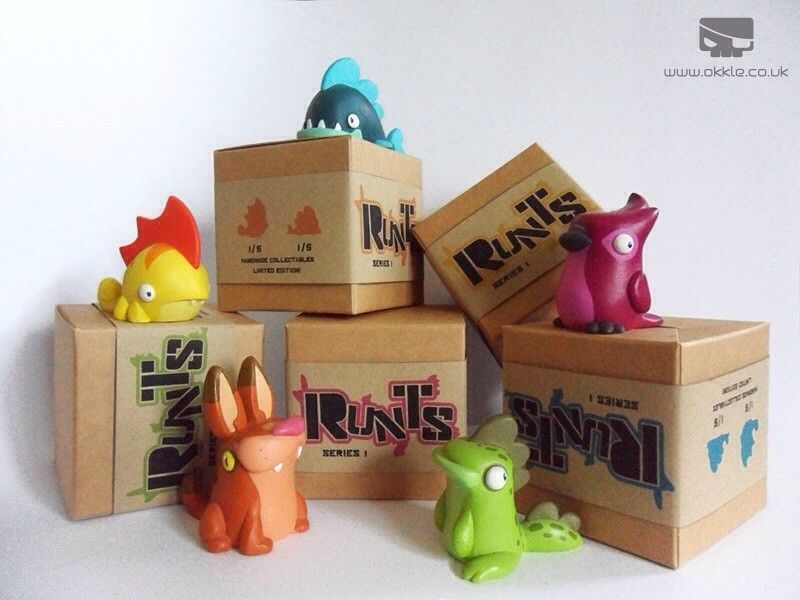 First up us Runts blind-boxed mini series. Runts are hand-cast from an hand-sculpted original, hand-painted and boxed resin collectables in need of a loving home!
This is a series of 5 designs, limited to 12 of each design, so only 12 full sets! Blind-boxed mini series!
The box colour doesn't match the figure inside to keep the element of surprise, but if you buy 5 Olly will ensure you get a set, He has X-ray eyes you see so can see what we can't.


Next up are The Strays, a series of custom Micro Trikky.
Red – Red was born and raised in the back alleys, he considers himself the top cat, others disagree.

Henson – Henson became a stray when his owner passed away several years ago. Henson believes himself to be a pedigree, he's not, but his owner was a butler for a wealthy family… who apparently didn't know their butler had a pet!

Tiddles – OMG Tiddles is so excited she's going to peeee! Tiddles was thrown out because of her complete lack of bladder control. She lives just around the corner from her old owners now, she still pees on their stuff.

Princess – Princess was a pampered thing living with a well off family. But one day her owners had to mysteriously leave overnight. Not liking being put in the carrier Princess broke free when nobody was looking and was accidentally left behind. She's sure they'll come back for her "once the heat's died down", whatever that means.

Mittens – Mittens is a genuine pedigree rare breed, much to Henson's annoyance. Mittens doesn't know what he is though, he's always been a happy-go-lucky house pet. He became a stray after his owner fell ill and was taken into a care home where pets aren't allowed.

Woeful – nobody is sure where Woeful comes from, or if he's even a stray. He just appears from time to time. His naturally woeful looking face brings him lots of sympathy snacks and human attention.
So pop over to booth 8 and give a stray a loving home!!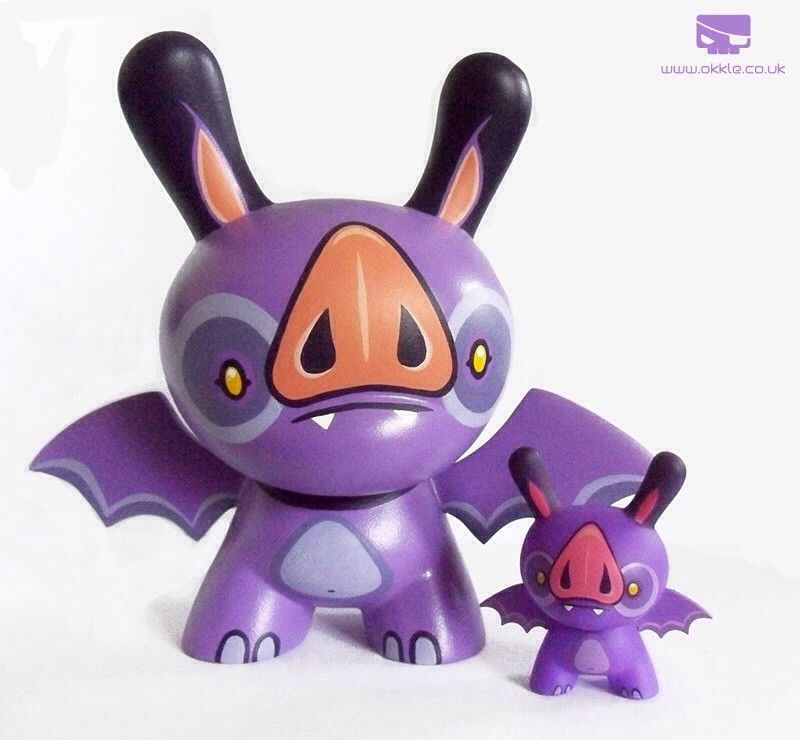 Lastly, you should all know Bodkin bat from Kidrobot's 2013 "side show" dunny series, well he's back and bigger than ever.
Olly has done this 8″ version of Bodkin just in time for ToyCon and will also be be bringing so APs of the 3″ dunny for you bat lovers to pick up.
If you want any of these or even a little bat or fish sketch, then go see Okkle over on booth 8 and have a chat with him.