Roll up, roll up and see the greatest show,
Stepping under spotlights ready to bestow,
Marvellous wonders of pickled beauty,
Such fantastic folk of cute oddity.
You'll gasp in awe and laugh and cheer,
At the strangest toys you'll see all year.
[youtube url="https://www.youtube.com/watch?v=k39h6zqILWY"]
Hello art toy enthusiasts. My name is Matthew Roby and I love to design and sculpt strange and wondrous characters. I'm concept artist, illustrator and writer by day and a sculptor by night. Ever since I was a knee high to a grasshopper, I dreamed of making unique toys and collectables, that bring joy and fun to peoples lives, and my Pickled Circus project is to help make that dream come true.
This project will help fund the production of Pickled Circus art figures that will be produced as limited edition art toys ranging in size from 4 to 12 inches.

In response to the many requests for my sculptures, I wanted to create this project to meet the requests and to help bring costs down both in the production and for all those who support the project.
The process for each figure production is much the same. A crazy idea creeps from my brain and onto paper, where I refine it with various designs. The final sketches are used as blueprints for the master sculpts, which are created in wax or clay.
The masters are then moulded and cast in resin, before the figures are finally hand painted, and issued with a back story(all my characters have a tale to tell!)
Up to date, the first batch of toy figure prototypes have been designed, hand cast and painted by me. I love doing the mold and casting process, but unfortunately it is too much work for one person to do alone.
The production process is very demanding, so the funds for this project will allow me to hire a mould maker within the UK to cast the figures for me, so that I can make more without compromising the quality. With your help, this will allow me to invest more time painting and making more characters available to those who wish to adopt one.
The limited edition resin figures, is the initial goal for the project, however depending on the support received this would be the springboard to a wider Pickled Circus world. Involving games, aps, light sculptures as well as collaborating with other companies to develop the characters into vinyl toys.
It all starts with a dream, I hope this competition helps bring it to life.
Risks and Challenges
Barring any unforeseen circumstances I don't expect any problems completing the initial target of the project. The major challenge was developing and producing the prototype figures for the first pickled circus series. This stage is now 90% complete and the figures are virtually ready for limited reproduction. The next challenge will be working within a timescale to get all the figures ready for the project supporters.
Rewards
PLEDGE €30 OR MORE
Supporters will receive a limited edition signed print set of Pickled Circus character illustrations
PLEDGE €50 OR MORE
Each supporter will be rewarded with a blank DIY figure of 'Queen of Hearts' or 'Dead Ted'
PLEDGE €90 OR MORE
Supporter receives a limited edition 5inch art toy.
LaunchBox Project link https://launchbox.cutandpaste.com/projects/539246ef69702d6929340300
Goodluck  Matthew with the project and I hope you reach the funding goal of £5000 your work was one of the highlights of Toycon 2014!
You can check out Pickled Circus work in past blog posts HERE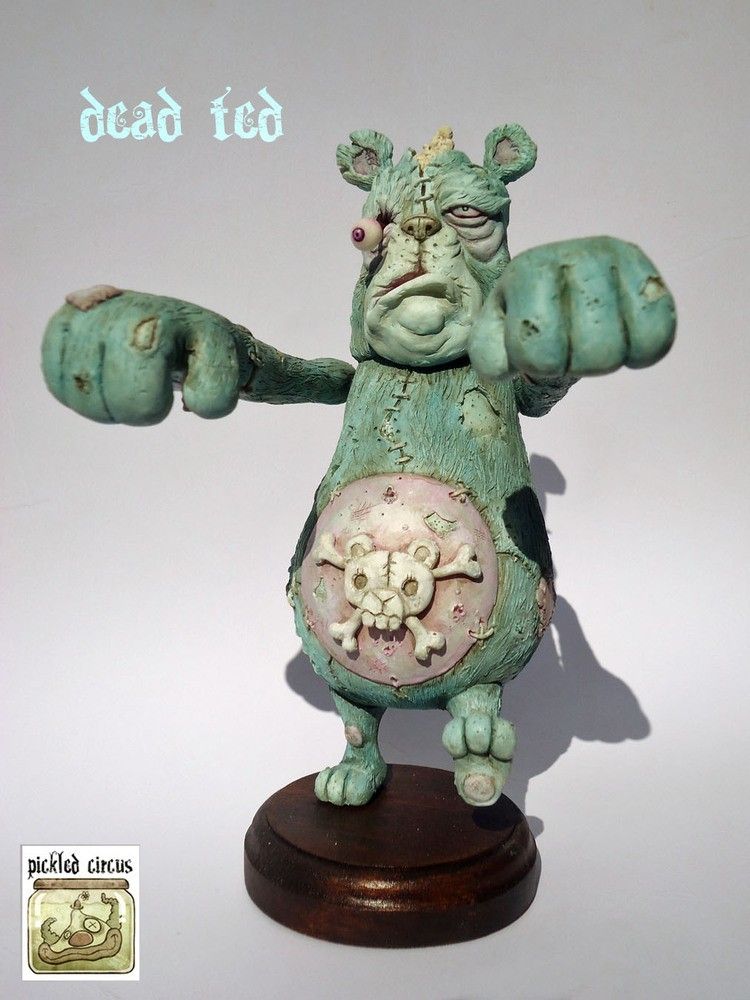 Fancy a Pickle ? head over to his Online shop HERE
You can stalk Matthew Via Twitter , Facebook  and Instagram