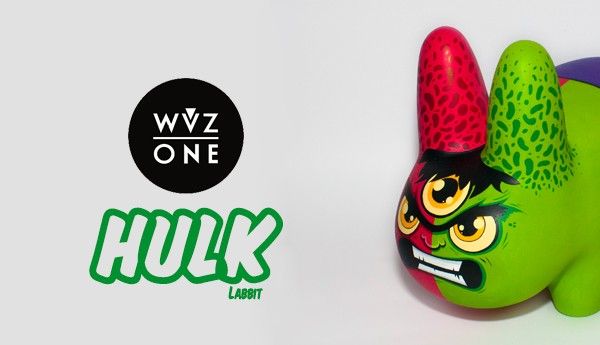 WuzOne latest 10″ custom Kidrobot Labbit in the style of the famous Marvel HULK super heroe. WuzOne sets his trademark style all over this custom with the two half themed which is another great idea just like his Spongebob custom he recently did. WuzOne style is so unique and the finish is always on point no wonder he will be apart of the up and coming show where The Clutter Gallery has partnered with Kidrobot for a gallery exhibition of customised Dunnys including some 20-inch Dunnys. The show will be called the DTA Dunny Show, where all the proceeds raised by Clutter & Kidrobot will be donated to the Designer Toy Awards.
Lovin the expression and the uni-brow is a killer!
[slider source="media: 16646,16647,16648″ limit="100″ width="1000″ height="1100″ title="no"]
Sadly this is commissioned to a private collector in Singapore.
Below are a few work in progress shots of WuzOne working on the HULK.
[slider source="media: 16649,16650,16651″ limit="100″ width="1000″ height="1100″ title="no"]
He will soon be painting another Hulk mix in a Kidrobot Dunny platform but in Green and Grey so be on the look out for that.

100% hand painted using spray paint, acrylics, super sculpey and matte varnish
You can always ask to be on the commission list.