WHO STANDS there! The one and only Diablo. Customed by Richard Page of UMEToys who's now a part of the newly formed Submission Toys which involves soft vinyl master TRU:TEK has been having a very impressive go a customising some soft vinyl of late. Diablo is one that went under the knife and steady hand of Rich. Nice to see Rich have side projects like Submission Toys as he breathes new life and new style to soft vinyl and plenty of rocking Kaiju. Already ST has a unique custom look compared to others out there who custom sofubi already, less airbrush combo colours and more defined look bringing out all the details on various platforms.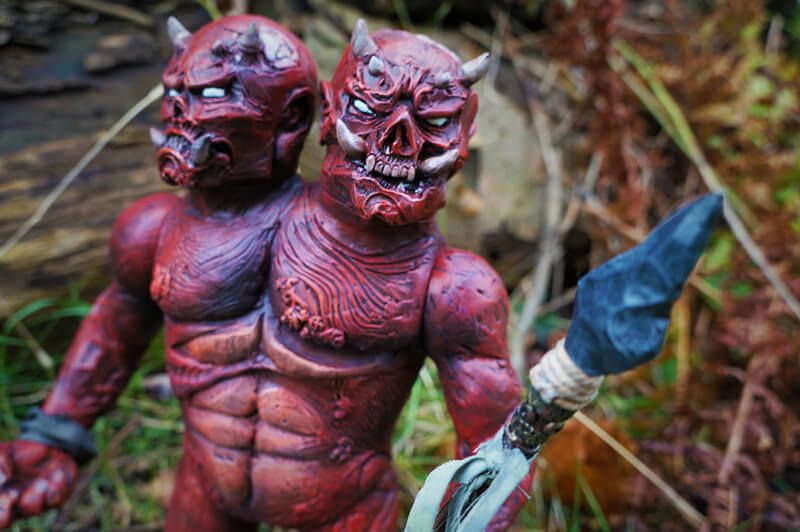 A one off custom Solo is Toy Molochowl named 'Diablo' with custom spear and wrist and ankle wraps. At least we can tell who's customised what now as the style is now set for Rich and Submission Toys.
 If you'd like to add him to your collection head over to the UME store at 9:00pm London time on Friday 17th Feb 2017.
Not enough for you? Check this! Lunar Squid
If you look up in the night sky keep an eye out for Lunar Squid – half moon half alien. This new ball from UME is measured in at just over 2 inches. To help display him to his best he ships with a 'ooze' base. Each hand cast and painted resin Lunar Squid comes in a header carded bag along with a collectors card. Numbers are limited to 20 worldwide.
[slider source="media: 66766,66767,66768,66769,66770″ width="1020″ height="1000″ title="no"]
If you'd like to add one to your collection head over to the
UME store
at 9:00pm London time on Friday 17th Feb 2017.