British customiser Ross Fury is curating an exhibition full of kitbash/customs inspired by his love of Star Wars and Ashley Woods world of ThreeA. The exhibition will be held at London's prime comic and toy location Raygun Comics East! Mostly 1/6 figures will be on show, to showcase many the endless hours of work that has gone into making and planning the exhibition. Ross has given us a few photos of the figures that will be on show and from the look of them it will be a exhibition not to be missed!
"Fan project combining a life long love of Star Wars & the aesthetics of Ashley Woods world of 3A.
Over 50 custom 3a Star Wars figures featuring all your favorite characters from the original trilogy + a few surprises"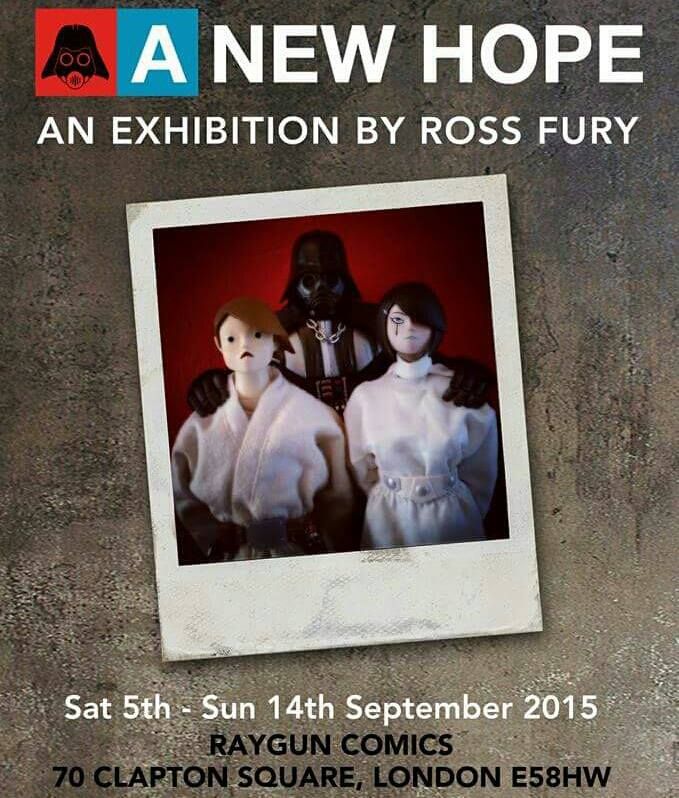 This project started as a healthy way to channel my OCD… it soon became a ridiculous obsession that has cost a fortune & although I am quite proud of the end result…
[slider source="media: 28764,28763,28766,28765,28767,28768″ width="1100″ height="1100″ title="no"]
Not only will you get the chance to see all these figures, Ross has some of the figures box art done by London based tattoo artist Jay Moon! on the 5th a raffle will be drawn which will be include Jay Moon boxart.
[slider source="media: 28777,28778,28776″ width="1100″ height="1100″ title="no"]
There will be a few figures up for auction with proceeds going to All Dogs Matter, a London based dog rescue organisation- http://alldogsmatter.co.uk/
You can find the FB event page HERE  and Ross Instagram HERE.
http://www.rayguncomics.co.uk/