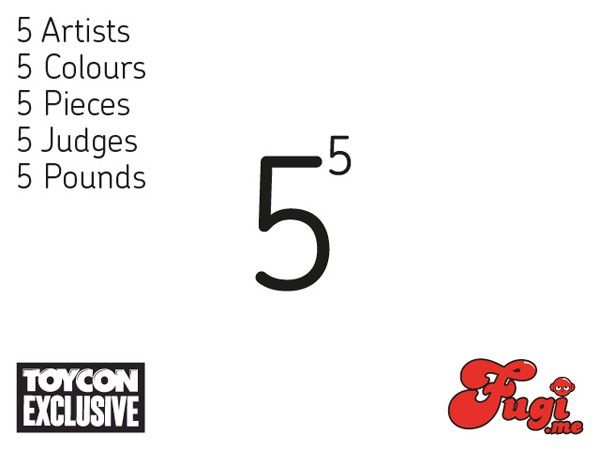 Fugi.me are running an awesome project entitled 'Power 5' for ToyCon UK 2014 where you, yes, YOU, could have your design produced as a series of 1″ resin toys that will be sold blind bagged at the fugi.me stand on the day and here is a little reminder of how to get involved!
It's simple.
You have until 29th November 2013 to download the entry form HERE and submit your creations by email to [email protected].
Full details about the competition can be found over on the fugi.me blog, below is a brief summary to whet your appetite:
There will be a team of 5 judges to pick the 5 best designs JazzyDan (fugi.me), Jim Freckingham (Robotic Industries), Lisa Rae Hansen (iBreakToys), Ben Hart (ToyCon UK), and the 5th of the vote will be decided by the general public (through liking the entries on Facebook).
The winning designs will be sculpted by Robotic Industries and they will then be cast by iBreakToys, Lisa Rae Hansen who will produce 5 of each design, in 5 colours, a total of 125 pieces.
The 5 winning artists will receive a complete set of their design, 1 piece in each of the 5 colours. (This will leave 100 pieces for sale at ToyCon UK)
This is a unique opportunity to realise your ideas and have them come to life in the form of an exclusive resin toy, produced by some of the finest in the game, so what are you waiting for?