Fancy winning yourself some Loot Crate prizes courtesy of Kidrobot? Well, enter the Loot Crate Custom Munny Contest and you could just do that! Take yourself the icon Kidrobot DIY Munny, add your creative juices & submit your custom here: http://www.lootcrate.com/munnycontest
There are a number of categories you can enter in: Hero / Villain, Best Fashionable, Best Modified, Best Basic, Best Kid Design, Best Lookalike, Best Video Game & Most Resourceful. So plenty of options to go with.
Prize wise there are two sets of prizes. One set if you receive the Most Votes from your peers, the second set is awarded by a set of Judges. Both cool prizes, see below.
[frame align="center"]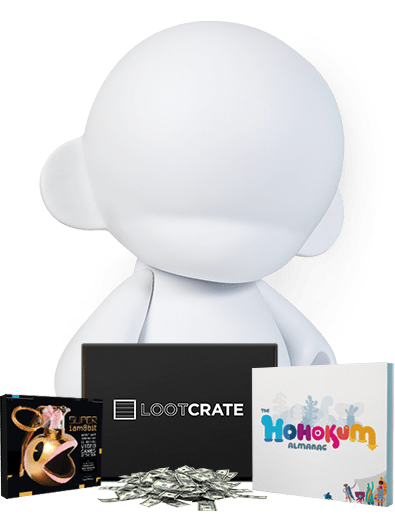 [/frame]
Most Votes
$500 / 1 year of Loot/extension + Looter shirt.
Super iam8bit / Hohokum Almanac / 7" Munny
Judges Pick
$100 Amazon gift card / 6 mo. of Loot/extension
Super iam8bit / Hohokum Almanac / 7" Munny
Good luck if you enter! Let The Toy Chronicle know if you enter, and we'll give you our vote!
About Loot Crate
Loot Crate are a monthly subscription box service, that delivers the best in geek + gaming gear. From collectibles, apparel, tech gadgets, art, and other epic gear, it's like Comic-Con in a box!
If you want to check them out, visit their website here: https://www.lootcrate.com/