Time to add a new date to your 2014 diaries, folks! Saturday 6th December 2014. Our awesome pal, Kerry Dyer (who you may remember put together the Mole XL at ToyConUK in April) is putting on a show of custom Mole XL – with a pretty ensemble of UK/Euro/RoW artists to keep you happy for weeks!
[frame align="center"]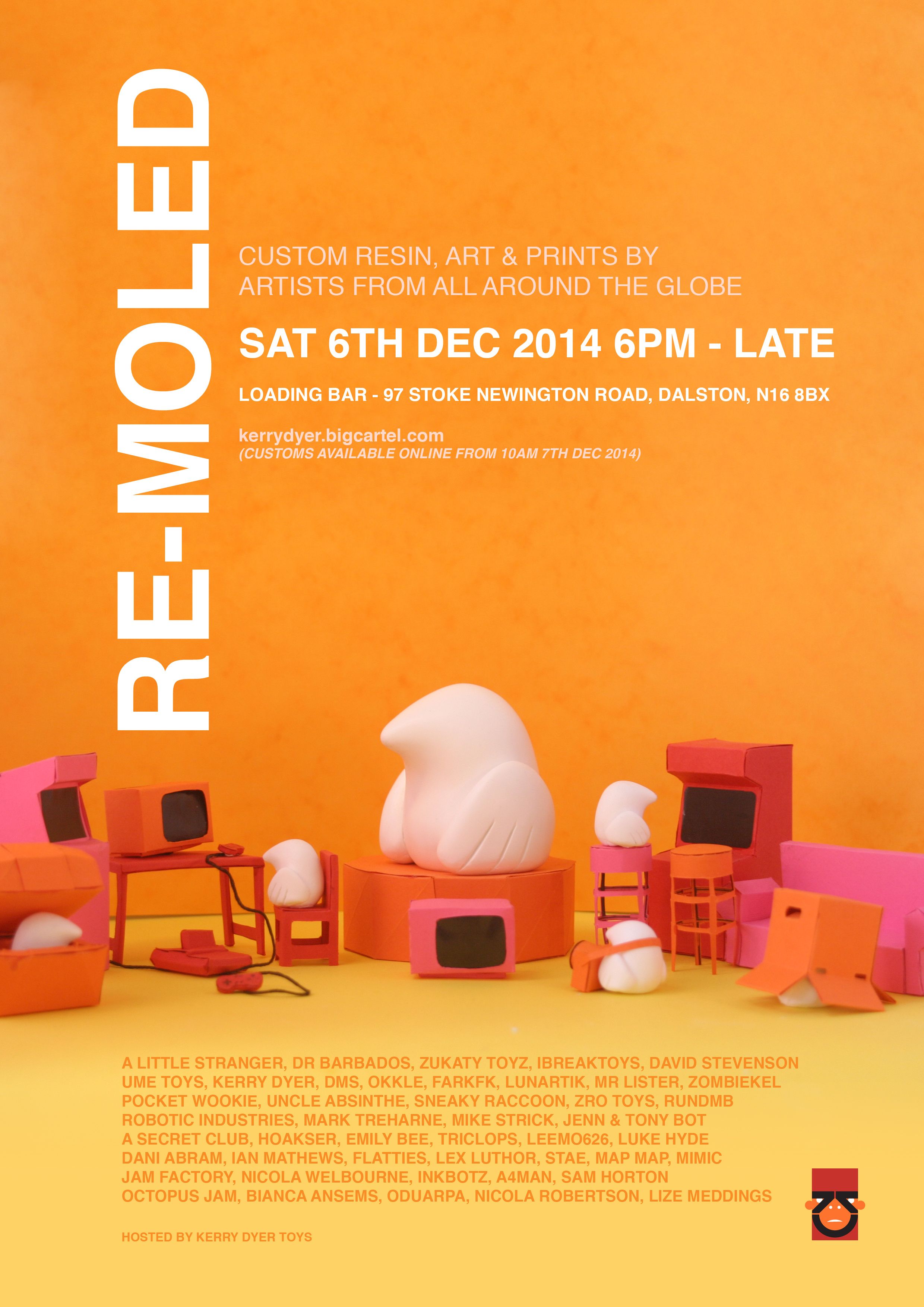 [/frame]
Re-Moled will be a collection of customs and 2D prints/paintings based the Mole XL resin toys I released at ToyConUK this year.
It will be at Loading Bar (London's insanely awesome video game bar) on the aforementioned Saturday 6th of December 2014. The artist line up…
A Little Stranger | Dr Barbados | Zukaty Toyz | ibreaktoys | David Stevenson | Ume Toys | Kerry Dyer | DMS | Okkle | FarkFk | Lunartik |Mr Lister | Zombiekel | Pocket Wookie | Uncle Absinthe | Sneaky Raccoon | Zro Toys | RunDMB | Robotic Industries | Mark Treharne | Mike Strick | Jenn & Tony Bot | Hoakser | Emily Bee | Triclops | Luke Hyde | Dani Abram | Ian Mathews | Flatties | Lex Luthor | STAE | Map Map | Mimic | Jam Factory | Nicola Welbourne | iNKBOTz | Sam Horton | Octopus Jam | Bianca Ansems | Oduarpa | Nicola Robertson | Lize Meddings | Leemo626 | A4man | a secret club
That is rather epic, no?!
All remaining customs will go for sale online the day after the show 7th Dec 10am GMT at www.kerrydyer.bigcartel.com
Location of Re-Moled, Loading Bar, looks rather awesome too, right?!
[frame align="center"][/frame]

If you've forgotten what the Mole XL, released at ToyConUK 2014, then look no further....


[frame align="center"][/frame]