What happens when two awsome worlds collide? Beautiful things happen and the world should be ready for this major event. Legend Michael Lau on of the forefathers of the designer toy scene is set to work on a all new figures and art work inspired by director, producer, artist, writer and animator Tim Burton! Yeah pick your jaw off the floor. Michael Lau has already shared some of the designs online which are 6″ MAXX & BB vinyl crossover figures which Michael Lau are characters paying tribute to Tim Burton. Fringebacker a crowdfunding platform has place to buy and back the limited edition figures from The World of Tim Burton x Michael Lau.
The city is filled with the quirky vibe of Tim Burton. The visionary director's new movie Miss Peregrine's Home for Peculiar Children hits the big screens and kick starts the various upcoming Tim Burton events including the most anticipated worldwide hit – "The World of Tim Burton" Touring Exhibition this November. The organizer has announced yet another unprecedented Tim Burton collaboration with renowned local contemporary artist Michael Lau who is dubbed " Godfather of Urban Vinyl," for his iconic urban vinyl artworks.
[youtube_advanced url="https://www.youtube.com/watch?v=mPEuEh-qML0&feature=youtu.be" theme="light"]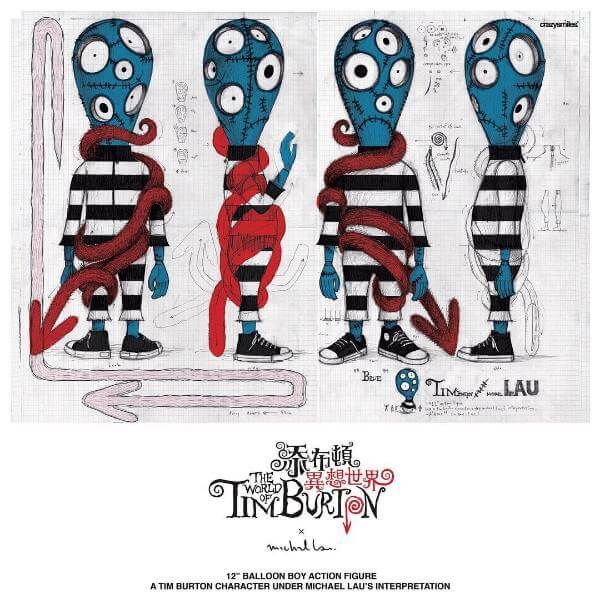 Michael Lau will be recreating two iconic characters – Tim Burton's Balloon Boy (2009) in a 12" action figure and Lau's iconic Gardener duo, Maxx and his pet BB, in a 6" vinyl figure. Paying tribute to Tim Burton, Lau reinterprets the characters by seamlessly merging the signature style of both artists in an approach that truly embraces their respective creative uniqueness. Paying homage to Burton and showcasing Lau's style, the characters combine the signature spiral arrow and iconic eyes from Lau's crazy children's (2001) series.

Michael Lau says, "I have great respect for Tim Burton. We are both creators of characters. His work inspires me a lot. I'm very honoured to have been invited to participate in this project, where I can reinterpret Burton's character with a 'Michael Lau' twist, and recreate my own character adding Burton's essence. I like the synergy a lot. It's my dream that my own character can appear in Tim Burton's movies. It's still a dream to me but now I feel like I'm 1 step closer, and I'll always wait for Tim's nod."

Bound to spin-off a new wave of frenzy, a limited quantity of just 500 figures of each character will be produced, all individually numbered. The figures will be available for purchase as 2 of the packages in "The World of Tim Burton" x FringeBacker – Be Part of It! Programme and their prototypes will be displayed at the exhibition shop. Making it clear that no additional figurines will be produced, they are a must-have for all Burton and Lau fans and collectors alike.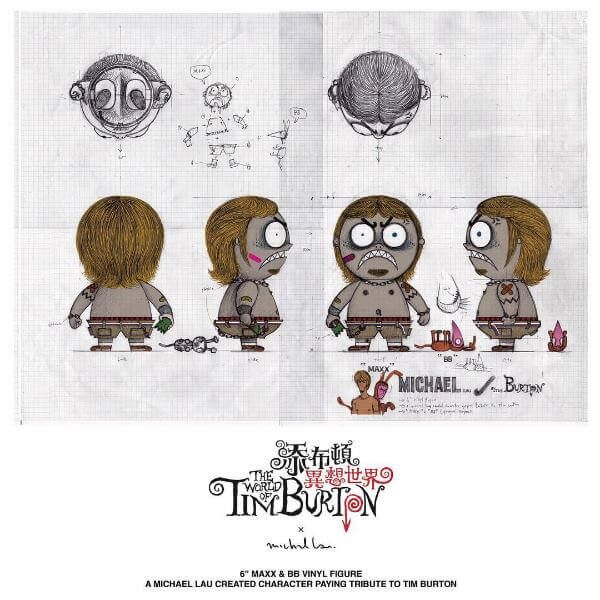 Dam we can't wait to see the figures in it's full glory! Direct link to FringeBacker crowdfunding HERE.
Opens 5th November 2016 till the January 23rd 2017. The World of Tim Burton Hong Kong: tickets are now available at Cityline. Secure your tickets HERE.
ArtisTree, Taikoo Place Cornwall House, 1/F King's, King's Rd, 
Quarry Bay, Hong Kong.

"The World of Tim Burton" is organized by Jenny He, Independent Curator, in collaboration with Tim Burton Productions, and presented in Hong Kong by TAO Company. Exhibition venue sponsored by Swire Properties Taikoo Place.
For further information & ticketing information, please stay tuned with us with the below:
Website : www.TheWorldOfTimBurton.hk
Find the FB event page at https://www.facebook.com/TimBurtonHK/