The keshi masters are back and ready to please the fans who couldn't grab one at Wonder Festival, here is what they had to say.
"Whilst it was great to see The Disarticulators' Oozeball sofubi receive a limited painted run at Wonder festival Winter 2015 a few weeks back, we know that a few of you guys were a bit disappointed that the release was limited to Japan only- well fear not, as we're proud to reveal that an alternative "silver" version of the said "Vintage OG" edition will be touching down in the Man-E-Toys store later this week! Here's the blurb on the figure for the uninitiated few "A follow-up to last years hugely popular keshi-ball release, the Oozeball has been redesigned by The Disarticulators' Tru:Tek from the ground up for the new medium, featuring a more organic, Ooze-It like face, paper clay-style textures, plus a cheeky little extra… a hidden face inspired by Georges Méliès iconic 1902 silent movie, Le Voyage dans la Lune! Beautifully sculpted by none other than Zectron, the 2-part design has been upscaled from the original 2? diameter to little over 3?- making it both more in-keeping with the classic Madball scale, and, more interestingly, compatible with a wide variety of mid-sized kaiju with the capped base removed…" Produced in a super-squishy "Ooze-It Green" soft vinyl and fitted with the previously unannounced squeakers on the undercarriage (yep, you read that right!)"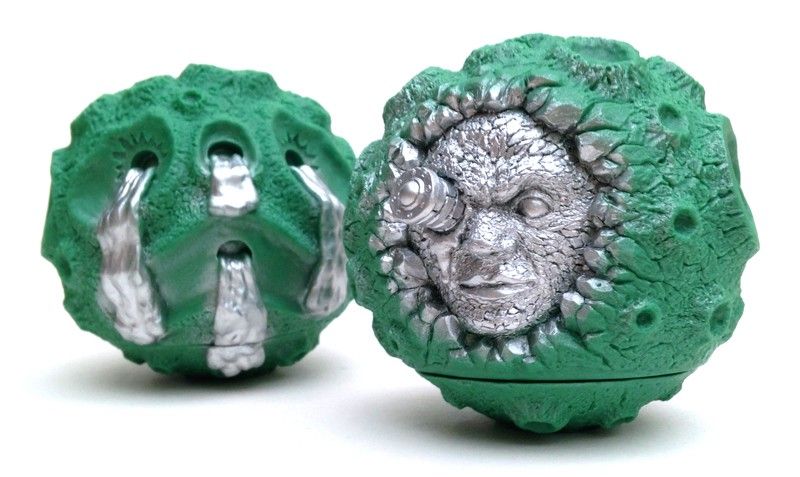 The detailing looks impressive as always, pure sculpting skills!
The limited run of 15 balls have each been treated to simple, vintage-style silver factory sprays courtesy ofRampage Toys. Touching down in the Man-E-Toys store this coming Thursday, March 12th at 9pm London time, the silver "Vintage OG" Oozeballs can be yours for just $50 (around £33each) plus shipping
Hit Tru:Tek up via
Twitter/Instagram- @trutek