"*Cues suspenseful instrumental music
Step right up! Step right up! Don't miss out as we announce the fight of the century!
The crowd is roaring in anticipation and waiting to catch a glimpse of the heavyweight contender, GALLIGANTUS strutting its way onto the wrestling ring to face-off the unmissable Skull Bomb of Warthog Shark."
Mighty Jaxx just announced what appears to be the fight of the century! Okay, maybe not of the century but something very cool. Two heavyweight pieces are dropin' this weekend, a clash of titans in the toy world. Who will win? You be the judge.
GALLIGANTUS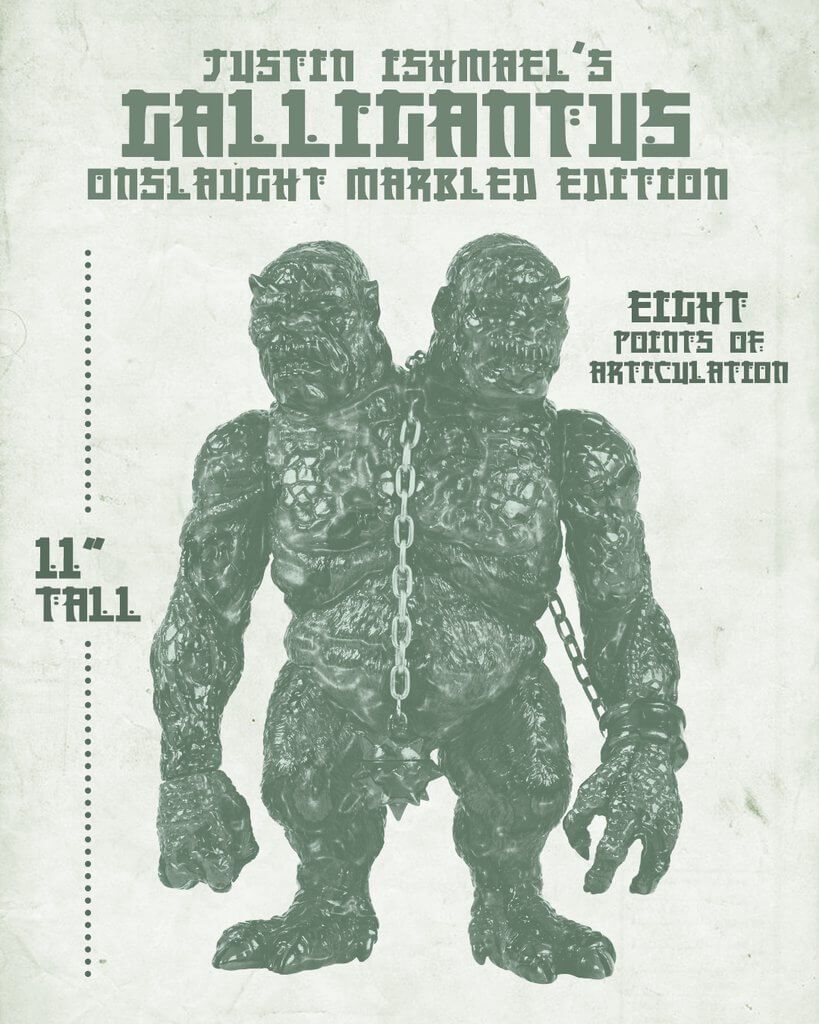 GALLIGANTUS is the perfect risk assessor and its reputation precedes the beast's demeanor, the ability to use exaggerate high-guard to deflect any incoming destructible warfare. Its skin is tougher than any material ever produced which has given GALLIGANTUS the advantage to withstand countless of battles. Keep a lookout for GALLIGANTUS spiked ball and metal chain permanent on its wrist! One full swing of this formidable weapon is enough to knock out its opponent or cause irreversible damage.
GALLIGANTUS appears as a Mighty Jaxx exclusive, stands 11 inches tall, fully painted and casted in marbled soft vinyl of orange and blue. Features the classic spiked ball and metal chain cuffed to its wrist. Purchase via lottery.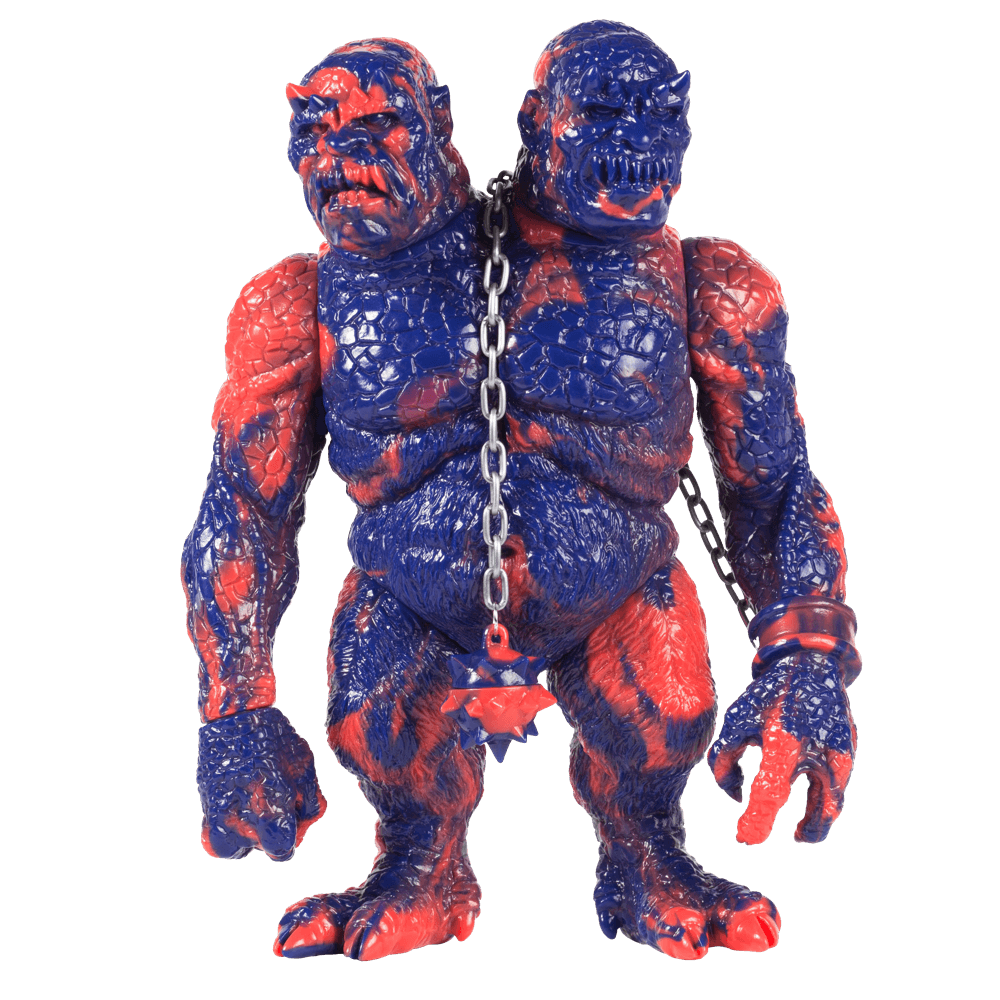 SKULL BOMB (WARTHOG SHARK) BY JASON FREENY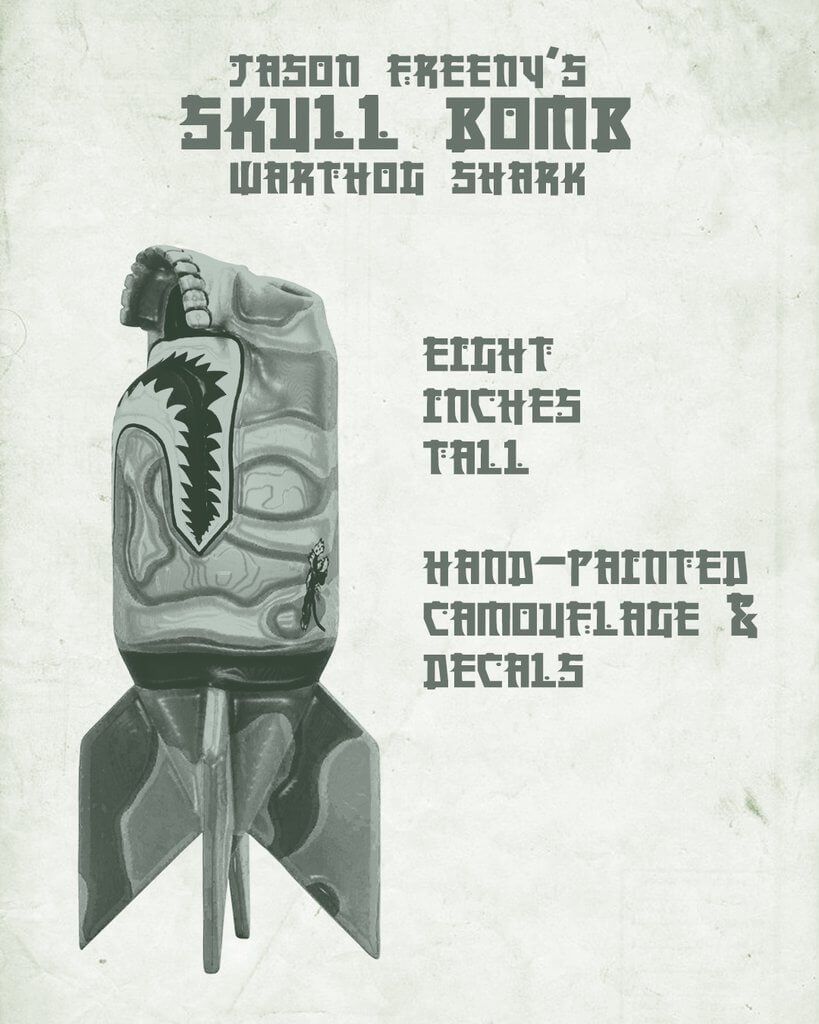 Skull Bomb is an opportunist by using high-technology to scan the battleground in a hope to attack its opponent off guard. As a one-hit wonder, Skull Bomb effectively scores with single blow while capping it at double blows if the significant threat does not surrender before complete elimination. Having gone through an intensive programming at a specialized laboratory based in Singapore, Skull Bomb has the ability to bounce back even after "self-destructions". Skull Bomb is programmed in a way that once the target has been locked down in sight, there is absolute no escape.
The Skull Bomb by Jason Freeny makes a return in a special WARTHOG SHARK edition. With a paint app inspired by the history of aerial warfare, features a distinctive nose art – an illustrated set of 'Warthog Shark' teeth, a perfect war machine!
This edition will only be available for 24h.
This clash of titans will go live Saturday, 3rd February (10AM NYC, 3PM LDN, 11PM SGP) at mightyjaxx.rocks Place your bets!
[box title="Important Details"]
Price: N/A.
Release date/time: Saturday, 3rd February (10AM NYC, 3PM LDN, 11PM SGP).
Link to Site: https://mightyjaxx.rocks/.
[/box]
Keep up-to-date with all Designer Toy news via the TTC Mobile App. Available to download now via the App Store or Google Play Store.