Super7 continues the partnership with Gorilla Biscuits in another rendition of the Gorilla mascot. This time around Gorilla Biscuits, Super7, and Revelation Records collaborated to celebrate the 30th anniversary of the classic Gorilla Biscuits 7".  Released in 1988 as Revelation Records fourth release, this third press tribute box set comes packaged in a red display box that matches the third and final of the original pressings of the 7" with the red athletic letters on the sleeve.
The box set will include an all new pressing of the 7"on red vinyl with a large center hole and a new center label design. Each box also contains a brand-new third press tribute red Gorilla Biscuits ReAction Figure with GB logo display base. The GB display base is also a 7" large hole adapter which fits the new 30th anniversary 7".
Availabe Monday, July 8, 2019 (exact time not confirmed yet, well update this post).
The box set will set you back $60 online at super7.com.
More Super7 x Gorilla Biscuits? Check below: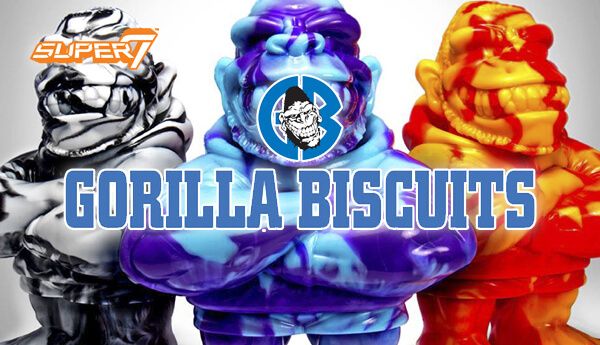 ---