I scream you scream for ICE- CREAM! Well kinda, HA. Our artist spotlight artist Kasey Tararuj AKA One-Eyed Girl is looking to sweeten your collection and display with her all-new "Summer Treats" series. Some Five Point Festival attendees might recognise some of these and Kasey quotes "I made 6 for Five Points, and couldn't resist making some different new ones seeing as they are my weakness in the summertime.  I have 5 new ones! ) Some nostalgia creeping into TTC HQ looking at these "Summer Treats"  especially the Crackle (Bomb Pop) from Kasey.
Each standing approx 6″ tall, except Chaco the Chaco Taco who stands around 3″ tall. Prices range from $100-115 and they will be available this Wednesday, July 18th at 4 PM EST in Kasey's  shop https://squareup.com/store/oneeyedgirl
Can't wait and need some Kasey art? How about these Mini Popsicles?
From left to right:
Melting Fudgesicle: 3″
Orange Popsicle: 3.5″
Purple Popsicle: 3.5″
Red Popsicle: 3.5″
Melting Orange Creamsicle: 2.5″
Find more info and great work and customs Via herhttp://oneeyedgirl.com/ ,Blog,Facebook ,Flickr  , Twitter and Instagram  
Check out the Artist Spotlight feature —>HERE<—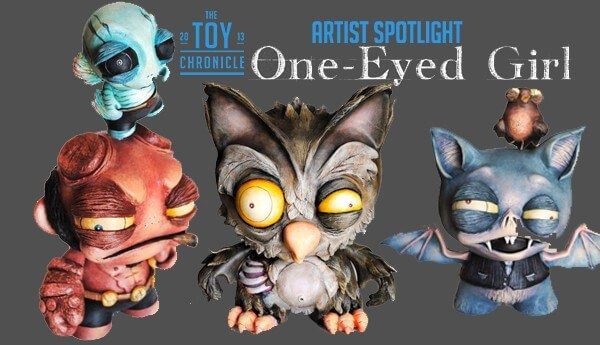 You can get your daily Designer Toy fix from our TTC Mobile App. It's free too! FREE! Download on the iPhone or Android smartphones. Search for "The Toy Chronicle" and all your Designer Toy wishes will come true! Pretty much.