So we thought we would have a quick run through what SubUrban Vinyl will have to offer at NYCC this year.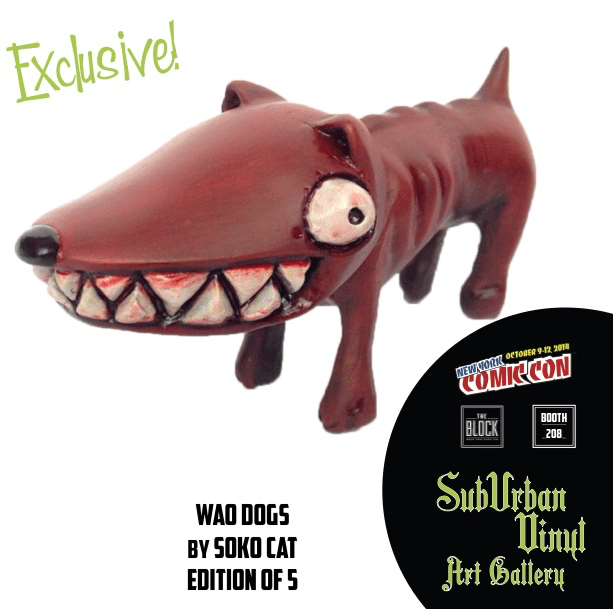 First up is Bloody Wao dogs by friend of TTC Soko Cat
These dogs fight for territory and let nothing stop them from getting they want!. Their hair and skin has been dyed blood red from being drenched in their rivals blood that dare to take what is theirs! These Wao dogs are limited to 5 pieces and will be available for $50 each.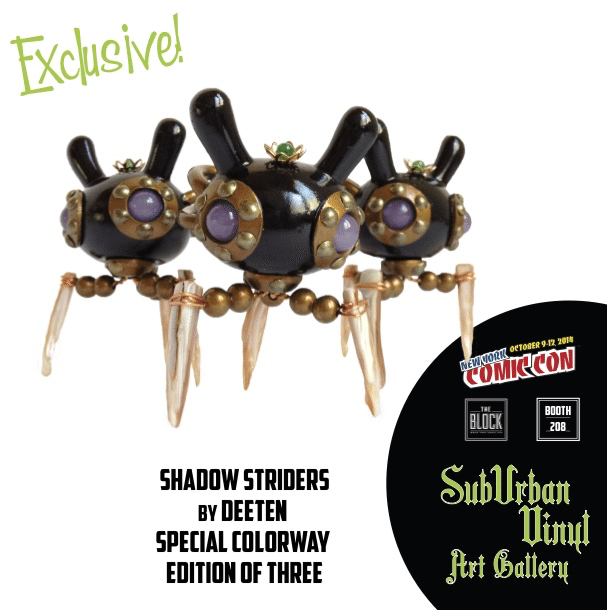 Next are these amazing Shadow Striders by a name you have seen on these pages before, DeeTen make their way to New York Comic Con. Each one is 3″ tall and in an exclusive color way just for SubUrban Vinyl. Limited to 3 pieces and will be available for $80 each.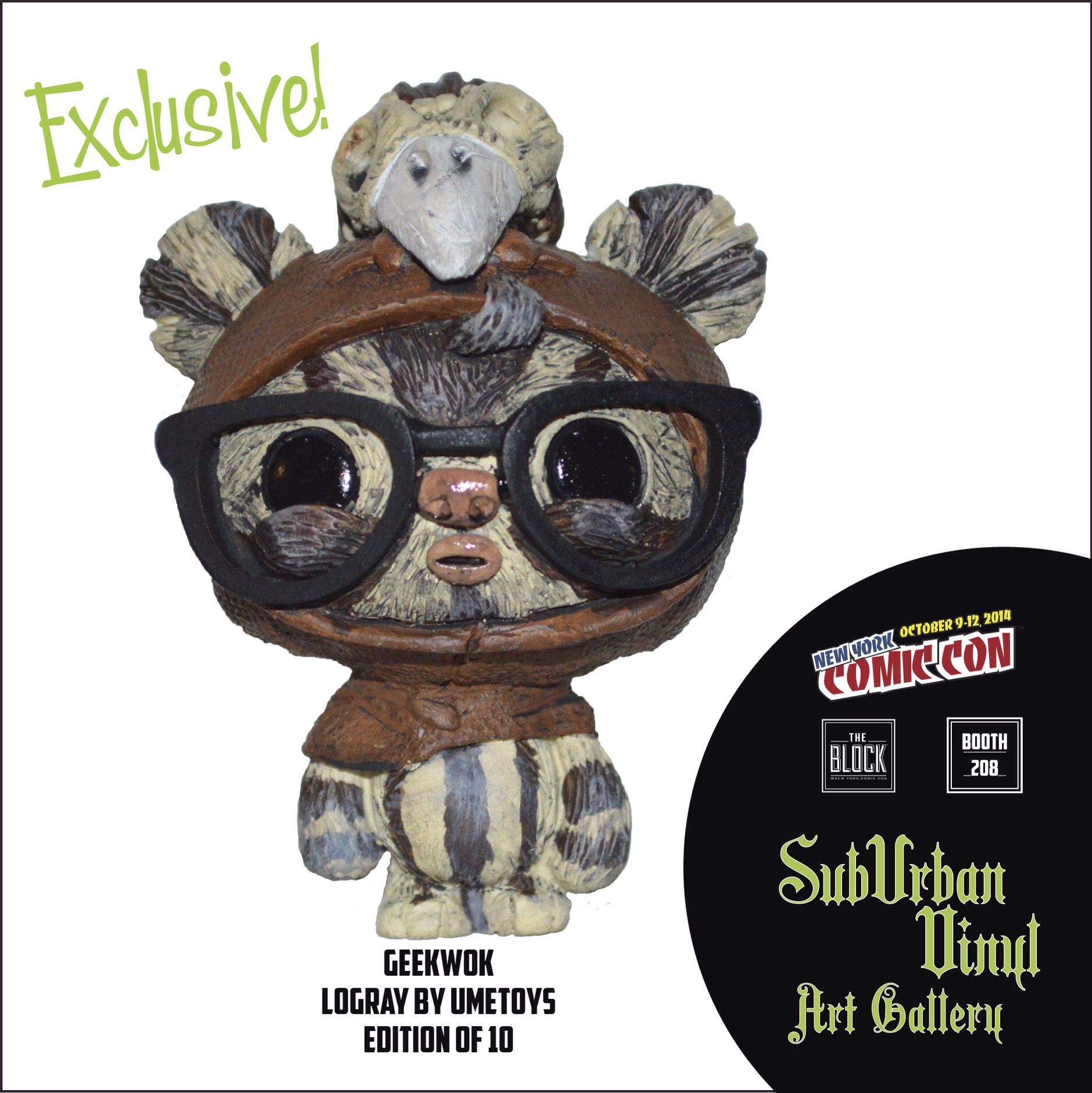 Best is Logray is the newest edition of the popular GeekWok figures from Rich Page of UmeToys heading out to New York Comic Con! Painted in his distinct tan stripped fur and complete with hand sculpted churi bird skull headdress. This 3″ tall piece was made exclusively for SubUrban Vinyl. He is limited to just 10 pieces and will be available for $55 each.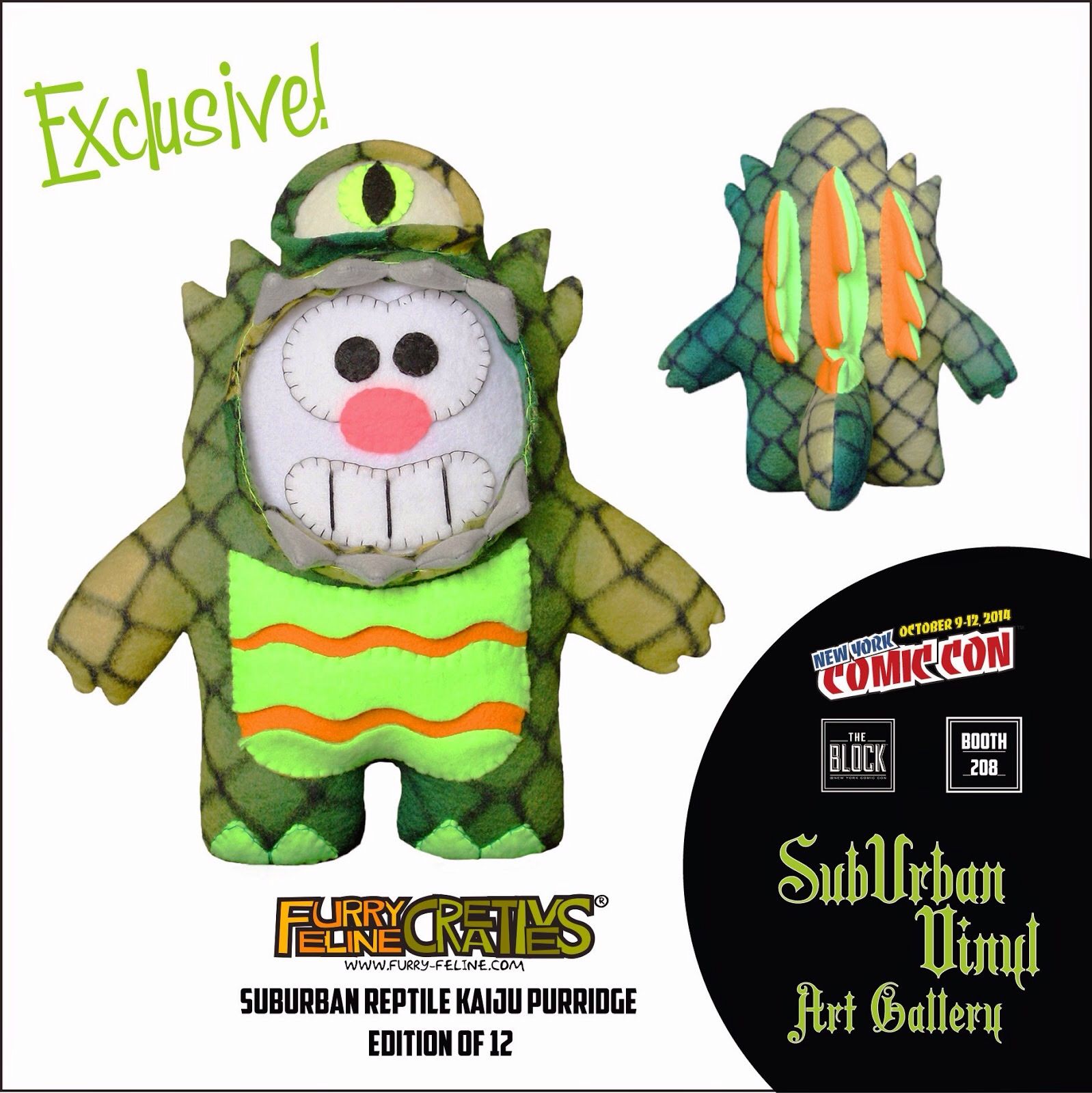 Furry Feline Creatives bring you their very own limited edition Suburban Reptile Kaiju Purridge Plush. Each one is 100% hand sewn with love and measure 14″x12″ . There will only be 12 available. Also for the first time the folks from Furry Feline Creatives will be attending New York Comic Con and will be on hand at our booth and will have some of their other amazing products available.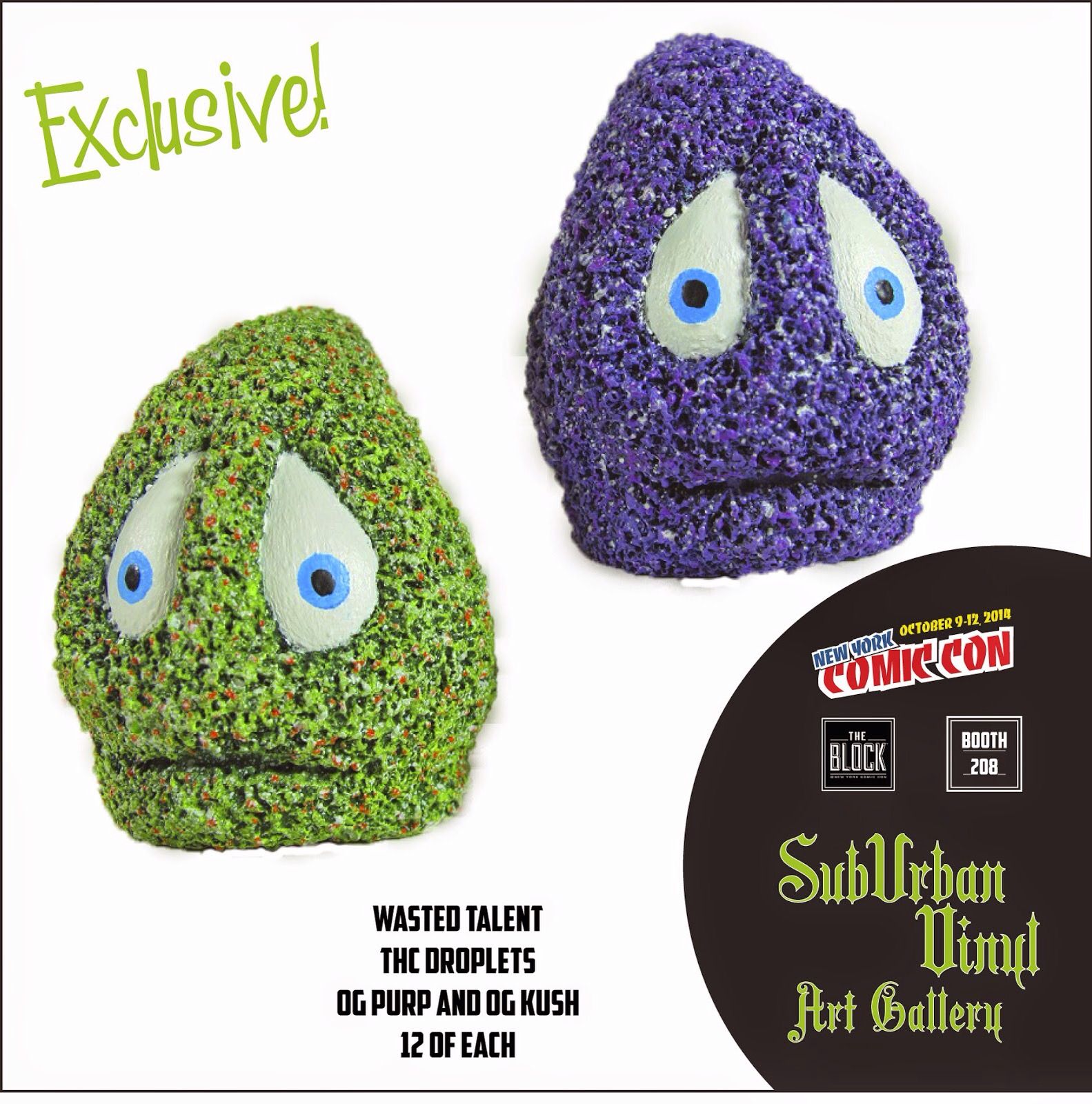 Next we have THC Droplets from Wasted Talent. These THC Droplets are based on the sold out custom Buddy Fonzarelli created by Wasted Talent for the Blood Type Positive show. These 2.5″ sculpted and resin cast custom droplets.
Available in an OG Purp and an OG Kush colorway, each colorway will be limited to just 12 pieces, with each piece being signed and numbered.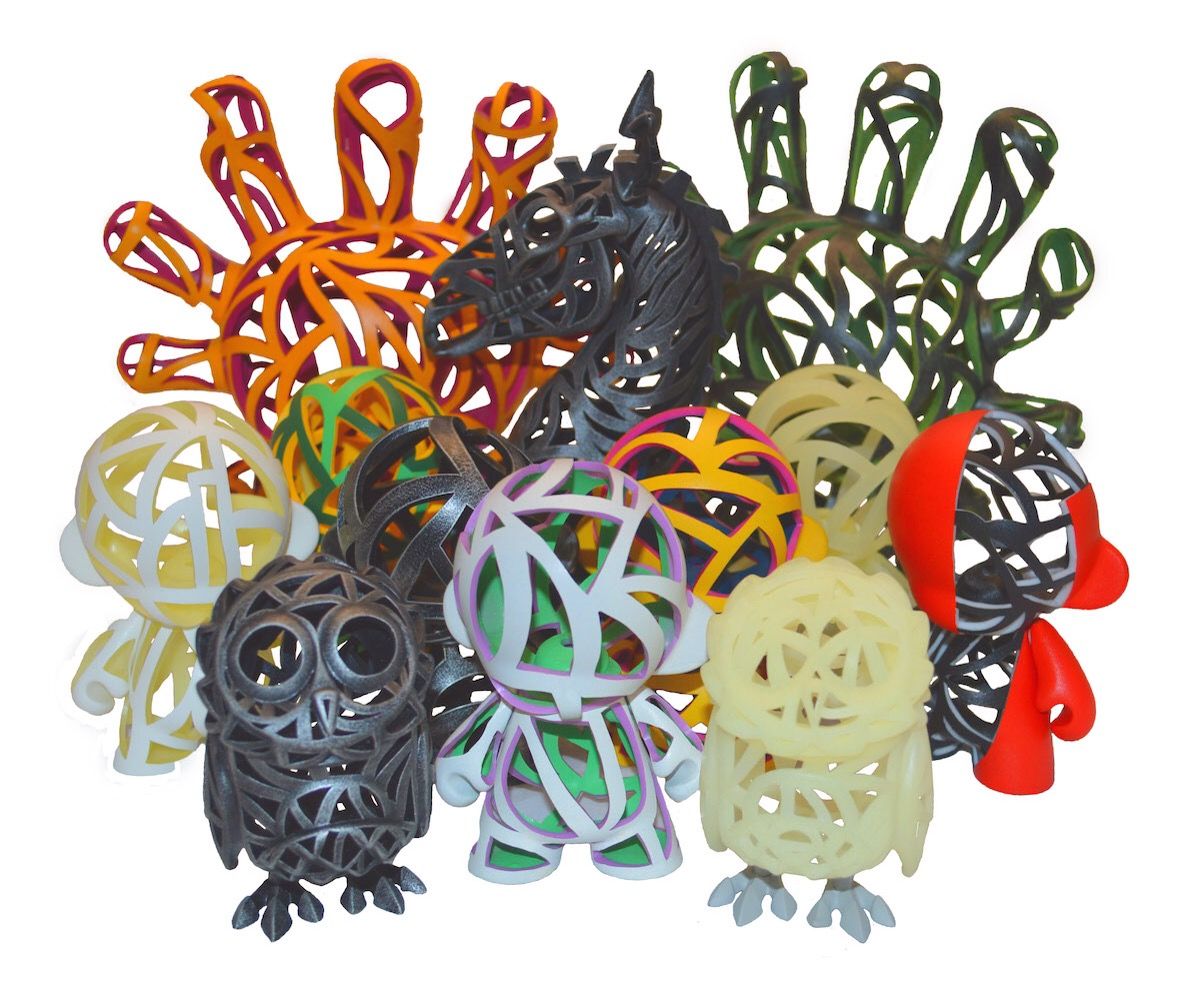 The next artist need no introduction, Carson Catlin brings his fantastic reticulated style to New York Comic Con this year and SubUrban Vinyl are proud to be showcasing his work. Using some of the latest platforms he has created some amazing pieces for us. We will have an assortment of 7 4″ Munnys, 2 Coarse mini omens, 2 Kronk Mayhem Dunnys and also A Dead Zebra Last Knight. Make sure you stop by to take a look at these amazing pieces and pick them up for yourself.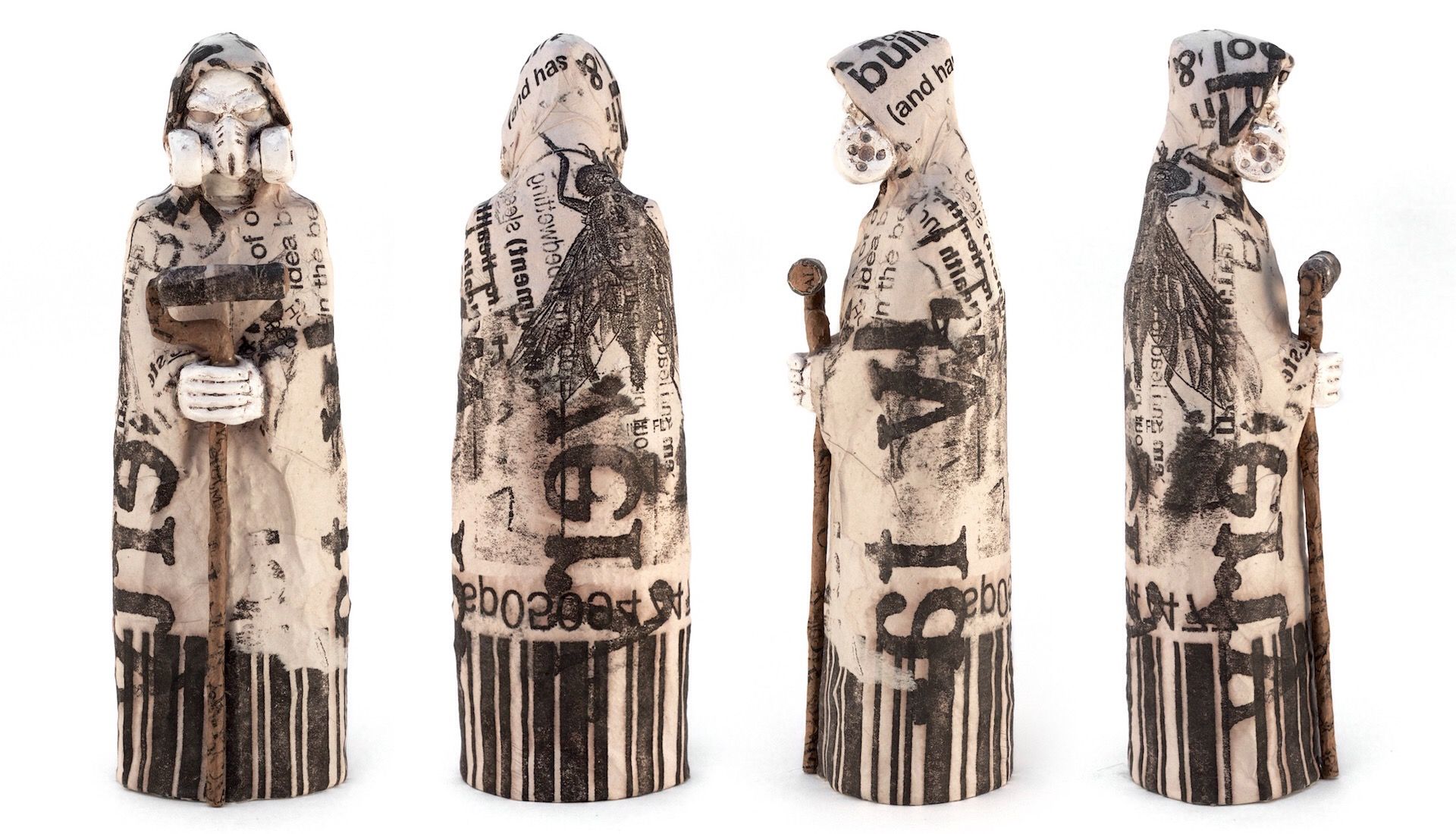 Lastly, prints by artist John Grayson. Each 8.5″ Street Spirit is a mixed media collage with spray paint and emulsion transfer application and no 2 are alike. This is an edition of 7 and each one comes with a unique print and compliments the corresponding figure. The prints are 11″x14″ HPM (hand painted multiple) mixed media & silkscreen print on white 250gsm rives bfk paper (acid-free, 100% cotton) signed numbered and embossed.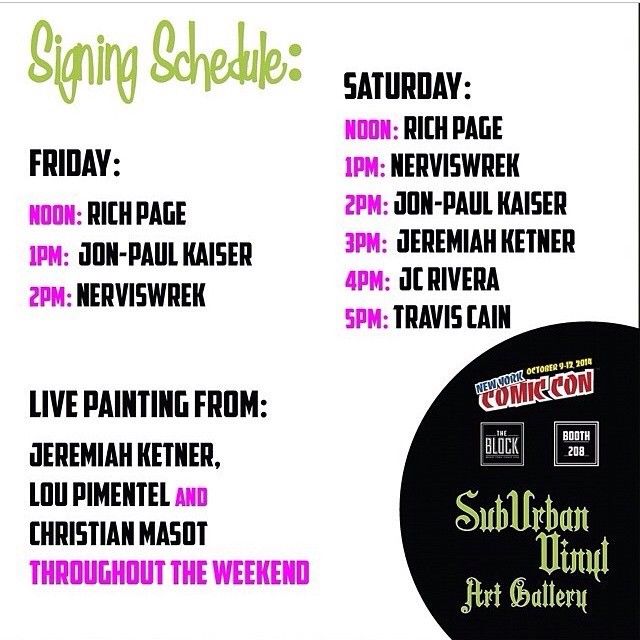 Also here is the signing times featuring home grown UK talent UMEToys and JPK, so head to booth #208 and take your credit card.