from the makers of the famous Japanese cult toys "Sonny Angel" The all new minimalistic "Smiski" character is ready to take off and hopefull fly high like the Sonny Angel series. Smiski may look basic but he's dam adorable and all the poses you will need for the first series. Smiski reminds us of the UK classic "Morph", but "Smiski" is has more of a cute factor.
"Tiny creatures that live in corners
Smiski are curious little creatures that love hiding in small spaces and corners of your room.

Although they like to stay hidden, you might discover one at night as they mysteriously glow in the dark.
It is interesting to see the many types of Smiski all with different personalities and character.
However, just why they exist in the first place, nobody quite knows…."

Smiski come packaged randomly in blind boxes. You won't know which one you will get until you open the box!
[slider source="media: 35987,35989,35990,35988,35991,35992″ width="1300″ height="1300″ title="no"]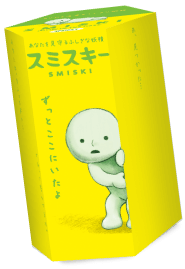 Get them all at https://www.sonnyangelstore.com/ priced at 550 yen per blind box. NOW IN STOCK at Englands online store https://www.ingenioustoyz.com/ who ship worldwide.