Having seen this amazeballs in person at Dcon 2015 we are pleased to see Skinner & Unbox Industries are releasing these online for collectors who couldn't make it. Skinner & Unbox Industries will be releasing a limited hand painted edition SEXTOPIGON! this version could possibly be the best version we've seen to date. It puts Joseph technicolour dreamcoat to shame.
[slider source="media: 35044,35043″ width="1200″ height="1200″ title="no"]
"Unbox are proud to offer this limited hand painted edition version of Skinner's brilliant Sextopigon.
Sculpted by the legendary David Arshawsky with a paint application based of Skinner's beautiful original illustration, this design really pushed the Unbox team and we are delighted with the results!"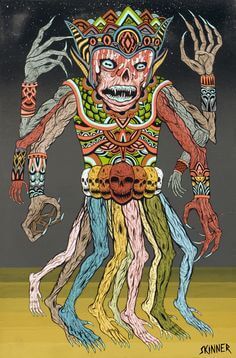 Sextopigon continues to sell out and with this hand painted edition version painted from head to toe in a colour pallet to die for we doubt it will last 1 minute when it goes online. The paint application highlight all the details even more and thats what we love about this version so much and we're sure you do too.
[slider source="media: 35045,35047,35046″ width="1200″ height="1200″ title="no"]
The soul priest stands just under 20cm tall and all six arms and nine legs are articulated.
Buy them at http://store.unboxindustries.info/ priced at $200 each. Releasing TODAY Saturday 5th December 2015 at 11PM GMT. We suggest you use http://www.worldtimebuddy.com/ to find your correct timezone. Goodluck!
Check out more work from Skinner at http://www.theartofskinner.com/
(all info lifted from http://unboxindustries.co.uk/ )