機器NO吉拉 ROBO NOZILLA is HERE! Sorry, not so sorry for screaming. Last month Noger Chen of Nog Toy the artist behind the ever-popular Goodzila 好吉拉 shared the illustration of the next chapter of Goodzila 好吉拉, ROBO NOZILLA and you guys went crazy as much as we did. Mixing more retro style homage to GODZILLA. ROBO still carries the nostalgic concept, that represented Noger as a child growing up in the 80's. Black Seed Toys & 1982 kids are all set to unleash ROBO NOZILLA at TTF 2020! No weapons needed as ROBO NOZILLA has the classic Nokia 3310 which back in the days was indestructible and built like a brick, HA. Other accessories include iPod as well as a camera for all those selfies that's if you know how to use it.
BOOTH A33 |靠邊走藝術空間 Wrong Gallery
For those who are unable to attend, online pre-orders will be opened after the TTF ends https://www.1982kids.com.tw/
Booth: A33 |Wrong Gallery
The 17th Taipei Toy Festival
Exhibition Date |2020.11.20 (Fri) ~ 2020.11.22 (Sun)
Exhibition Venue |Huashan 1914 Cultural and Creative Industry Park-1st Floor of East Building No. 2 & Middle Building No. 4 B
Opening Hours| 09:30-20:30 (The last day of the exhibition ends one hour earlier)
Goodzila 好吉拉 x Black Seed Toys 再度合作,機器No吉拉來了!
預購資訊
《TTF 現場預購》
A33攤位(靠邊走藝術空間),由 1982小時候 接單,搶先全球預購。
《線上預購》
無法來現場的朋友,TTF結束後會開放線上預購,全球購買點與更多資訊近日公開。
攤位: A33 |靠邊走藝術空間 Wrong Gallery
第17屆 台北國際玩具創作大展
展覽日期 |2020.11.20 (五) ~ 2020.11.22 (日)
展覽地點 |華山1914文化創意產業園區 – 東二館 & 中四B館1樓
開放時間| 09:30 – 20:30(展覽最後一日提前一小時結束)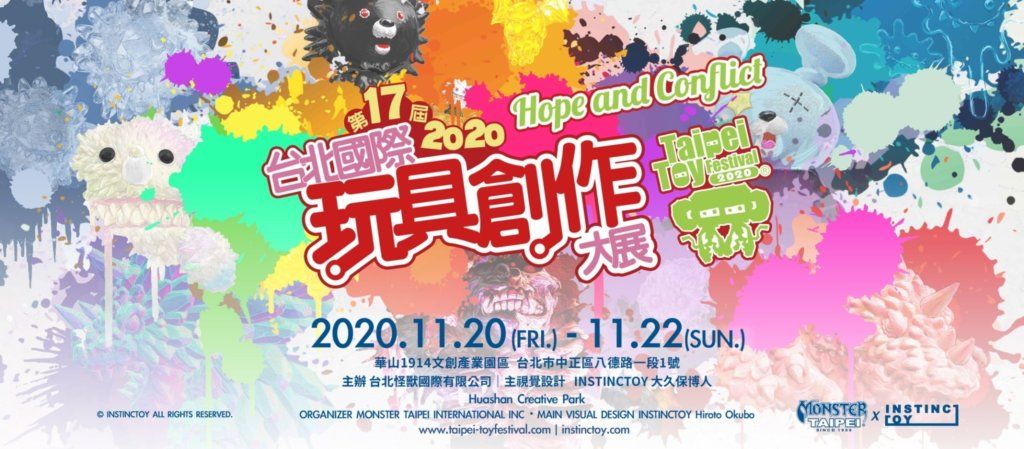 17th TAIPEI TOY FESTIVAL 2020
DATE|2020.11.20 (FRI) – 2020.11.22 (SUN)
VENUE|Huashan Creative Park (No.1,Bade Road Sec.1,Zhong Zhen District,Taipei 100)
MAIN VISUAL DESIGN|INSTINCTOY OHKUBO HIROTO
ORGANIZER|MONSTER TAIPEI INTERNATIONAL INC.
LOCATION: Huashan Creative Park / Building East 2 & Building Center 4B (1F & 2F) No.1,Bade Road Sec.1,Zhong Zhen District,Taipei 100
For now, why not check out our TAIPEI TOY FESTIVAL 台北國際玩具創作大展 walkthrough.
https://nogerchen.wixsite.com/Noger Chen Nog Toy IG: @goodzila825 and Facebook.
Follow Kenneth via Facebook at facebook.com/blackseed.figure and instagram.com/blackseedkenneth.
If you want to get your Designer Toy news first, you should look to download our new TTC Mobile App. Designer Toy news direct to your smartphone. No dealing with social media algorithms.
IT's FREE!