It's not surprising that myplasticheart has gathered together some awesome exclusives for New York Comic Con this weekend. We have captured a number of these below. These will all be available this coming weekend (3-6th Oct) at #NYCC2019 at the myplasticheart #888 booth! Check them out below…
Negora Mint Candy & Grape Candy by Konatsu
Go trick or treating with Negora this Halloween! Mint Candy Negora $40 & Grape Candy Negora $40.
Foo Pup Metallic Green by Reactor88
This edition of Foo Pup is metallic green and silver on resin. $40 each.
Bearchamp Lights Out by JC Rivera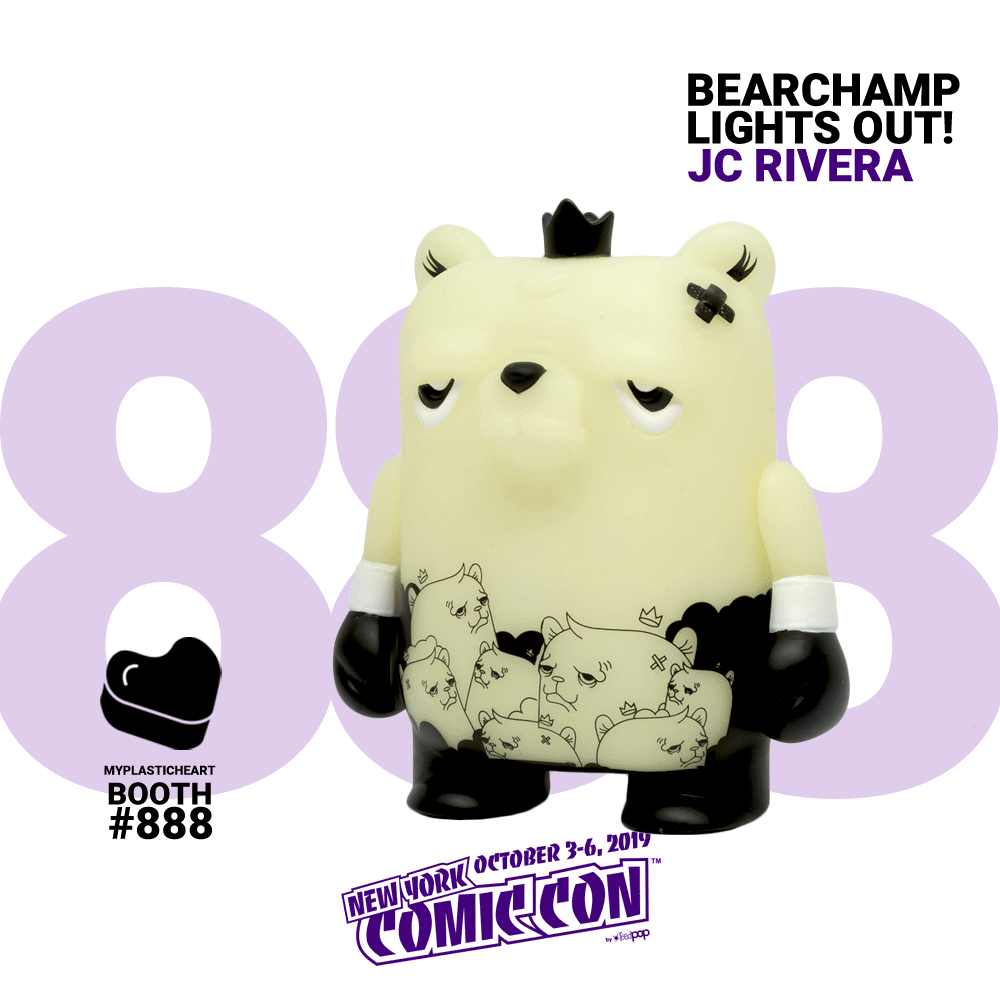 Bearchamp is going to knock you out! $75 each. Edition of 50.
Space Cat Resin by Rato Kim
Resin handmade Space Cats are out of this world! $160 each.
Daioh Negora Malinger Z Smoke Black by Konatsu
A collaboration between Konatsu and a Japanese classic! $145 each.
Burger Cat Mini by Rato Kim
Mini burger bites of sofubi deliciousness! $10 each.
Fortune Uamou Statue of Liberty Vol.4 by Uamou
This edition of Fortune Uamou includes bright blue/green inside paint on clear vinyl. It also glows! $36 each.
Dragon Boy Hulky by Martin Hsu
Dragon Boy Smash! $75 each. Edition of 60. Martin will be signing at the myplasticheart booth #888 on Friday 4th October between 2-3pm.
CN Folk Tiger Smokey Jade Sparkle by Joe Somers
Joe Somers of Squibbles Ink brings Chinese folk art to designer toys! $30 each.
Shumi Mushrumi Purple Rain by MUMBOT
This special edition Shumi pays tribute to the one and only Mr. Nelson. $45 each. Edition of 8.
MITT Joker Six TwentyEight
"When you bring me out, can you introduce me as JOKER?" $65 each.
All the above and more will be found on the myplasticheart NYCC 2019 booth #888 from Oct 3rd – 6th (THIS WEEKEND) at New York Comic Con! If any remaining stock is available, we are sure that you will find it on myplasticheart.com following NYCC.
---
If you want to support The Toy Chronicle, we have a number of options available to you. Purchasing one of our pins really help. A quick, cheap way to also support the TTC is by making a small donation. These can all be completed below through our online shop. We appreciate all the support! Thanks!
---
---